CPVC Solvent Cement | Corzan® CPVC | Piping Systems
The question often arises, can I weld pipe and sheet together? The answer is yes, but the process requires skilled thermoplastic welders who are properly trained and have been tested just as metallic certified welders are tested.
Manufacturing integrated circuits (or chips) is a highly complex process that presents unique challenges for industrial piping systems. Toxic, highly corrosive and flammable gases and liquids can compromise a system's integrity, causing process leaks and premature failure. In addition, few piping materials can meet the high purity standards required for cleanrooms.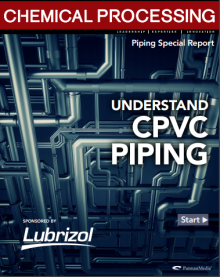 Understanding CPVC Piping Report
Delve deeper into CPVC's capabilities, benefits and performance in the harshest industrial applications.
Designers and engineers often specified metal piping for industrial applications in the past based on the material's familiarity. Today, metal piping is still used in some environments because of misperceptions regarding chlorinated polyvinyl chloride (CPVC) piping.
Environmental stress cracking (ESC) is one of the leading causes of plastic pipe failure. It occurs when the piping material is simultaneously subjected to mechanical stress and certain types of chemicals.
Industrial plants are challenging environments for piping systems, which are subject to extreme pressures, temperatures, stress and even impact. No matter what piping material is specified, piping system stresses must be considered and modifications made during system design to prevent issues that could require extensive repair or replacement.
Downtime can be a significant financial burden for an industrial plant, taking a toll on the facility's productivity and bottom line. Planning for an approaching upgrade to a plant's piping system can help expedite the update while limiting downtime and minimizing costs.
Designers and engineers who specify piping systems want the correct product for the application to ensure reliable long-term, cost-effective performance. Chlorinated polyvinyl chloride (CPVC) meets the needs of a wide range of applications as an engineering thermoplastic that is important to the project flow process.
Weight matters for piping systems used for industrial applications. It makes sense that a lightweight piping system such as chlorinated polyvinyl chloride (CPVC) is easier to transport, store and handle than heavier piping like steel.
Wastewater treatment processes are more complex than ever, complicated by stricter discharge and odor standards, increased plant flows, fewer sludge disposal options, stronger EPA piping regulations and tighter budgets. The good news is that opportunities exist to select piping materials that improve plant performance while reducing treatment costs and keeping facilities compliant.
Water presents the ideal environment for bacterial microbe development. Harmless microbials occur naturally in water and most are completely safe. Bacterial microbe growth in pipes, however, can affect water quality and create contamination problems. As microbes grow, they attach to the wetted surfaces in the water distribution system and protect themselves from disinfecting agents by forming microbial biofilms.