Harrison Machine and Plastic Corporation is one of the nation's largest custom fabricators and distributors of plastic pipe, duct and fittings for a wide range of industrial applications. Since 1970, the company has specialized in thermoplastic fluid and air handling systems that are used in extremely corrosive environments, customizing solutions to meet any customer need.
CPVC Solvent Cement | Corzan® CPVC | Piping Systems
The question often arises, can I weld pipe and sheet together? The answer is yes, but the process requires skilled thermoplastic welders who are properly trained and have been tested just as metallic certified welders are tested.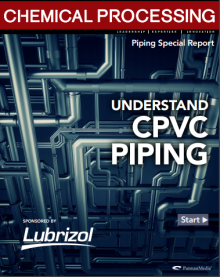 Understanding CPVC Piping Report
Delve deeper into CPVC's capabilities, benefits and performance in the harshest industrial applications.
Designers and engineers often specified metal piping for industrial applications in the past based on the material's familiarity. Today, metal piping is still used in some environments because of misperceptions regarding chlorinated polyvinyl chloride (CPVC) piping.
Minimizing energy costs is one of the main areas of opportunity for plant owners looking to increase their bottom-line. At a macro level, according to the U.S. Energy Information Administration (EIA), the industrial sector uses more energy than any other sector, consuming about 54% of the world's total delivered energy. Engineers are always looking for ways to optimize system processes to improve energy efficiency to decrease energy expenses. Proper piping material selection is one opportunity to limit energy consumption. Take a look at how CPVC piping compares to metal piping in terms of energy efficiency across a system's lifecycle, even before the pipe is installed.
Industrial plants are challenging environments for piping systems, which are subject to extreme pressures, temperatures, stress and even impact. No matter what piping material is specified, piping system stresses must be considered and modifications made during system design to prevent issues that could require extensive repair or replacement.
Installation Guide | Piping Systems
There are a few available methods for joining CPVC pipes and fittings, but solvent welding is often recommended as the optimal solution because of the strong, reliable bond it forms between adjoining pieces of material. Solvent cement isn't glue­—rather, it's a chemical compound that untangles the surface molecules of CPVC material, freeing them to bond with those of another CPVC piece. The result is a fully fused joint that maintains the chemical resistance, temperature and pressure bearing capabilities of the original material. To reach optimal joint strength, the solvent cement must adequately soften the surface material, and enough time must be allowed for setting and curing. Curing is when the solvent flashes off or evaporates, allowing the newly formed joint to dry and harden. In cold weather applications, solvent cement and CPVC molecules slow down, requiring more solvent to soften the material and more time to cure or harden the joint. Conversely, in hot environments, the molecules speed up, creating different potential challenges for installers. By following a few simple guidelines, reliable CPVC joints can be solvent welded at temperatures exceeding 95°F (35°C).
The results of friction loss in industrial piping systems can decrease operational efficiency and productivity – and eventually result in downtime and costly repairs. Friction loss affects flow rate and fluid pressure within the piping system and must be considered during system design.
Long-term performance, trouble free operation and consistent results are critical to manufacturing facilities' operational success. While facilities must first satisfy their functional needs, the initial cost of construction is often a factor when selecting the right piping for a chemical processing plant. Purchase price is only part of the equation when choosing a piping system that will provide long-term performance. A lifecycle cost analysis tailored to the specific application can help you get the best value, considering factors such as fluid temperature, line pressures, the chemical environment, etc.
Biological contamination presents a serious concern for many applications, even in industrial plants. Biofilm formation allows unsafe bacteria and organisms to grow and contaminate supplies of water and other transported fluids. Considering alternative piping materials ideally suited to resist biofilm formation can help minimize this significant health risk.
Piping Systems | Semiconductor
This post was originally published in November of 2017, and has been updated with more information and resources, including two burn test videos. When we talk about plastic and fire resistance, most people conjure up images of melting plastic in a campfire or bending plastic spoons with a lighter. While many plastics don't stand up well to heat and fire (namely polypropylene and polyethylene), it's not true of all thermoplastics. Specifically, chlorinated polyvinyl chloride (CPVC) is engineered to limit flammability and smoke production. In fact, many applications that specify CPVC piping because of its heat, pressure and corrosion resistance capabilities do so because it also satisfies strict regulations around flame and smoke resistance. But what qualities should you look for in a thermoplastic piping system to ensure it satisfies your application's fire resistance requirements?