Chemical Processing | Piping Systems
The following is an excerpt from "CPVC Use in the Chemical Processing Industry." Download the full ebook to learn more about where CPVC can be used in the chemical processing industry, which chemicals CPVC stands up against and how CPVC compares to alternatives in various applications. The chemicals market, according to Chemical Processing, is currently worth around $1 trillion and is projected to grow to more than $5 trillion by 2022. With 40,000 existing facilities—and thousands more planned—the chemical processing industry (CPI) is becoming increasingly competitive. Broadly defined as the chemical conversion of raw materials to finished products, the Chemical Processing Industry includes the following (and much more): Traditional chemicals, both organic and inorganic Petroleum Petrochemical Refining Pharmaceutical facilities Marine support and offshore In this growing sector, plant managers and engineers seek systems that are more cost effective, reliable and specially engineered to meet their process' demands. What is the role of piping material selection in recognizing greater plant performance and reliability?
Installation Guide | Piping Systems
This post was originally published in November of 2017, but has been updated to be more comprehensive, including a video of CPVC during an impact test. Whether used for general drainage, fire suppression, mining, or another industrial application, CPVC piping systems may need to be run underground. Most concerns about underground CPVC usage arise from incorrect assumptions about CPVC's physical properties, specifically impact resistance. Underground piping is exposed to: Various-sized rocks and other abrasives. The weight of the backfill and any surfacing material. Vehicle and/or machinery traffic (depending on the application). Corrosives found within the soil. Fluctuating, potentially extreme temperatures. These potentially harmful conditions beg the question: Can CPVC piping be buried?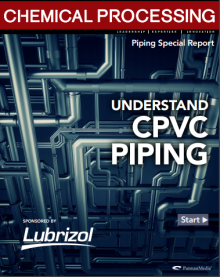 Understanding CPVC Piping Report
Delve deeper into CPVC's capabilities, benefits and performance in the harshest industrial applications.
In March of 2005, an explosion at a Texas City BP oil refinery (the third largest in the United States) killed 15 workers, injured another 180 and severely damaged the plant. The explosion occurred when a distillation tower flooded with hydrocarbons and became over pressurized. Though not directly caused by a piping failure, it was largely the result of improper safety procedures and red flags over the preceding decade, including: Broken alarms Broken gauges Overly thinned pipe Five managers over a six year span A critical component of plant safety, which could help prevent the next failure, is to learn how to maintain and inspect the piping system as part of a comprehensive process safety management (PSM) program. Properly implemented programs help prevent events like the catastrophic Texas City refinery explosion.
This post was originally published in August of 2017, and has been updated with more information and resources, including a video comparison burst test. Since its introduction to the market in 1959 by The Lubrizol Corporation, chlorinated polyvinyl chloride (CPVC) has proven to be an attractive alternative to traditional industrial metallic piping systems for a variety of chemical process environments. CPVC is inert to most mineral acids, bases, salts and aliphatic hydrocarbons, which eliminates corrosion and scaling concerns. In addition, CPVC offers high impact resistance, pressure capabilities and heat distortion temperature (HDT), making it ideal for harsh industrial applications. By choosing CPVC material, industrial processes can improve their piping system's service life, lower maintenance costs and reduce downtime. But it is important to note, not all CPVC offers the same level of performance, and CPVC should not be confused with the limited capabilities of polyvinyl chloride (PVC) piping.
Installation Guide | Piping Systems
This post was originally published in December of 2017, but has been updated to be more comprehensive, including a video of CPVC during a flattening test. Linear expansion is an unavoidable phenomenon that affects all piping material—including both metals and plastics. If a run of pipe is constrained at both ends, an increase in temperature will cause the material to expand, resulting in compressive stress. When this mounting force exceeds the material's allowable stress, damage occurs to the piping system. During piping system design, architects and engineers must build in expansion loops to deflect this compression stress. In each of the three types, a right angle is required. Expansion loops, expansion offsets and changes of direction provide a linear direction for the pipe to move. But, which characteristics of the material enable it to deflect without causing damage to the pipe?
Fabrication | Piping Systems | Specification
When designing and building industrial systems, including pipes, fittings, valves and tanks, steel is one of the most widely utilized materials. Stainless steel and carbon steel are two common forms that have been used for processing applications for decades. But as political and economic uncertainties compound, the price and supply of commodities like steel becomes more volatile. As of August 2018, the price of steel was 44.2% higher than during the same period last year. After five years of mostly consistent price drops for stainless steel, the recent jump is cause for concern for industrial plants.
Piping Systems | Specification
ASTM F441 is the Standard Specification for CPVC Plastic Pipe, Schedules 40 and 80. Per the standard's requirements and test methods, CPVC is assessed for "materials, workmanship, dimensions, sustained pressure, burst pressure, flattening and extrusion quality." Another set of CPVC standards is defined by ASTM D1784. This specification assesses CPVC according to "base resin, impact resistance under notch, tensile strength, modulus of elasticity in tension, deflection temperature under load and flammability." By specifying CPVC that meets ASTM F441 and ASTM D1784, users should have confidence that their industrial piping systems will perform as expected. Yet, not all approved CPVC is created equal. Within each standard are distinctions that set certain CPVC compound producers and manufacturers apart.
When deliberating between material choices and general industrial piping system design, the primary considerations revolve around pipes and fittings. Specifically, the focus is typically on the pipe and fitting materials' temperature, pressure and compatibility characteristics. Valve selection is often an afterthought finally considered once those primary decisions are settled. But valve decisions are vast: types include ball valves, gate valves, globe valves, butterfly or wafer valves, check valves, diaphragm valves and more. The number of valves can vary greatly in a system depending on the purpose of the piping system. However, valves are critical to any successful system due to their importance in controlling the flow. Also, because a system is only as strong as its weakest component or joint, valves deserve much greater attention when considering material options.
Piping Systems | Waste and Wastewater Treatment
The following is an excerpt from "CPVC Use in Wastewater Treatment Plants." Download the full ebook to learn more about where CPVC can be installed in wastewater treatment plants, which chemicals CPVC stands up against and how CPVC compares to alternatives in various applications. Wastewater treatment plants are extremely corrosive environments. During the treatment process, large vessels and piping systems convey polluted water and highly corrosive and caustic chemicals. To keep wastewater treatment plants efficient and cost-effective, appropriate material selection is critical. Corrosion to pipes, valves and fittings caused by chemicals and microbes can greatly impact the bottom line at water and wastewater treatment plants. As a result, engineers and procurement officials turn to an economical, reliable material—chlorinated polyvinyl chloride (CPVC).
In an industrial system, and in any piping system, valves are used to restrict, stop or control the flow of fluid. More specifically, some industrial valves are used to: Control the cooling rates of water through cooling lines to regulate the temperature. Manage the flow of concentrated acids or bases flowing through a line. Redirect flow from one line to another at a three-way valve. Restrict flow for system balancing. Prevent reverse flow (check valves). Automatically stop the flow in the event of a system failure. When considering available valves for an industrial system, evaluation depends on both the short term and long term performance of a valve. And depending on the application, one valve may outperform another and provide a superior service life.