Understanding CPVC Piping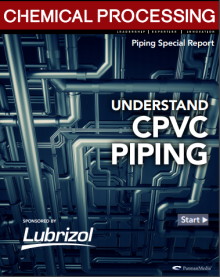 Savvy specifiers know that cost is not the only factor dictating piping material selection. Those seeking long-term performance in Chemical Processing applications should also account for the demands and environment of the operation.
Given the pressure, temperature, and medium, what cost-friendly option will provide the most durability?
In this Chemical Processing Special Report we delve deeper into:
CPVC piping and the

significant benefits it can offer over alternative piping materials.
How CPVC piping compares in terms of

cost and performance.
How CPVC can fit into

industrial process applications.
To download your copy of this Chemical Processing Special Report now, subscribe to receive our latest CPVC resources.
A valid email address is required to receive a copy of this report and links to additional resources.