Corzan® piping systems are resistant to attack from both fungi and bacteria.
Fungus growth on plastics is supported when plasticizers or other additives are present for the fungus to feed on. Corzan CPVC contains no additives that provide nutrient sources for fungi.
Bacteria are encountered in nearly all situations where water is present. The smooth internal surface of Corzan pipe and fittings provides fewer footholds for bacteria to take hold and multiply.
Our piping is also resistant to the action of all forms of bacteria, many of which are known to cause corrosion in metal piping systems, such as iron-oxidizing bacteria, sulfate-reducing bacteria, and acid-producing bacteria.
Corzan CPVC is also resistant to the most commonly used biocidal chemicals. Compatibility of fungicides and mold inhibitors with CPVC should be confirmed with the fungicide or inhibitor manufacture. The FBCTM System Compatible Program also contains a list of products approved for use with Corzan CPVC.
Biofilm Formation Potential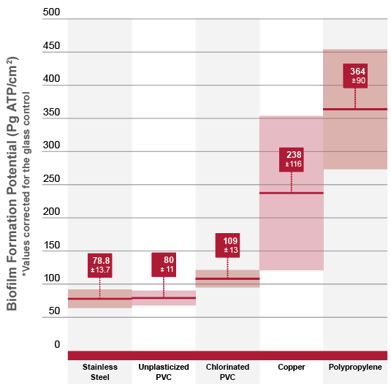 Biomass Production Potential