Simplify Pipe and Fitting Design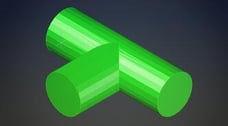 To increase productivity in building design and engineering, Corzan® pipe and fittings are available in Building Information Modeling (BIM) software.
BIM's real-time, 3D modeling software allows engineers and architects to:
Detect and prevent design conflicts
Quickly create multiple designs to compare and identify the best value-engineered solution
Create detailed outputs for accurate cost estimates
Lower costs by reducing on-site errors and delays
Communicate clearly with non-technical investors and design makers
Complete the form to access bimobject, a web-based search engine for BIM objects and specifications for use in Revit, AutoCAD, Maya and other CAD applications.






Corzan BIM objects can be directly accessed from within the Autodesk Revit program, and can be downloaded into active design sessions using Autodesk Revit and AutoCAD software.