Thermoplastic Corzan ® CPVC has a proven track record and numerous advantages over metal in HVAC applications including chillers, air handlers, boilers, air separators, pumps and heat exchangers, and condensate drains in plenums. The material has been used for decades in industrial process water applications handling chilled and boiler water treated with corrosion inhibitors, biocides and other treatment chemicals – circumstances similar to those used for recirculating HVAC systems.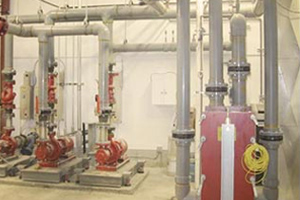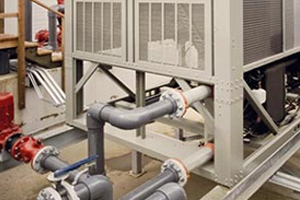 Delivering Reliability to the HVAC Industry
Corzan CPVC pipe and fittings are specifically engineered to meet the temperature and pressure requirements of hydronic HVAC applications and withstand the internal stresses that result from conveying fluids over time at various operating temperatures, up to 180°F, in these complex projects.
Corzan CPVC Offers Corrosion Resistance and Protection From Chemical Exposure
When exposed to the same chemicals that can degrade and reduce the service life of metallic materials, a properly installed piping system made of Corzan CPVC performs better in that chemical exposure environment than metal alternatives. CPVC's smooth surfaces offer unparalleled corrosion resistance and there will be no scaling or pitting to compromise system functioning and service life.
For this reason, HVAC systems designed with Corzan CPVC pipe and fittings need not compensate for pressure drops due to corrosion and scale buildup. Hydraulic calculations for sizing pipe and fittings can simply incorporate a Hazen-Williams C factor of 150, which will remain constant as the system ages and possibly allow for a smaller pipe size.
Technical Support for HVAC Projects
Switching to Corzan CPVC for HVAC projects is easy with the help of a Corzan Material & Piping Solutions consultant. You will get insights into lightweight CPVC's flammability and plenum ratings, lower installed costs, resistance to the growth of Legionella in cooling towers, ability to withstand aggressive ASHRAE 188-compliant decontamination procedures, thermal conductivity and other advantages.