Corzan® CPVC pipe and fittings are manufactured from CPVC compound manufactured by Lubrizol. Our piping material is the only CPVC for industrial systems that meets cell class 24448 for high impact and high heat distortion temperature pipe. Standard CPVC compounds have a 23447 cell classification.
Corzan piping is available in schedule 40 and schedule 80 as well as iron pipe sizes (IPS) through 24-in. diameter. Cell class 24448 piping material is available in sizes from ¼-in. to 8-in. from select manufacturers, and pipe sizes greater than 8-in. meet cell class 23447.
Corzan pipe is available for use in both pressure bearing and drain applications at temperatures up to and including 200°F (93.3°C). Pressure ratings vary with schedule, pipe size, compound type and temperature.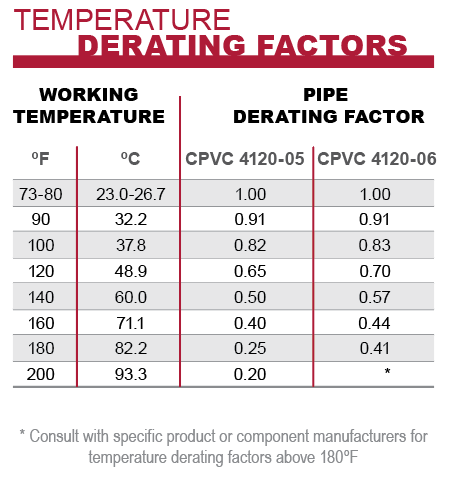 Corzan

®

Pipe Compound Cell Class
Corzan CPVC meets a cell class never before achieved by any other CPVC compound manufacturer. This cell classification (as defined by ASTM D1784) means Corzan CPVC is proven to have the highest impact resistance and heat deflection temperature (HDT) of any CPVC compound.
High Impact Strength: Corzan CPVC can withstand three times the impact strength of standard CPVC, which allows the pipe to be more easily cut on the jobsite, resulting in fewer fractures, breaks and a lower scrap rate.
Higher Heat Distortion Temperature: Corzan CPVC has a heat distortion temperature (HDT) rating of 230°F (110°C) — the highest HDT rating in accordance with ASTM D1784. Standard CPVC's HDT is 212°F (100°C). This means Corzan pipe will keep its straight, professional appearance where other CPVC systems may sag or bend. Rigidity between hangers will remain straight and strong.
Pipe and Fitting Dimensions and Tolerances
Schedule 40 and 80 pipe meets or exceeds the requirements of ASTM F441. Associated fittings meet or exceed the requirements of ASTM F437 (scheduled 80 threaded) and ASTM F439 (schedule 80 socket).
Design Considerations
A system design should be done in accordance with the manufacturer's instructions. The design should also take into consideration specific factors, including: pressure and flow requirements, friction loss, operating temperatures, support spacing, anchoring, bracing and thrust blocking, joining methods, and thermal expansion and contraction.
Maximum design pressure ratings should not exceed those listed (see Pressure Ratings). Pressure ratings apply to water at 73°F (23°C). For temperatures greater than 73°F, see the derating factors listed above. For fluids other than water, the full pressure rating may not apply.
Schedule 80 pipe operating above 130°F (54.4°C) should not be threaded. Threaded pipe should be derated to 50% of the pressure rating of the piping at the system operating temperature.
Flanged systems of any size should not exceed 150 psi working pressure at 73°F (23°C). Follow the manufacturer's recommendations for temperature derating factors for services greater than 73°F.
Corzan valves are typically rated at 150 psi up to 240 psi at 73°F (23°C) (pressure rating varies with valve type and manufacturer). Consult the valve manufacturer for pressure ratings and temperature derating schedules.
In all hydraulic calculations, a Hazen-Williams friction factor of 150 should be used.