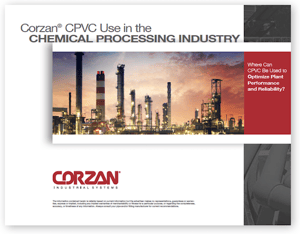 Chemical processing plants are subjected to some of the most challenging industrial environments. The aggressive chemicals and high temperatures often cause corrosion, process leaks and premature failures.
To extend system lifecycles and lower costs across industry applications, plants are increasingly turning to chlorinated polyvinyl chloride (CPVC).
CPVC is a specially engineered thermoplastic with successful installations in CPI applications across the globe. Starting at installation through the service life of the system, CPVC offers significant advantages.
In the guide, CPVC Use in the Chemical Processing Industry, discover:
Which CPI applications CPVC is ideally suited to be installed in.
Which chemicals and contaminants CPVC stands up against.
How CPVC compares to the traditional alternatives used in various CPI processes.
To download the guide, complete the form.