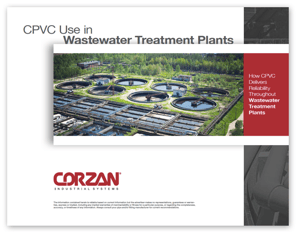 Poor or incompatible piping can cause unnecessary repairs and downtime when its faced with the corrosive chemicals and potentially destructive contaminants conveyed in a wastewater treatment plant.
Sewage, industrial wastewater and agricultural wastewater treatment plants looking for greater reliability and superior long-term value find it in chlorinated polyvinyl chloride (CPVC).
CPVC is a specially engineered thermoplastic with successful installations in wastewater treatment plants across the globe. From installation through the service life of the system, CPVC offers significant advantages, even for outdoor applications. In the guide to CPVC Use in Wastewater Treatment Plants, discover:
Where in wastewater treatment plants CPVC can be installed


Which chemicals and contaminants CPVC stands up against

How CPVC compares to alternatives in various applications
To download the guide, complete the form.