Industrial CPVC Piping Systems: When to use Schedule 80, Schedule 40 OR CPVC-Lined FRP
When highly corrosive chemicals are used in industrial processing applications, chlorinated polyvinyl chloride (CPVC) is often specified. Depending on the unique system conditions and applications, different CPVC piping variations—such as schedule 80 piping, schedule 40 piping, or even CPVC-lined FRP—may be recommended.
Use this guide to learn about the general differences between the three options to help determine the CPVC type that is ideal for your application.
Piping Schedule
Nominal Pipe Size (NPS) is a North American set of standards for piping used in high pressure and temperature applications. NPS identifies pipe using two criteria:
Outside Diameter: A dimensional number referring to the width of a pipe opening from the outer edge to the other outer edge 180° across.
Pipe Schedule: A non-dimensional number reflecting the thickness of the pipe wall.
The thickness of a CPVC pipe wall is defined by the ASTM F441 Standard Specification for Chlorinated Poly(Vinyl Chloride) (CPVC) Plastic Pipe, Schedules 40 and 80, and is dependent on the outside diameter of a pipe.
In other words, the "schedule" distinction is nominal only, and not an actual dimensional measurement. The wall thickness increases as a pipe's outside diameter increases. Two tables below show the specific wall thickness values of schedule 40 and schedule 80 piping based on the pipe's outside diameter.
Corzan® CPVC pipe and fittings are available in schedule 40 and schedule 80 nominal pipe sizes (NPS).
Pressure Bearing Capabilities
The schedule distinction was put in place in part to help engineers and architects understand a pipe's pressure bearing capabilities. Schedule 80 piping's increased wall thickness enables a higher pressure rating than schedule 40 piping.
Learn about how CPVC pipe pressure ratings are calculated in our resource article, "How CPVC Pipe Pressure Ratings Are Calculated."
Applications
Corzan Industrial Systems often recommends Schedule 80 piping be specified for pressurized systems that are exposed to high temperatures. The additional wall thickness also increases the impact resistance of the pipe, and enables the piping to maintain pressure bearing capabilities longer in systems where highly aggressive, corrosive substances are used.
The thinner wall of schedule 40 CPVC, when compared to schedule 80, results in a lower pressure rating at all temperatures. Thus, when the pressure rating requirements of a system are low, but corrosion resistance is critical, schedule 40 CPVC piping may be specified. This includes certain venting or plumbing applications.
For fume handling systems and other non-pressure situations, CPVC ducting is the geometry of choice. The wall thickness of CPVC ducting is even less than that of schedule 40 piping, but the chemical resistance is maintained.
Pipe Measurements and Pressure Rating Tables
When comparing measurements of schedule 80 and schedule 40 CPVC piping, only the outer diameter of the pipe remains consistent.
For example, both 1 in. pipes have an outer diameter of 1.315 in. But, the minimum wall thickness, average inner diameter, pipe weight and maximum water pressure vary.
The following tables can guide engineers on the proper pipe size and schedule based on pressure and other factors.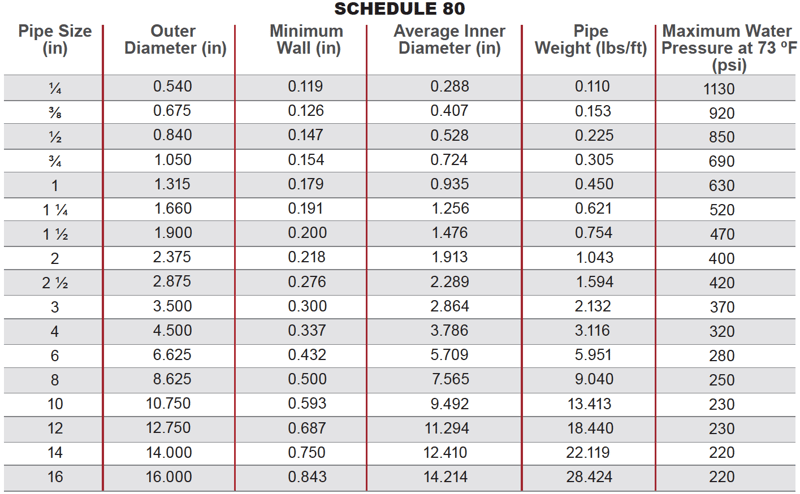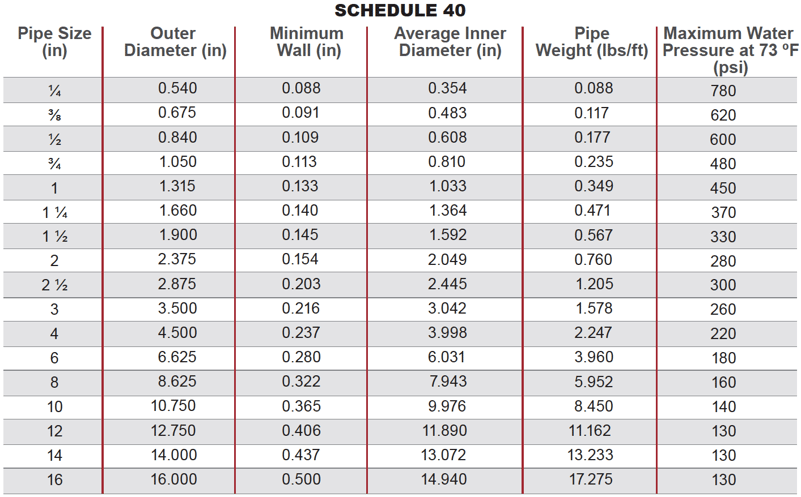 When to Use CPVC-Lined Fiberglass Reinforced Plastic (FRP)
Another variation of CPVC piping often used for industrial applications is CPVC-lined fiberglass reinforced plastics (FRP). FRP piping does not use the NPS set of standards, as these pipes are custom built for more specialized conditions that have a specific set of requirements.
CPVC-Lined FRP Advantages
In an application where CPVC material offers necessary corrosion resistance, but standard schedule 80 piping does not meet the system's pressure or temperature requirements, CPVC-lined FRP piping may be specified.
The CPVC liner offers a corrosion resistant layer against the processing chemicals, while the FRP provides the structural integrity needed to meet the pressure rating and temperature requirements of the system.
View the Corzan Chemical Resistance Table for CPVC's compatibility with 400+ chemicals.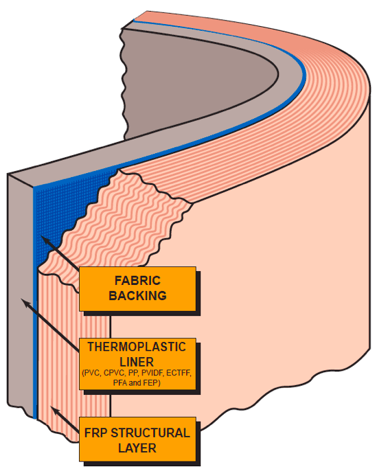 The Cost of CPVC-Lined FRP
The performance of CPVC-lined FRP in high pressure and high temperature environments is why it's specified over Corzan Schedule 80 and Schedule 40 CPVC piping. The reason FRP is not universally recommended in CPVC-compatible applications is its respective cost.
CPVC-lined FRP piping systems are custom made for each installation, not manufactured in bulk. While this helps to instill reliability that the system is compatible with the process, installation and fabrication is more labor-intensive—both in number of installers and time required. Each piece must be wrapped, and sometimes even hand-laid in the field.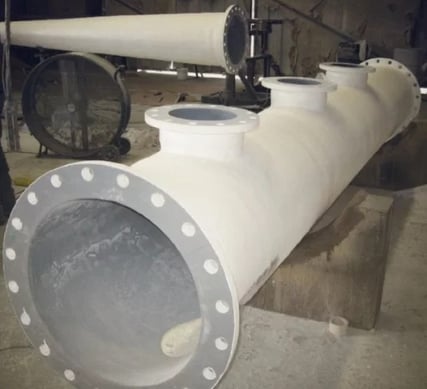 Though the additional expense can be a drawback, FRP piping can provide significant, long-term cost-savings advantages. For example, CPVC-lined FRP has replaced titanium systems in corrosive, high pressure, high temperature environments. When compared to these exotic metals, CPVC-lined FRP translated to material savings without hindering performance or reliability.
Need Specification, Technical or Engineering Support?
Contact our team of product and engineering experts to receive information, advice or training about how to integrate the best piping solution for your application.