Understanding the chemical resistance capabilities of a given piping material is a fundamental step to specifying a piping system built to deliver reliability over the long term.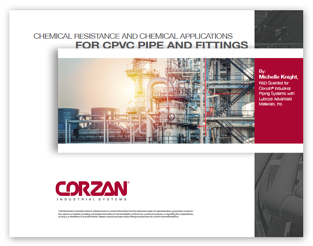 To help you understand CPVC's chemical resistance to see if it is right for your application, we developed the whitepaper, "Chemical Resistance and Chemical Applications for CPVC Pipe and Fittings."
In the whitepaper, Michelle Knight—an R&D Scientist for Corzan® Industrial Systems with Lubrizol—explores the topic in detail, examining the following:
Two industry-accepted standards for evaluating chemical resistance—ISO and ASTM standards.
Industrial applications where CPVC has already been successfully installed.
Caution areas and indications of CPVC chemical compatibility problems.
The preferred method for joining CPVC piping systems.
To download the whitepaper, complete the form.