Lubrizol Online Calculators Simplify Piping System Design and Installation
Lubrizol has launched a new Design Calculator Tool and an Expansion Loop Calculator. The tools, available online via desktop or mobile, use straightforward, easy-to-use interfaces to aid in the design and sizing of Corzan® and FlowGuard Gold® piping systems for water supply applications. The Design Calculator Tool is based on the Uniform Plumbing Code; the calculators are ideal for West Coast projects.
To use the Design Calculator, piping system designers and engineers simply input the parameters of the system, such as pressure losses, minimum daily service pressure, and pipe type, and the tool will determine the allowable friction loss, velocity, and demand flow rate. And unlike other calculators, Lubrizol's tool provides the number of supported fixtures, rather than just flow velocity or gallons per minute. In addition, the sizing calculator outputs temperature-dependent maximum non-shock operating pressure and water hammer surge pressure.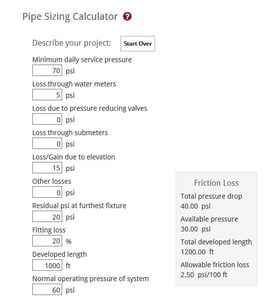 "In the past, engineers conducted pipe system sizing calculations manually using charts and equations. This process is not only time consuming, but often can lead to oversizing in order to compensate for inaccuracies," said Tom Attenweiler, Product Engineer for Lubrizol. "Our new Design Calculator condenses all of those steps and calculations into one simple tool, speeding up the process, ensuring accuracy, and helping to eliminate waste."
The Expansion Loop Calculator can be used in the field to calculate the size and number of expansion loops required to accommodate the typical expansion and contraction of commercial systems. Users input change in temperature, pipe size, and length of run, and the Calculator outputs the linear expansion, the dimensions of the loop, offset, and change in direction.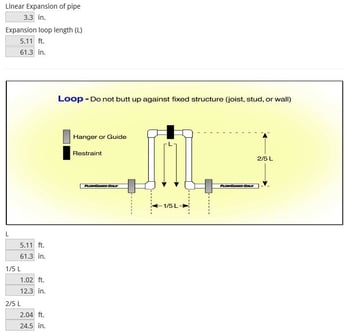 The Design Calculator delivers outputs in two formats, PDF and Excel. PDF tables can be printed or attached to drawings, while the Excel file allows users to add the raw data to existing spreadsheets.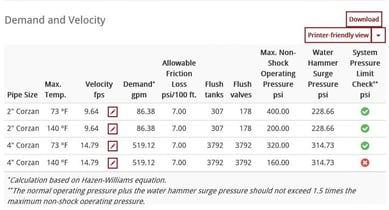 Access the Design Calculator here and the Expansion Loop Calculator here.