Ducting | Fabrication | Piping Systems | Semiconductor
Manufacturer cleanrooms keep small particles from adversely affecting production quality. Semiconductor plants, for example, often use cleanrooms when layering and etching silicone wafers for computer chips. Because many hazardous, highly reactive gases and liquids are used to keep semiconductor processes clean, accidental fires can occur. Even the smallest fire and subsequent smoke can: Contaminate a cleanroom, putting a semiconductor plant out of operation for extended periods of time. Create a fire hazard and require immediate evacuation. A proactive solution—typically required for cleanrooms—is to use fire retardant materials across the cleanroom that are both difficult to ignite and give off little to no smoke. When specifying cleanroom piping, ducting, flooring and more, semiconductor manufacturers should look for materials tested in accordance with FM 4910 standards.
Installation Guide | Piping Systems
Labor and related installation expenses can account for more than half of the total investment made in a piping system. In addition to specifying a material that will withstand the chemical and temperature demands of a process, consideration should be given to the installation process. Traditionally, engineers have relied on metal for industrial piping systems due to its durability and their familiarity with the material's strength and weaknesses. The confidence this familiarity provides is used to help justify the extra installation labor and costs associated with a metal system. At the same time, CPVC (chlorinated polyvinyl chloride) delivers reliability in many similar applications, while also providing a much simpler, faster and less expensive installation. What is it about CPVC that creates these advantages over metal?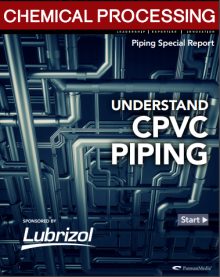 Understanding CPVC Piping Report
Delve deeper into CPVC's capabilities, benefits and performance in the harshest industrial applications.
Minimizing energy costs is one of the main areas of opportunity for plant owners looking to increase their bottom-line. At a macro level, according to the U.S. Energy Information Administration (EIA), the industrial sector uses more energy than any other sector, consuming about 54% of the world's total delivered energy. Engineers are always looking for ways to optimize system processes to improve energy efficiency to decrease energy expenses. Proper piping material selection is one opportunity to limit energy consumption. Take a look at how CPVC piping compares to metal piping in terms of energy efficiency across a system's lifecycle, even before the pipe is installed.
Piping Systems | Water and Wastewater Treatment | semicondutor
When employing salts, brine or other saltwater solutions in industrial processes, the plant's decision of which piping material greatly impacts lifecycle costs. Some may see corrosion as a necessary evil when dealing with salts, but proper material selection limits unnecessary repairs, downtime and cost. Over the course of years or decades, this can result in millions of dollars saved in direct expenses and opportunity costs caused by downtime.
Ducting | Installation Guide | Piping Systems
For any industrial piping or ducting system, it is critical that hangers and supports are correctly spaced. Too much space between supports adds unnecessary stress to your system, causing deflection and sagging. Too little spacing, and you will incur unnecessary expenses. An advantage CPVC has over other thermoplastics is that at elevated temperatures it maintains its structural integrity, requiring fewer supports. Depending on the size of the system, this can create significant advantages across material, design and—most importantly—labor costs. CPVC is more efficient than other thermoplastics Although required support spacing is less for CPVC than other thermoplastics, it is not as rigid as traditional metal piping systems, requiring additional supports. However, in corrosive applications, the additional hangers are a small price to pay for extended system reliability. Ultimately, the number and spacing of hangers and supports will be determined by the system conditions and piping or ducting requirements.
Chemical Processing | Chlor Alkali | Fabrication | Mineral Processing | Power Generation | Semiconductor | Water and Wastewater Treatment
Chlorinated polyvinyl chloride (CPVC) is a versatile compound manufactured into many geometries, including sheet, piping and fittings. When produced as sheet, CPVC can is often fabricated for various industrial products, including tanks, scrubbers, ventilation processes and more. The sheet can also be used as a liner and overwrapped with fiber-reinforced plastic (FRP). FRP-lined CPVC utilizes CPVC's corrosion resistance and relies on the FRP to increase its heat performance and mechanical strength. Take a look at a few examples of how CPVC sheet is fabricated for use across different industrial plants and applications. For information on other industrial applications where CPVC sheet is used, contact Corzan® Industrial Systems to speak to a representative.
Food, pharmaceutical, chemical and paper industries often use vessels for processing corrosive and caustic substances. Traditionally, these vessels are composed of steel, fiberglass or exotic alloys. Because chemical corrosion often deteriorates metals over time, the need for a more compatible and long-lasting vessel material is apparent. The solution? Dual laminate vessels. Dual laminate vessels are hybrid chemical storage systems made up of a thermoplastic liner and a fiber reinforced plastic (FRP) shell. The FRP component provides mechanical strength to the vessel, while the thermoplastic liner increases the chemical resistance of the inside, preventing corrosion. Thermoplastics allow dual laminate vessels to withstand the effects of highly corrosive chemicals at high temperatures. These chemicals may include: Sodium hypochlorite Hydrochloric acid Cell liquor (brine, sodium hydroxide) Sodium Chloride Sodium hydroxide Demineralized, deoxidized water The inherent chemical resistant properties of thermoplastics, like CPVC, result in longer-lasting containers. This material choice directly reduces the downtime required for repairs and can limit replacements. However, dual laminate vessels must be designed and fabricated specifically for each plant's applications and needs. Below, we explain how dual laminate vessels are manufactured to withstand the effects of these highly corrosive substances, and the main phases that must be carefully considered.
Piping Systems | Power Generation
Power generation plants rely on systems that are both efficient and reliable. Efficiency comes from the optimal usage of energy, while reliability is a result of minimal breaks and corresponding downtime. An important cog in a power generation plant is the cooling water treatment system, which removes unwanted heat within a plant. In the United States, for example, thermoelectric power plants—including coal, nuclear, natural gas and oil—make up about 90% of all power generation plants. Though processes within each type of thermoelectric plant differ, each requires cooling. When the power generation plant's cooling system cannot efficiently remove heat, especially in warmer climates, the entire plant suffers costs of excess water, wastewater and energy. For cooling systems—which include water loops, towers and headers—our product and engineering team list the primary issues plant managers face, and how schedule 80 CPVC piping can help prevent these problems.
We often receive questions from industrial engineers about CPVC products—including, what goes into creating CPVC, why is it better than other materials, and ultimately, where can CPVC products be purchased? In the engineering and production of industrial CPVC, each step is critical—from raw material to PVC, PVC to CPVC, and CPVC to finished product. The highest quality CPVC products available outperform generic alternatives as a result of innovation and quality control from start to finish.
Installation Guide | Piping Systems
Every now and then, piping systems require upgrades or repairs, whether as a result of expected chemical corrosion or accidental pipe damage. Alternatively, industrial plants will often pilot test a small run of CPVC in an existing system to verify its compatibility and reliability. When the need to integrate CPVC pipe into an existing system arises, engineers have two priorities: minimize downtime and maximize value—including material costs, labor costs and system lifecycle. Whether your existing system is CPVC, another thermoplastic or metal, CPVC piping may be the ideal replacement solution thanks to its chemical resistance and compatibility, high heat distortion temperature and pressure rating. Fortunately, integrating CPVC into an existing system, regardless of the existing material, is a relatively easy, straightforward process.