Mineral processing plants require safe, reliable piping systems that ensure facilities remain operational and more productive over the long term. But, mineral processing facilities present tough challenges for piping systems, including the presence of aggressive chemicals, temperature extremes, continual exposure to ultraviolet radiation and more.
Every company has safety policies to protect its workers, and employee safety should always be the most important consideration when selecting an industrial piping system. Is the piping system functional and reliable? Will it provide the long-term performance expected without bursting or resulting in leaking pipe that can expose workers to dangerous chemicals?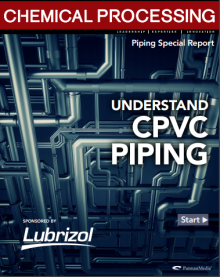 Understanding CPVC Piping Report
Delve deeper into CPVC's capabilities, benefits and performance in the harshest industrial applications.
Power generation plants of all types – from gas turbine combined cycle to combined heat and power – move large quantities of water, caustics and corrosives. Corzan® CPVC (chlorinated polyvinyl chloride) piping has provided operational advantages and cost savings to the power generation industry for decades, enhancing performance in a range of applications in new and existing facilities for long-term reliability.
Many companies have corporate policies regarding sustainability and encourage employees to specify sustainable products provided by suppliers committed to environmental responsibility and improving lives. And even though piping systems may be installed overhead or underground where they are not as visible, they play an important role in helping companies achieve their green goals.
The results of friction loss in industrial piping systems can decrease operational efficiency and productivity – and eventually result in downtime and costly repairs. Friction loss affects flow rate and fluid pressure within the piping system and must be considered during system design.
According to the U.S. Geological Survey, power generation plants are the largest source of U.S. water withdrawals and account for about 40 percent of the total water withdrawn from various sources in the United States.
CPVC Solvent Cement | Chemical Processing
Industrial facilities require reliable equipment that ensures long-term performance for maximum productivity and minimal downtime. When choosing a piping system for an industrial application such as a hydrochloric acid or sodium hypochlorite facility, specifiers must consider the joining method for a piping material and how it will impact labor costs, productivity and service life.
Long-term performance, trouble free operation and consistent results are critical to manufacturing facilities' operational success. While facilities must first satisfy their functional needs, the initial cost of construction is often a factor when selecting the right piping for a chemical processing plant. Purchase price is only part of the equation when choosing a piping system that will provide long-term performance. A lifecycle cost analysis tailored to the specific application can help you get the best value, considering factors such as fluid temperature, line pressures, the chemical environment, etc.
An atmospheric tank stores liquids at atmospheric pressure. Contained in one of these vessels may be hydrochloric acid, chlorine dioxide, sulfuric acid or some other corrosive, potentially hazardous solution. Each vessel is specially designed, constructed and installed to meet the specific requirements of the plant. Once the vessel has been put into use, the job is not done. Sometimes, ideal conditions are not perfectly maintained or unforeseen events occur, causing problems for the tank. To keep plant workers safe, and to protect the large investment in the plant, inspections must be a fundamental part of the plant's safety program. Follow a specified timeline, technique and team to avoid a costly and hazardous failure.
Biological contamination presents a serious concern for many applications, even in industrial plants. Biofilm formation allows unsafe bacteria and organisms to grow and contaminate supplies of water and other transported fluids. Considering alternative piping materials ideally suited to resist biofilm formation can help minimize this significant health risk.