Power generation plants move large quantities of water, caustics and corrosive chemicals during the power production process. Designing piping systems for these facilities can be a challenge based on the very nature of the chemicals used and the high levels of heat and pressure.
Industrial piping design engineers are naturally cautious people. They like to feel confident that the system they install will operate safely and reliably over the long term.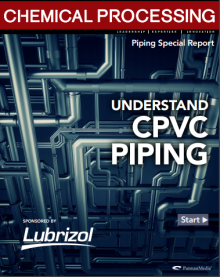 Understanding CPVC Piping Report
Delve deeper into CPVC's capabilities, benefits and performance in the harshest industrial applications.
A surge in pressure within a piping system, known as water or fluid hammer, occurs whenever the linear flow rate of fluid in pipe changes quickly – when pumps start or stop, valves open or close with quick acting actuation devices, or entrapped air moves within the system. The longer the pipe line and the faster the fluid is moving, the greater potential for shock.
A bottleneck within a plant operation generally occurs when a portion of the process throughput slows down, reducing process efficiency and profitability. The identification of process bottlenecks is in itself a skill and an artform. Proper due diligence during the design, material selection, procurement and installation of a piping system can eliminate many of the bottlenecks that are often associated with metallic piping systems.
Corrosion is a tremendous and ongoing challenge, with a 2016 study released by the National Association of Corrosion Engineers known as NACE International estimating the global cost of corrosion at $2.5 trillion. NACE is the global leader in developing corrosion prevention and control standards, certification and educational resources.
It was another quiet Sunday morning in the Houston metro area before residents were awakened by a bolstering fire and smoke when a storage vessel caught fire and quickly clouded the sky. One of the greatest safety concerns among many chemical plants and other industrial facilities had become a reality. When a fire breaks out, normal operations can turn into chaos and life-threatening situations can develop within seconds as evidenced by the Houston fire and others. For this reason, fire performance must always be evaluated when selecting piping materials, including thermoplastics. Designers and engineers should select engineered systems with proven performance and properties such as a low flash ignition temperature, burning resistance, flame spread resistance and limiting oxygen index (LOI) to create a safer, more reliable and productive environment.
It was in 1911 that the ASME Boiler and Pressure Vessel Code (B&PVC) became a topic of great discussion born out of the need to protect public safety. Invention of the steam engine, boilers, and other sources of pressure systems made it apparent that something must be done.
Threading and Flanging CPVC Piping Systems Issues that develop in piping systems often involve connections, which is why it is important to select and properly install all transitions/connections. Depending on the application and the pipe size, CPVC pipe transitions may be threaded or flanged, although flanging is generally the preferred method especially when disassembly is required.
Based in Ocean Springs, Mississippi, B & D Plastics is a leader in the design and fabrication of fiberglass and dual laminate process equipment. The company sought a material that would provide the mechanical strength and chemical resistance needed to enhance the structural integrity of its fabricated composite structures, including scrubbers, towers, evaporators, precipitators, clarifiers, storage tanks and piping systems.
Corrosion is a widespread and expensive problem that impacts every industry around the globe. In 2016, NACE International released the "International Measures of Prevention, Application and Economics of Corrosion Technology (IMPACT)" study, which estimated the global cost of corrosion at approximately $2.5 trillion (USD).