CPVC | Chemical Processing | Corrosion | Corzan® CPVC | Fabrication
Engineers who design process piping systems often specify Corzan® CPVC because of its unparalleled resistance to many corrosive acids, caustics and salts at operating temperatures up to 200°F. Another reason is that the material offers a higher pressure rating over its useful temperature range than most other thermoplastic materials used for industrial piping.
Corzan® CPVC | Cost Savings | Piping Systems | Specification
Quality specifications have a direct impact on long-term performance. Industrial facility project managers know they must take quality into account when determining the most suitable material for demanding piping systems. If you have the ability to specify high-quality materials without incurring additional costs, it is a win-win for any facility. If using quality specifications is not part of the process, they are putting their facilities at risk for unplanned downtime and other liabilities. But is the cost of quality too high?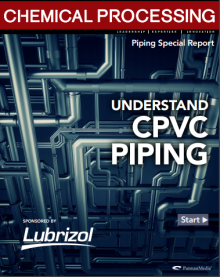 Understanding CPVC Piping Report
Delve deeper into CPVC's capabilities, benefits and performance in the harshest industrial applications.
It was an old boiler that exploded, devastating three floors and the building's roof at the Grover Shoe Factory in Brockton, Massachusetts, on March 10, 1905 (ASME.org). The unthinkable tragedy resulted in 58 deaths and 117 injuries. This gave rise to the Board of Boilers Rules, Boiler Code Committee of 1911, and to the eventual publication of the Boiler & Pressure Vessel Code (BPVC) in 1915.
Corrosion | Piping Systems | chemical resistance
The question of how to avoid the damaging corrosive effects of harsh process chemicals on metallic piping should be the least of the worries of industrial operations and reliability personnel. When these shortcomings are plaguing your clients' projects, consider implementing material review protocols that do not limit your options. Through no fault of their own, traditionally trained engineers are not immersed in the world of thermoplastics. Yet the implementation of alternate materials of construction review into your Loss of Containment reduction program can create a safer working environment for employees, and provide a more economical solution to a longstanding issue with corrosion.
CPVC Solvent Cement | Piping Systems | Welding Thermoplastics
"Glue" is a term commonly inappropriately applied to the solvent cement process for thermoplastics. It is true that some types of thermoplastics utilize glues, but not all. Don't let misconceptions about joining methods be the downfall of your project. CPVC materials manufactured to ASTM standards, such as ASTM 441 and ASTM F439, are designed to be chemically welded through a process known as solvent cement welding. It is not a glue.
Piping Systems | Pulp and Paper
In virtually every line of the pulp and papermaking process, freshwater, process liquids and liquors flow through pipes, filters and screens, and are stored in tanks. The need for paper products in our society is critical, as we have seen during the pandemic of 2020. How the process efficiently and responsibly creates the products is a complex maze of technology that transforms trees into paper. Caustic and corrosive chemicals – sodium hydroxide, sodium sulfide, sodium sulfate and sodium carbonate – are at the heart of these processes. In the process flows, there are wide swings in pH levels as chemical reactions galore advance toward making the finished product we use every day.
Harrison Machine and Plastic Corporation is one of the nation's largest custom fabricators and distributors of plastic pipe, duct and fittings for a wide range of industrial applications. Since 1970, the company has specialized in thermoplastic fluid and air handling systems that are used in extremely corrosive environments, customizing solutions to meet any customer need.
Chemical Processing | Chlor Alkali
In almost all of the world's industries, two core chemicals are likely at their foundation – sodium hydroxide or potassium hydroxide. Solutions of sodium hydroxide (also known as caustic soda) are commonly used in chemical processing, pulp and paper, water treatment, soaps and detergents, bleach manufacturing, textiles, and petroleum products industry. Solutions of potassium hydroxide (also known as caustic potash) are used in applications such as the production of potassium carbonate, potassium phosphate, liquid fertilizer, and potash soaps and detergents.
When designing a data center, uptime is mission critical in choosing your design criteria. For many companies, the data center – that dedicated location for the operation and monitoring of information technology and computing assets – can be as valuable to operations as any piece of equipment. For some companies, the mission is so critical to maintaining business continuity that other highly expert companies operate the data center for them to ensure that stringent uptime requirements are met.
Chlor Alkali | Power Generation | Water Treatment
Membrane technology continues to advance at a lightning pace. A type of separation process, membrane technology, is being utilized in processes as varied as absorption, distillation, fouling, microfiltration, nanofiltration, reverse osmosis, ultrafiltration, and desalination. And as the technology advances, so does the dependence on piping systems to maintain fluid stream purity.