Installation Guide | Piping Systems
One of the benefits of working with chlorinated polyvinyl chloride (CPVC) pipe is that it can be cut with a variety of different tools that don't require any electricity or heat. However, different cutting methods are preferred over others, depending on the application. When cutting CPVC pipe, it is important to make a square, flat cut. An uneven cut limits the bonding area and weakens the fitting. To help you make the best possible cut, we've put together the following dos and don'ts when cutting CPVC pipe in different situations.
This post is an excerpt from the white paper, Chemical Resistance and Chemical Applications for CPVC Pipe and Fittings. To access the full white paper, click here. When considering a piping material for your industrial application, it's important to evaluate its compatibility with the chemicals you'll be transferring and storing. CPVC is a widely used piping material because of its superior resistance acids, bases and salts.This compatibility has been proven over nearly 50 years of experience in the field, the chemical resistance capabilities of CPVC have been confirmed through work with numerous outside testing laboratories around the world. Equally important is the fact that chemical resistance has been determined, and confirmed, using two widely accepted standards: ISO 22088 ASTM D543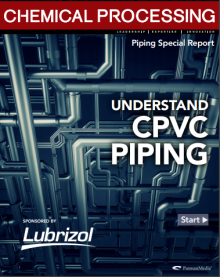 Understanding CPVC Piping Report
Delve deeper into CPVC's capabilities, benefits and performance in the harshest industrial applications.
In industrial applications with harmful particulate and pollutive byproducts, air scrubbers are often used to meet emissions standards. A scrubber is a system that cleans or purifies air by removing gasses, particulates, or otherwise harmful compounds from a system's emissions. There are many kinds of scrubbers available and their specific functions depend on the compound being removed from the processed stream. For example, power systems require scrubbers along with combustion vents to remove particulates from the generator or boiler. In any scrubber that handles corrosive compounds, CPVC is a viable choice for tank lining, drain piping, and more. Wet scrubbers in particular, which use continuous sprays of neutralizing fluids to control harmful emissions, benefit from the chemical compatibility of CPVC to improve the performance and overall lifespan of the scrubber.
When highly corrosive chemicals are used in industrial processing applications, chlorinated polyvinyl chloride (CPVC) is often specified. Depending on the unique system conditions and applications, different CPVC piping variations—such as schedule 80 piping, schedule 40 piping, or even CPVC-lined FRP—may be recommended. Use this guide to learn about the general differences between the three options to help determine the CPVC type that is ideal for your application.
Fabrication | Installation Guide
Hot air welding is a joining method that uses high heat to make chlorinated polyvinyl chloride (CPVC) material reach its melt state. Pushed together for a certain amount of time at a specific pressure, this method allows the surface molecules of the two pieces to interlock, fusing them together. Hot air welding is an essential technique for CPVC sheet fabrication and can also be used to join pipes and other geometries when other joining methods are not an option.
Installation Guide | Piping Systems
There are a few available methods for joining CPVC pipes and fittings, but solvent welding is often recommended as the optimal solution because of the strong, reliable bond it forms between adjoining pieces of material. Solvent cement isn't glue­—rather, it's a chemical compound that untangles the surface molecules of CPVC material, freeing them to bond with those of another CPVC piece. The result is a fully fused joint that maintains the chemical resistance, temperature and pressure bearing capabilities of the original material. To reach optimal joint strength, the solvent cement must adequately soften the surface material, and enough time must be allowed for setting and curing. Curing is when the solvent flashes off or evaporates, allowing the newly formed joint to dry and harden. In cold weather applications, solvent cement and CPVC molecules slow down, requiring more solvent to soften the material and more time to cure or harden the joint. Conversely, in hot environments, the molecules speed up, creating different potential challenges for installers. By following a few simple guidelines, reliable CPVC joints can be solvent welded at temperatures exceeding 95°F (35°C).
Acids are commonly used by industrial plants for a range of applications, from pH adjustment to the manufacture of other important industrial chemicals. Some of the most common acids include: sulfuric, nitric, hydrochloric and phosphoric. These acids are aggressive substances that can be highly corrosive to certain materials. Metals tend to corrode quickly when exposed to acids relative to some thermoplastics. In addition, the high pressure and heat of many industrial processes tend to escalate this corrosion. In the case of high-quality CPVC, the high level of chlorine in the polymer chain helps protect it from the degrading effects of acids. That said, material degradation and corrosion can occur over time. The severity is largely based on material quality and operating temperature, as well as acid concentration and type. Because of the corrosiveness of mineral acids, special considerations must be made when transferring and storing them in an industrial facility.
"Glue" and "solvent cement" are two words often used interchangeably in reference to plastic piping installation. On a basic level, both accomplish the immediate goal of joining. However, the substances are very different in how they work and their respective performance. While glue is an adhesive that connects or "sticks" two pieces together, solvent cement fuses the two pieces together at the molecular level, essentially establishing one uniform piece of material. This fundamental distinction is just the beginning of the differences between the two joining materials.
Throughout the construction process, a number of the products used—such as thread sealants, gaskets and insulation—might come into contact with piping system components. Each of these products includes its own unique chemical makeup that enables it to serve a specific function within the larger system. For example, gaskets combine polymers and lubricants to form a tight, long-lasting seal between flange fittings. The challenge for engineers is certain chemicals, when in contact with a piping material (e.g. steel or CPVC), can weaken the material and cause premature failure. In other words, to ensure the longest life for your piping system, it's important to select ancillary products that offer the greatest compatibility with your piping material.
Read the full post below or check out the Thermal Expansion Infographic for a snapshot overview of this blog post. All material has inherent thermal properties that affect its characteristics depending on the amount of heat or cold it's exposed to. The more heat is applied, the more materials tend to expand and soften. The colder the conditions, the more materials tend to contract and harden. In the case of piping systems, we are most concerned with linear expansion and contraction, which affects both metallic and thermoplastic piping materials. If unaccounted for during the piping system design, length fluctuation can lead to costly issues. This is especially true for industrial plant systems, which often subject pipe to extreme temperatures and pressures. For example, if a run of pipe is constrained at both ends, as it heats up linear expansion will cause compressive stress on the material. When this undue force exceeds the allowable stress on the material, it will result in damage to the pipe and potentially brackets, fittings, and valves. Depending on the scope of that damage, plants may be forced to conduct frequent repairs, shut down processes, and potentially replace the piping system prematurely. Fortunately, while expansion and contraction are unavoidable, resultant issues can be easily circumvented with the proper design considerations. Specifically, by employing one of the following deflection mechanisms: Expansion Loops Expansion Offsets Changes of Direction Expansion Joints Before we explain how to deploy each mechanism, we need to look at the four factors that influence their design.