Installation Guide | Piping Systems
As CPVC becomes increasingly specified in industrial processing applications, the conversation around how it compares to other piping materials grows. Often, we are asked: How does CPVC piping compare to metal piping? What is the difference between CPVC and PVC? For this post, rather than compare and contrast CPVC's characteristics to another material, we explore the possible joining methods and specific uses CPVC may have in conjunction with other thermoplastic or metal piping materials.
Installation Guide | Piping Systems
In any piping system that uses flanges, gaskets are crucial. Gaskets are placed between flanged system components to create strong seals that stop leaks and provide greater reliability. As with piping material, gasket selection and installation play significant roles in the overall performance and life expectancy of a piping system. Specifically, plant maintenance personnel and engineers must consider piping system compatibility, physical properties of the gasket, and installation specifics. Corzan® Industrial Systems' team of engineers and product specialists recommend starting your search with the fluid flowing through your system.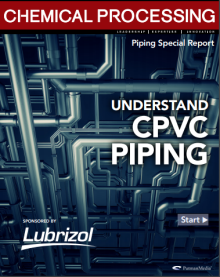 Understanding CPVC Piping Report
Delve deeper into CPVC's capabilities, benefits and performance in the harshest industrial applications.
Polyvinyl chloride (PVC) is a familiar and versatile thermoplastic especially known as a piping and fitting material used for residential and commercial plumbing applications. In the same thermoplastic family to PVC is chlorinated polyvinyl chloride (CPVC). CPVC, though similar to PVC in name and available product types, exhibits superior resistance to heat and pressure, which enables it to be used in more demanding industrial applications. The difference in heat and pressure resistance stem from the molecular makeup of each material.
Installation Guide | Piping Systems
Linear expansion is an unavoidable phenomenon that affects all piping material—including both metals and plastics. If a run of pipe is constrained at both ends, an increase in temperature will cause the material to expand, resulting in compressive stress. When this mounting force exceeds the material's allowable stress, damage occurs to the piping system. During piping system design, architects and engineers must build in expansion loops to deflect this compression stress. In each of the three types, a right angle is required.
Installation Guide | Piping Systems
This post is an introduction to our resource article, "How CPVC Pipe Pressure Ratings Are Calculated." To be used in pressure piping systems, every material must empirically prove its pressure bearing capabilities. This ensures that plants and facilities are integrating piping that can stand up to the long-term strength demands of their applications. ASTM, ISO and the Plastics Pipe Institute Hydrostatic Stress Board have developed a series of test methodologies and design factors to verify the long-term pressure bearing capabilities of thermoplastic compounds (e.g. chlorinated polyvinyl chloride (CPVC)).
Piping Systems | Semiconductor
When we talk about plastic and fire resistance, most people conjure up images of melting plastic in a campfire or bending plastic spoons with a lighter. While many plastics don't stand up well to heat and fire (namely polypropylene and polyethylene), it's not true of all thermoplastics. Specifically, chlorinated polyvinyl chloride (CPVC) is engineered to limit flammability and smoke production. In fact, many applications that specify CPVC piping because of its heat, pressure and corrosion resistance capabilities do so because it also satisfies strict regulations around flame and smoke resistance. But what qualities should you look for in a thermoplastic piping system to ensure it satisfies your application's fire resistance requirements?
Installation Guide | Piping Systems
Whether used for general drainage, fire suppression, mining, or another industrial application, CPVC piping systems may need to be run underground. Most concerns about underground CPVC usage arise from incorrect assumptions about CPVC's physical properties, specifically impact resistance. Underground piping is exposed to: Various-sized rocks and other abrasives. The weight of the backfill and any surfacing material. Vehicle and/or machinery traffic (depending on the application). Corrosives found within the soil. Fluctuating, potentially extreme temperatures. These potentially harmful conditions beg the question: Can CPVC piping be buried?
This post is an excerpt from our resource article, "Metal v. CPVC Piping Systems — Can CPVC outperform metal piping in industrial applications?" For demanding industrial applications, metal piping materials, such as carbon steel or stainless steel, are the traditional choice. However, with the significant threat scaling poses to metals in industrial applications, should it continue to be? If your plant exclusively considers metal piping materials, viable alternatives are being overlooked. Chlorinated polyvinyl chloride (CPVC) piping systems present significant advantages to metal in environments prone to scaling. Learn more scaling in metal and CPVC piping systems below.
The original Corzan® Engineering Design manual included an appendix titled, "Things Not to Hit CPVC Piping With." It included items like a baseball bat, passenger train and lightsaber. But, first on this list, was a forklift. Unfortunately, due to binder-size restrictions, the appendix had to be omitted.  All jokes aside, the reality is accidents do happen and all piping material will sustain some degree of damage if subjected to any significant force, such as a direct, unprovoked forklift attack. But, the severity of that damage and the resultant downtime can be limited by specifying the proper piping material.
This post is an excerpt from our resource article, "Metal v. CPVC Piping Systems — Can CPVC outperform metal piping in industrial applications?" For decades, metal piping systems have been the standard choice of engineers and architects in industrial applications because of its strength and durability in high heat and pressure environments. However, metal piping is not without its drawbacks. Specifically, if your plant uses stainless steel, carbon steel or another alloy to transport fluids, corrosion can be a real concern. Corrosion affects flow rates and efficiency, weakens pipes, and can lead to unexpected and costly shutdowns. Conversely, pipes and fittings made with chlorinated polyvinyl chloride (CPVC) material are strong enough to withstand the high heat and pressure of industrial processes, while also being inherently inert to most acids, bases, salts and aliphatic hydrocarbons. This means the aggressive ions that attack metal molecules flow right past CPVC, leaving them and the piping unscathed. Let's take a look at how metal piping corrodes and why CPVC is an effective solution to eliminate this threat in industrial piping systems.