Specifying Corzan® CPVC Ducting
Any system should be designed in accordance with the manufacturer's instructions and any compliance standards. Manufacturers' specification sheets offer insight into a material's pressure requirements, operating temperatures, support spacing, joining methods, thermal expansion and contraction and more.
Dimensions and Weights
Extruded, seamless round duct is available in sizes up to 24-in., according to the following table: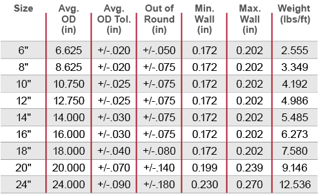 Fabricated Duct
Round duct larger than 24 inches should be fabricated from Corzan CPVC sheet and butt-welded with longitudinal seams. Square duct can also be fabricated by thermal bending Corzan CPVC sheet and butt-welding with longitudinal seams.
Fabricated duct should be made from Corzan sheet according to the following guidelines:

Fabricated fittings like elbows and bevels should have a minimum center-line radius of 1.5 times the duct diameter.
Ratings and Capabilities
Negative Pressure
Corzan CPVC ducting performs well when exposed to harsh environments. This was demonstrated by testing conducted at an independent test facility to determine critical collapse pressures.

Corzan CPVC duct was taken to extremes under various negative pressure conditions to validate the product's structural integrity at elevated temperatures when exposed to severe conditions. The negative pressure ratings shown the table below are based on actual testing of round seamless extruded CPVC duct at various temperatures and incorporate a 1.5:1 safety factor.

Max. Internal Negative Pressure Rating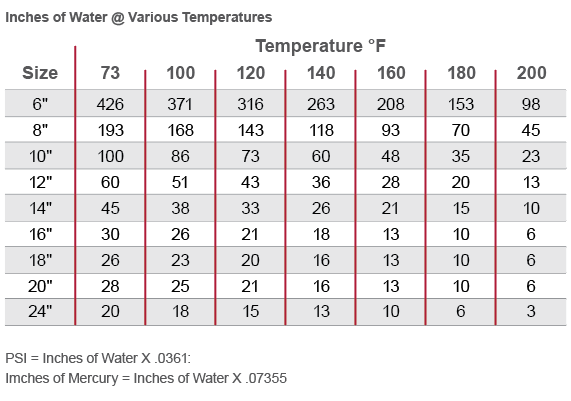 Positive Pressure
Corzan CPVC ducting can endure greater levels of positive internal pressure than negative internal pressure. The table below shows the maximum recommended internal pressure rating in PSI for Corzan CPVC round seamless extruded duct at various room temperatures.
Max. Internal Positive Pressure Rating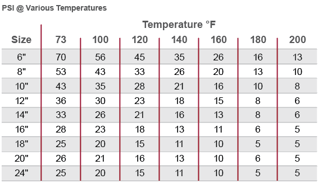 NOTE: Maximum values stated are for extruded duct pipe only and incorporate a 1.5:1 safety factor. Consideration should be given to system design, method of fabrication, and joining which may require additional system derating. The use of compressed air or gases is not recommended for use with Corzan CPVC ducting.