5 Reasons to Trust Corzan® CPVC in Diverse Applications
TRUST is a key component of success. For over 60 years, Corzan® CPVC technology has been building on our legacy of trust. What is it? If you look in the digital version of Webster's dictionary the first definition is, "Confidence; a reliance or resting of the mind on the integrity, veracity, justice, friendship or another sound principle of another person." These are words that so many of our customers have come to refer to Corzan CPVC; The Reliable Choice. You can see in the cover image, a local school system found Corzan CPVC to be the best solution for a venting system at the school. Corzan CPVC has continued to build on its established integrity as a solutions provider in so many different applications. Why is this the case?
It starts with Corzan CPVC's wide range of chemical resistance. Corzan CPVC is one of the most versatile plastics suitable for so many applications from potable water, HVAC, to chemical transport systems.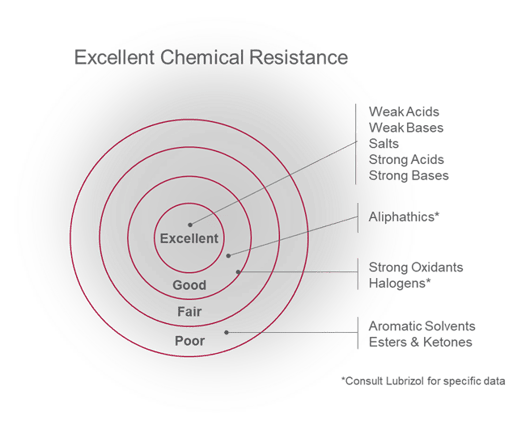 Failure is not an option when we conduct our due diligence as engineers. It is our responsibility to review the application and decide the best material to perform the task at hand. This process is severely impacted by most engineers' lack of knowledge of thermoplastics. Thermoplastics, as defined by ASME NM.1, are a specific group of nonmetallic materials that, for processing purposes, are capable of being repeatedly softened by increases in temperature and hardened by decreases in temperature. Thermoplastics have been around for nearly a century. However, it was not until 2018 that ASME published its first nonmetallic standard, NM.1.
It can be difficult to decide upon the best material for an application. That is why we are sharing information about why many facility owners, design engineers, and contractors tell us they choose Corzan CPVC. Building, engineering, and piping professionals who are proponents of CPVC base their appreciation for this engineered material on many different factors. Corzan CPVC in particular originates with the company that invented this versatile thermoplastic. Project owners can expect a successful specification, installation, and excellent prospects for a system that meets or exceeds budgets, timelines, and system performance parameters, lasting for the duration of its design life.
Precisely Engineered and Real World Tested
Here are five compelling reasons to use Corzan CPVC that span applications from commercial plumbing and HVAC to process piping in diverse and aggressive industry sectors.
Corzan technology provides a practical and sustainable solution to the shortcomings of metal that reduce system service life and water quality in industrial and commercial applications. It is inherently corrosion resistant and non-reactive to process and disinfection chemicals. This creates a lower-cost, longer-life system.

The material is empirically suitable to stand up to the pressure, temperatures, stresses, and impacts of both commercial and industrial operations, and embodies the highest standard of product performance and quality in these applications.

A hallmark of Corzan CPVC technology is its traceability – resin and compound are manufactured by one company, Lubrizol, for consistent performance and quality assurance.

Piping made of Corzan CPVC technology is only manufactured by select partner companies that have met the highest quality standards to ensure the compound achieves its full performance properties in demanding commercial and industrial applications.

Every step of a project determines a piping system's integrity. That's why we stand by our product throughout its lifecycle with one of the industry's largest network of technical support specialists in plumbing, HVAC, and industrial segments.
These are only some of the most common advantages cited, though. Many like the superior resistance to strong acids, while others like the resistance to strong bases. Some see value in the lightweight of the piping material lessening the load-bearing requirements for the structure. Another area that gets a lot of attention is the solvent cement welding process utilized to join the system. Solvent cementing is a very common process that makes it possible to use alternative labor trades to install the systems. With proper credentials, installers are able to install systems where the connections are the strongest part of the system.
When we discuss commercial plumbing, we all think of potable water. What makes Corzan so versatile is the ability to handle so many different grades of water.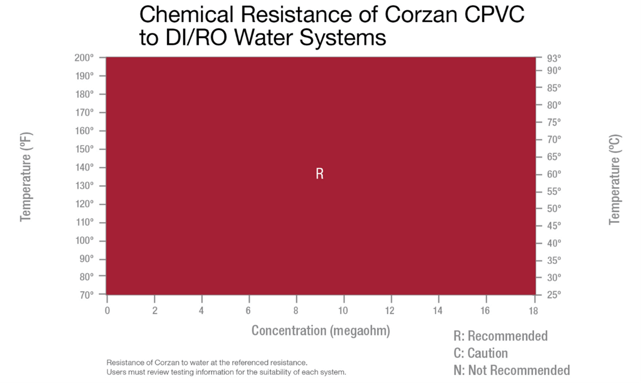 Some piping systems regulate the flow of water due to erosion effects, caution on dissimilar materials causing issues in the system, or simply cannot stand up to higher resistivity water systems. Corzan CPVC is unique in its ability to handle potable water as well as lab-grade water systems across a wide resistivity range. It is common for many commercial systems to use DI/RO beds, water softeners, or other water purification techniques. It is good news that Corzan CPVC is up to the challenge.
Regardless of which attributes are most valued, Corzan CPVC is formulated to deliver both structural integrity and long-term reliability. Corzan CPVC technology combines proprietary material expertise with deep industry knowledge – a winning formula that building, engineering, and piping professionals have trusted for more than 60 years.
Lubrizol has a team of subject matter experts that support multiple verticals such as Commercial Plumbing, HVAC, Chemical Processing, Pulp & Paper, Power Generation, Mineral Processing, Water Treatment, Food & Beverage, Chlor-Alkali, Semiconductor, and Data Centers. If you need assistance, it is available.