WHY A GE INDUSTRIAL PLANT PREFERS FRP / CPVC PIPING FOR ITS WET CHLORINE LINES
GE Industrial provides a broad range of products and services throughout the world, including appliances, lighting, industrial products, and much more.
Twelve years after GE constructed its Uhde Technology chlorine plant at Bergen op Zoom, Maintenance Engineer Henk Akkermans decided to convert the plant's fiber reinforced plastic (FRP) piping to FRP / chlorinated polyvinyl chloride (CPVC) dual-laminate piping.
The upgrade to FRP / CPVC was made because Corzan® CPVC can be relied on to satisfy the demands of the plant's wet chlorine lines, including high heat and pressure. The FRP then provides an additional layer of structural support to the pipe, ensuring strength and safety.
The piping is used in the wet chlorine lines before the butterfly valve to the dry-chlorine section. Here the piping is subjected to:
Heat: 194°F (90°C)
Pressure: < 0.24 Bar
Acidity: pH > 4
Why FRP / CPVC Dual Laminate Piping?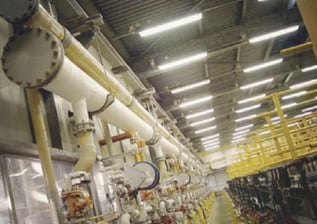 After evaluating all the variables involved, Akkermans opted for the FRP / CPVC dual-laminate piping because of the following benefits:
Structural fibers are isolated from the process fluid stream.
Superior corrosion and abrasion resistance.
Not prone to cracking or crazing during handling and installation.
Pictured is the FRP / CPVC dual laminate in GE's wet chlorine gas application.
Over a 12-year period, the chlorine plant replaced 4 to 5 miles (6.4 to 8 kilometers) of piping with FRP / CPVC. Pipe sizes ranged up to 400mm in diameter throughout their chlorine system.
Under these conditions CPVC is technically suitable, says Corne Uytdewilligen, inspection engineer at GE, who is also very satisfied with the use of CPVC.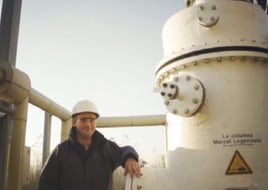 GE also used Corzan CPVC in a couple other locations:
CPVC Sheet for the hydrogen chloride (HCl)

scrubber (

HCl at

33%, design temperature at 122°F (50°C), and pressure at 0.05 bar).

CPVC Piping for the H2 Analyzer.
All GE chlorine plants will be changing globally from FRP to FRP / Corzan CPVC in order to increase plant efficiency and safety.

- Henk Akkermans, GE Maintenance Engineer
Resources from CPVC Pioneers
Subscribe to receive weekly resources, advice and support from our team of trusted product and engineering specialists.