Quieter Piping System Helps Meet Guest Expectations at Hilton Garden Inn
For the owner of the Hilton Garden Inn® franchise in Romulus, Mich., every detail involved in the construction of the hotel had to provide premium quality for its guests. According to Webb Meyers, director of construction and renovation for Cooper Companies, Memphis, Tenn., their goal was to build a premium business travel destination leveraging and maintaining the long-lasting reputation of the brand.
Along with the visible benefits offered to each guest, there was an advantage that was less visible: a quieter, more reliable plumbing and fire sprinkler protection system. Manufactured by The Lubrizol Corporation, Lubrizol CPVC consists of Corzan® Material and Piping Solutions, FlowGuard® Gold Plumbing Systems, and BlazeMaster® Fire Protection Systems. Combined, these brands create plumbing and fire sprinkler solutions that ensure the safety and comfort of individuals in residential and commercial settings.
A Quiet Solution
An advantage of Corzan Piping Systems and FlowGuard Gold Plumbing Systems is their ability to minimize the sounds of running water. Corzan Piping Systems' thermoplastic properties found do not transmit sound as easily as metal pipe. This is ideal for the hotel business; it creates a quieter atmosphere, as guests will not have to hear their neighbor's water running early in the morning or late at night.
"Everyone knows that allowances have to be made to eliminate water hammer for copper plumbing systems," said Pender Mechanical. "With CPVC, there's no need for air chambers or arresters."
The insulation is also valuable for maintaining desired temperature. Unlike copper piping materials, the insulation properties of CPVC plumbing systems reduce condensation and sweaty pipes. The material helps hot water stay hotter and cold water stay colder than copper, saving property owners money on heating and cooling bills.
"Corzan Piping Systems provide an additional insulation value, where copper gives you none."
Fire Sprinkler Installation
When selecting the hotel's fire sprinkler system, the Cooper Companies immediately requested BlazeMaster Fire Sprinkler Systems. "We have had experiences with steel fire sprinkler systems that had pinhole leaks," said Meyers. "We recognized that Lubrizol CPVC systems would not have the same problem."
Similar to other Lubrizol CPVC systems, heavy equipment is not required for installation of BlazeMaster Fire Sprinkler Systems, making for a cleaner, quieter installation.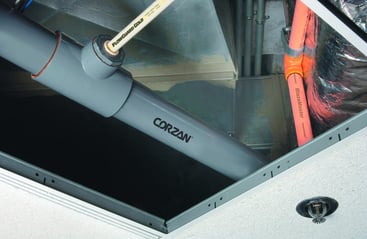 A Successful Brand Family
For nearly 60 years, Lubrizol CPVC has been used in a variety of piping system applications in millions of hotels, condominiums, buildings, apartments, and homes. When building, the Detroit Hilton Garden Inn was immediately drawn to the Lubrizol CPVC brand family for their long-lasting durability, reliability, and protection.
"The field support provided by Lubrizol on this job was extremely valuable. Their response was timely and they made things happen, whether it was a code issue, or product we needed," said Pender.
Lubrizol CPVC is often chosen for its ease of installation, durability, and corrosion resistance. Weighing significantly less than metal, it is much easier to support and maintain. It also has increased corrosion resistance and can last longer than competing metallic materials.
With The Lubrizol Corporation's brand of CPVC products, the Detroit Hilton Garden Inn provides a quiet stay with the confidence of superior corrosion resistance and safe delivery of clean water supply.