Corzan Customer Launches ChlorFIT Piping System
GF Piping Systems, a Corzan® CPVC licensee, has introduced the ChlorFIT Schedule 80 Piping System, a line of highly robust pipes, valves and fittings ideal for hot- and cold-water supply lines in commercial and institutional projects. GF Piping Systems' new line allows for a complete Corzan CPVC system without need for transition to copper stub-outs while offering numerous advantages over other piping materials, including use in hot temperatures and resistance to chlorine and corrosion.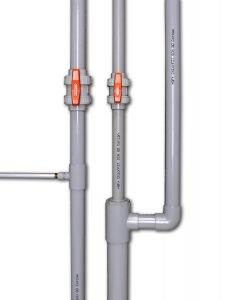 ChlorFIT is the result of GF Piping Systems' partnership with The Lubrizol Corporation and its Corzan CPVC, a material offering an ideal combination of durability, reliability and affordability for applications ranging from healthcare to education to hospitality. Corzan CPVC's performance is backed by nearly 60 years of consistent performance in the field. All Corzan-branded pipe and fittings come with support from Lubrizol, which includes the FBC System Compatible Program and engineering and installation training and assistance.
ChlorFIT is not susceptible to chlorine degradation as is common with polyolefins like polybutylene, polypropylene and PEX. And unlike some metal systems, ChlorFIT piping systems will not fail due to corrosion. ChlorFIT users also will benefit from fungal resistance and antifouling properties: because of its inherently smooth internal surface, Corzan CPVC is one of the only piping materials ideally suited to resist biofilm growth and can easily withstand ASHRAE 188-compliant decontamination procedures, including highly chlorinated water.
"ChlorFIT starts with Corzan CPVC as its foundation, a material we selected knowing it was the premium option for commercial water and whose reputation ties directly back to our company's commitment to quality," says Mansoor Basheer, senior polymer scientist and director of R&D for GF Piping Systems. "ChlorFIT offers plumbers, plumbing engineers and building owners a complete system that is reliable, durable, easy to install and affordable while protecting their reputation."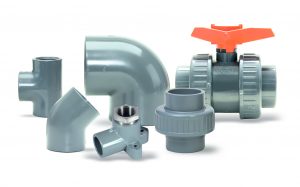 ChlorFIT Piping Systems are affordable and straightforward to install using one of two methods: solvent welding, which forms a long-lasting, chemical bond, or mechanical joining, which facilitates pre-fab work and drastically decreases downtime for alterations. This variety allows plumbers and contractors to determine the optimal method based on their project and needs.
ChlorFIT comes in ½" to 6" sizes in beveled or plain end. At 80 degrees F, it has pressure ratings of at least 400 psi for 2" and smaller sizes, at least 320 psi for 4" and smaller, and at least 280 psi for sizes 6" and under.
For more information on ChlorFIT, visit www.chlorfit.com.