Delta Air Lines Trusts Corzan CPVC to Prevent Corrosion
At Delta Air Lines' Atlanta-based Technical Operations facility, the landing gear of its entire fleet is taken apart, cleaned, metal-plated, and put back together again.
A polyvinyl chloride (PVC) system was servicing the ventilation needs in the facilities plating shop, operating under highly aggressive chemicals, very high temperatures, and corrosive conditions. When the system began to fail, Delta knew it had to be replaced by a stronger, more chemically resistant material that could withstand the facility's corrosive environment.
The engineers found the solution to their problem in Corzan chlorinated polyvinyl chloride (CPVC).
The Landing Gear Facility
At Delta's plating facility, a combination of chromic acid, sulfuric acid, and hydrofluoric acid is used in the various plating solutions during the rework of the landing gear. Portions of parts that do not have to be plated are masked in a 200ºF wax for protection prior to working the part.
During the plating operations, landing gear parts are stripped to their base metals and replated to prolong the life of the equipment. Engine parts are broken down into pieces ranging from 3.75 to 1.5 inches for metal plating. Numerous parts used on and in the airplanes are rebuilt, not replaced, until the end of their usable lives.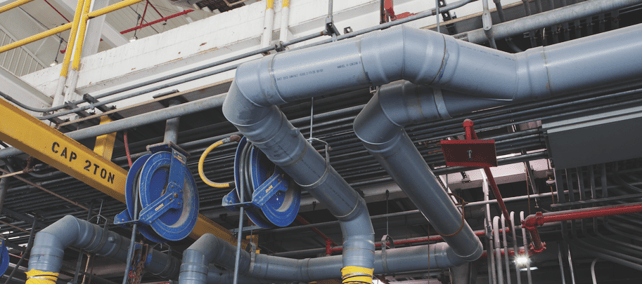 Replacing PVC
Previously, PVC components serviced Delta's plating facility piping and ventilation needs. Approximately two-and-a-half years after its installation, the ventilation duct became brittle and started to crack under the facility's extreme conditions. Condensate formed in the system's duct work, causing it to leak at the joint welds.
ALTERNATIVES TO PVC: Delta, knowing the system had to be replaced, reviewed a variety of potential materials. PVDF, pure fiberglass, stainless steel and overwrap were among the materials considered by the company. Generic CPVC was originally passed over because Delta closely associated it with the failing PVC system already in place.
Why Delta Trusted Corzan CPVC
The Corzan team, along with the consulting engineering firm of Rosser Internationals (Atlanta, GA), presented the case of why Corzan CPVC was different from generic CPVC, and why its material was most ideally suited for Delta's landing gear metal plating shop.
HIGH TEMPERATURE RESISTANCE: Fiberglass-reinforced Corzan duct efficiently handles high temperatures up to 148ºF, while Corzan piping services condensate return temperatures up to 180ºF. When steam finds its way past a trap, the material can operate at temperatures up to 220ºF for short durations.
CORROSION RESISTANCE: In addition to handling these high temperatures, Corzan CPVC proved to be resistant to the aggressive and corrosive chromic acid, sulfuric acid, and hydrofluoric acid chemical combination used by Delta in its plating operations.
FASTER INSTALLATION: Along with a reliability to stand up to heat, chemicals, and pressures, installation is faster with CPVC.
It's a lot easier to handle. Two men can carry a pipe section, reducing the need for lifting equipment. You can't do that with eight-inch stainless steel pipes. Unlike steel, you don't have to thread Corzan pipe, and cementing sections together is a lot faster and more efficient than welding.

Gary Hopkins, President/CEO at Plastek Werks, Inc.
COST-EFFECTIVE LONG TERM: Delta was looking for a replacement material that would provide lower maintenance and better cost-effectiveness.
Knowing that this was a $3.9 million retrofit, we needed a product that would give us a lifespan of at least 10 years. Other materials may have lasted that long, but we couldn't justify the high replacement cost. The performance benefits we're realizing with CPVC thus far looks to more than cover our return on investment.

David Woods, manager of Technical Facilities for Delta
Delta decided to integrate Corzan CPVC piping and ducts to handle condensate return and tank ventilation.
Corzan CPVC Sheet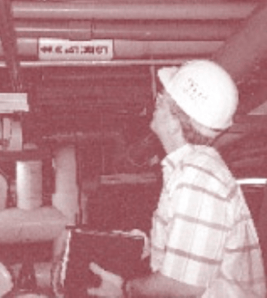 Delta also opted to use Corzan CPVC sheet in the facility's 5,600 square foot chemical spill containment area, which is located below the plating bath tanks.
Given the aggressiveness of the chemicals used in the plating baths, deterioration was a major concern. Concrete was considered, but couldn't stand up to the harsh environment. Delta needed a "solve-all" coating that could handle the chemicals' corrosive nature, and prevent releases to the environment.
Corzan CPVC was used with an underlayment for cushioning to contain any spillage that can occur as the parts are moved from one metal plating bath to another. Also, it can handle the unlikely event of a tank failure or rupture.
Under Budget and Ahead of Schedule
With a retrofit project this size, getting the job done on budget and on time are primary goals. The project, scheduled to take up to 15 months to complete, took only eight.
Achieving minimum downtime and increased operations can be challenging with systems such as ours, where corrosion can decrease equipment life, interrupt production, and create potential environmental issues.

Since installing Corzan components, our parts are cleaned and refurbished as scheduled, not backing up on the plant floor because the plating system doesn't work.

David Woods, manager of Technical Facilities for Delta

---
The Solution You Can Rely On
Corzan CPVC is the reliable solution for both piping and fabrication, such as sheet and rod. To learn more, or if you are interested in a free consultation on chemical resistance, process suitability or any technical questions, contact us.