FREQUENTLY ASKED QUESTIONS: CORZAN® CPVC PIPING SYSTEMS
For many industrial plants, metal piping systems have been the norm for decades, especially when corrosive chemicals, high heat and pressure are involved. However, quietly, chlorinated polyvinyl chloride (CPVC) has been usurping metal as the preferred industrial piping material thanks to its corrosion resistance, high heat distortion temperature, superior pressure rating, and low installation and life-cycle costs.
If you're new to CPVC piping for industrial applications, below we have answered some of the questions commonly asked by customers.
If you'd prefer to speak to one of our regional engineering specialists, we'd love to schedule a consultation.
---
Corzan
What is Corzan CPVC?
Lubrizol is a pioneer and world leader in chlorinated polyvinyl chloride (CPVC). We first developed CPVC in 1958. Since that time, we've continued to advance and improve the technology.
Today, our industrial CPVC is known as CorzanTM, and it is sought out by a number of industrial applications that require their piping systems to be corrosion resistant and perform under high heat and high pressure conditions.
---
Pressure
How well does Corzan CPVC perform under pressure?
Historically, the perception was that most non-metallic piping materials do not have the tensile strength to meet pressure requirements of process applications, especially at elevated temperatures. Corzan CPVC piping systems have reversed this misconception. Our CPVC is pressure rated for operations up to 200°F (93°C) and can be relied on to maintain its pressure-bearing capabilities for long durations.
What makes Corzan CPVC fittings superior for high-pressure applications?
An industrial piping system is only as reliable as the quality of both its pipe and its fittings. Corzan CPVC is the only commercially available CPVC fitting compound that carries a pressure rating listed by the Plastics Pipe Institute (PPI). Our compound has been pressure rated in accordance with ASTM D-2837 and PPI TR-4. It has a Hydrostatic Design Basis (HDB) of 4000 psi at 72°F (22°C) and 1000 psi at 180°F (82°C) as listed in PPI TR-4.
Compared to other systems, Corzan fittings demonstrate superior creep resistance and the ability to better withstand long-term, high-temperature hydrostatic pressure. In fact, under the same conditions when pressure tested at 180°F (82°C) at 551 psi, fittings molded with Corzan CPVC compound actually lasted four times longer than those molded with other CPVC compounds.
This means that Corzan CPVC fittings will not only perform better under demanding field conditions, but they can even partially compensate for additional system stresses due to improper installation. No other non-metallic system can claim this type of creep resistance.
---
Cost
What makes a Corzan CPVC piping system a cost-effective choice?
In today's bottom-line conscious market, most major purchasing decisions are based, to some degree, on cost. That's great news for Corzan CPVC users because, in addition to providing superior performance, a Corzan piping system minimizes a process' life-cycle costs.
It begins with a real cost advantage compared to metal piping as a result of its relative ease of installation. More specifically, Corzan CPVC:
Is Lightweight – 1/8th the weight of comparably sized steel
Is installed using a simple two-step solvent-cement process
Can be installed in a fraction of the time it takes to install metal piping
Does not require complex, specialized tools
Does not require electricity.
Following its less-expensive cheaper installation, in a detailed cost-comparison analysis, Corzan CPVC offers a highly competitive material cost. When life-cycle factors, such as operating expenses, maintenance costs, downtime and equipment service life are considered, Corzan Industrial Systems becomes the ideal choice.
---
Corrosion Resistance
What chemicals are compatible and safe to use with Corzan CPVC?
No single material is ideal for every application. Each has its own strengths and weaknesses that make it more suitable for certain applications. Not surprisingly, many chemicals encountered in the process industry aggressively corrode most types of metal equipment, resulting in process leaks, flow restrictions, and ultimately, premature failure.
Corzan is inert to most mineral acids, bases, salts, aliphatic hydrocarbons, along with galvanic corrosion.
Actual performance of any material depends on specific service conditions, such as temperature, operating pressures and chemical concentration.
Corzan CPVC has been rigorously tested with hundreds of chemicals at various temperatures, stress levels and other process conditions to assure material performance in many common process applications. You can see Corzan's performance data in our Chemical Resistance Table.
---
Fire Performance
What type of fire performance does Corzan CPVC exhibit?
When a non-metal is chosen for an industrial application, a major consideration is its fire performance. Historically, most non-metals are perceived to exhibit very poor fire resistance.
However, high-performance non-metals, such as Corzan CPVC, exhibit very strong fire performance when considering factors such as resistance to ignition, heat of combustion, flame spread and smoke generation.
Thanks to Corzan CPVC's fire resistance characteristics, no flame-retardants or special smoke inhibitors need to be added to satisfy company and regulatory standards. In addition, its Limiting Oxygen Index (LOI) of 60% indicates that Corzan will not sustain flame if ignited.
Corzan offers an HDT (Heat Deflection Temperature) rating of 239°F (115°C), the highest of any ASTM D1784-compliant CPVC and it is the only CPVC with a cell class of 24448.
---
Fluid Handling
What is Corzan CPVC piping's fluid handling characteristics?
A great advantage that Corzan pipe enjoys over metallic pipe is a smooth inner surface that is resistant to scaling and fouling. This means that friction pressure losses in the fluid flow are minimized from the beginning and do not significantly increase as the system ages, as can be the case with metal pipes.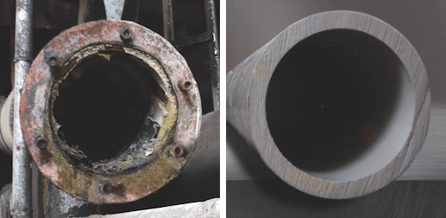 Pictured here: a metal pipe exhibiting both internal and external corrosion and a Corzan CPVC pipe exhibiting no signs of corrosion after years of service.
The Hazen-Williams formula is the generally accepted method of calculating friction losses due to surface roughness in piping systems. Corzan CPVC has a Hazen-Williams C factor of 150, which is consistently higher than metallic systems, such as steel and galvanized or cast iron. In contrast, a steel or cast iron pipe system has a C factor of 130-140 when new. Through years of use, as the metal becomes rougher and pitted, that factor drops considerably – as low as 60-80 for worn / pitted cast iron pipe.
As a result, the flow rate of a Corzan CPVC piping system remains consistent throughout the life of the system and is never compromised by pitting or scaling. This not only improves productivity and limits downtime over the years but in some cases means a considerable cost savings may be realized through the ability to downsize the piping system at the outset. Since the C factor never drops, a smaller pipe (which costs less to purchase and install) may be adequate for the flow requirements of your plant. And, with a smaller pipe comes increased energy savings, as less energy is required to move the fluid through the pipe.
Our team of experts can work with you to discover savings through pipe size specification and design. Contact us for a free consultation.
---
Corzan CPVC Compared to Alternatives
Why is Corzan CPVC a safer choice for industrial piping systems over metal?
A Corzan CPVC piping system offers safe, reliable, long-term performance, often at a substantially lower cost than competitive materials. Over the years, the product has undergone stringent testing and been subjected to the highest quality standards to help ensure that it safely performs as expected.
There are many reasons for choosing Corzan CPVC over other materials, both metallic and non-metallic. Increased worker safety is an advantage over alternative materials due to Corzan CPVC's:
Corrosion Resistance: Most traditional piping materials are vulnerable to the effects of corrosion, which not only adversely affect productivity and maintenance costs, but also jeopardize environmental compliance and worker safety. Corzan CPVC inherently offers superior resistance to corrosive chemicals, higher temperatures and harsh application conditions.
Cooler to Touch: Since Corzan CPVC has a very low thermal conductivity value, approximately 1/300th that of steel, it offers a much cooler surface temperature. Not only does this often reduce the costly need for additional insulation, but it also reduces burn injuries.
Lighter Weight: Corzan CPVC is also lighter to maneuver, weighing only about 1/6th that of steel (depending on the pipe size). This helps to reduce worker strains and injuries during installation and eliminates the need for heavy equipment during installation.
Easier, safer installation: No open flame or ignition source is required for the installation of CPVC. Instead, the system is quickly, easily, and safely joined via solvent cement, threading or flanging.
What makes Corzan CPVC systems superior to other non-metallic piping options?
Today there are more material choices than ever. With the skyrocketing, unpredictable costs of most metals, non-metallic options now dominate in many industries. But of all the non-metallic systems on the market today, Corzan CPVC pipe and fittings represent the most reliable choice for one reason – quality.
Quality that comes from experience: We pioneered CPVC more than 50 years ago. No one has more experience than we do.
Quality that comes from technical expertise and advice: Beyond providing a superior product, we offer advanced research and development service representatives that are available on-site with your team to solve problems and make recommendations.
Quality that comes from consistency: Every company that manufactures Corzan CPVC participates in a contractually registered Quality Assurance Program. This ensures product consistency so that our pipe and fittings perform to the same quality standards regardless of when, where or by whom they were manufactured.
Quality that comes from compatibility: No other company has developed a program that assures chemical compatibility of ancillary products to help installers know which products can be used confidently and securely. Our global FGG/BM/CZ System Compatibility Program is the only initiative in the industry that actually tests for chemical compatibility.
Quality that comes from choosing the right partners: Only the best manufacturers with proven track records of quality and reliability are chosen as licensed partners to convert Corzan raw material into high performance Corzan Piping Systems.
Specialty Components
What other process components can be created using Corzan CPVC beyond pipe and fittings?
Ideally, process systems should be specified in a single material to simplify design and to minimize confusion in maintenance and repair situations. This is only possible if all of the necessary process components are available in the specified material.
To address this important design issue, Corzan Industrial Systems incorporates a full line of process components. Whether you need 16 in. (400mm) diameter piping systems, pump / filtration systems or air pollution control systems, Corzan CPVC can be designed into the entire process systems.
Although Corzan CPVC is most often specified for pipe and fittings, it is also the ideal material of choice for a wide array of other components, including:
Ducting: Corzan CPVC offers the same outstanding balance of properties in round duct and fabricated duct fittings as it does in pipe and fittings. Readily available in ducting up to 24 in. (600mm), it can be fabricated upon request into larger sizes. It is the ideal component to produce a highly reliable fume handling system in corrosive environments.
Industrial sheet/lining: Corzan CPVC can also be extruded or compression molded into 48 in. by 96 in. sheets in thicknesses ranging from 1/8 in. to 3 in. Because the sheets can easily be bent, shaped or welded, they represent a cost-effective, highly reliable option for a wide array of applications, including tanks, scrubbers and ventilation systems.
Other: In order to provide complete process systems, a number of other components are also available in Corzan CPVC, including valves, pumps, rods, basket strainers, and filters to name a few.
---
Do you still have unanswered questions?
With Corzan, you're not just buying high-quality CPVC piping systems, you're partnering with the pioneer in CPVC technology.
Backed by 50 years of CPVC experience, our regional product and engineering specialists are always on call to provide advice, information, and training throughout the life of a piping system.
To request a consultation, visit our Support Page.