Guidelines for Legionella Risk Management Article
Water-saving strategies such as lower-flow fixtures have become a vital tool in the conservation movement and in green buildings. But like many advances, even positive changes such as water-use reduction can have unintended consequences. There is rising evidence that lower flows may contribute to the formation of biofilm that provides opportunity for bacteria growth.
With water flow rates significantly lower than pre-conservation levels, water is staying in pipes longer. Longer residence times means opportunity for chlorine residuals to dissipate; without chlorine residuals, biofilm growth can occur, serving as a safe harbor for bacteria. Along with low flows, similar scenarios occur due to dead legs, stagnated water, and lower building water operating temperatures.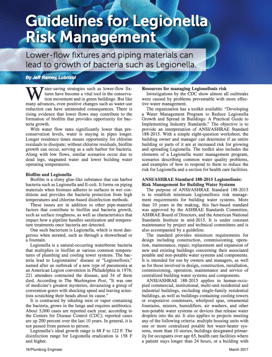 Our article in the March 2017 issue of Plumbing Engineer discusses biofilm formation and how it can harbor bacteria such as Legionella and E-coli, the role of the ANSI/ASHRAE Standard 188-2015 in establishing minimum Legionellosis risk management requirements, and how design and material options that create biofilm friendly environments.