How Are CPVC Pipe Pressure Ratings Calculated?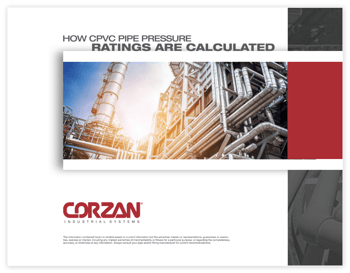 This post is an introduction to our resource article, "How CPVC Pipe Pressure Ratings Are Calculated."
To be used in pressure piping systems, every material must empirically prove its pressure bearing capabilities. This ensures that plants and facilities are integrating piping that can stand up to the long-term strength demands of their applications.
ASTM, ISO and the Plastics Pipe Institute Hydrostatic Stress Board have developed a series of test methodologies and design factors to verify the long-term pressure bearing capabilities of thermoplastic compounds (e.g. chlorinated polyvinyl chloride (CPVC)).
Developing Standardized Thermoplastic Pressure Ratings
Designing piping systems with thermoplastics was relatively new in the 1950s. Lubrizol would not pioneer CPVC until 1958. This means there were no standardized methods to consistently determine thermoplastic performance based on different factors (e.g. heat and pressure).
Needless to say, establishing a means to compare materials and define pressure-bearing capabilities was imperative.
In 1958, the now-called Plastics Pipe Institute established the Working Stress Subcommittee (now called the Hydrostatic Stress Board). The goal of the board was to develop a hydrostatic design stress test for thermoplastic compounds.
After evolving the testing method 15 times, ASTM D2837 was published in 1969. ASTM D2837 is the methodology still in use today to gauge the long-term hydrostatic strength of thermoplastic compounds, such as CPVC.
Standard Thermoplastic Testing Methodology
There are two primary methodologies used to determine a piping material's long-term hydrostatic strength. Mentioned above, the ASTM D2837, "Standard Test Method for Obtaining Hydrostatic Design Basis for Thermoplastic Pipe Materials or Pressure Design Basis for Thermoplastic Pipe Products" is the most commonly used. The other is ISO 9080, which you can read about here.
Calculating CPVC Pipe Pressure Ratings: Learn More
For a technical explanation on how ASTM D2837 is applied to CPVC material, download our free white paper — "How CPVC Pressure Ratings are Calculated." In it, Corzan® Industrial Systems' team of product and engineering team explain how:
Long-term hydrostatic strength (LTHS) is calculated and validated.
An established design factor is used to calculate hydrostatic design stress (HDS).
The effects of elevated temperatures are accounted for.
A pipe's pressure rating is calculated.
Check out the How CPVC Pipe Pressure Ratings Are Calculated resource page for a deep dive into the pressure ratings million dollar piping systems are reliant on. Or you can download the full article as a PDF by clicking the button below.