Important Inspection Considerations for Nonmetallic Atmospheric Industrial Vessels and Storage Tanks
An atmospheric tank stores liquids at atmospheric pressure. Contained in one of these vessels may be hydrochloric acid, chlorine dioxide, sulfuric acid or some other corrosive, potentially hazardous solution. Each vessel is specially designed, constructed and installed to meet the specific requirements of the plant.
Once the vessel has been put into use, the job is not done. Sometimes, ideal conditions are not perfectly maintained or unforeseen events occur, causing problems for the tank.
To keep plant workers safe, and to protect the large investment in the plant, inspections must be a fundamental part of the plant's safety program. Follow a specified timeline, technique and team to avoid a costly and hazardous failure.
Plant Infrastructure for Safe Acid and Base Handling
Regular, effective storage tank inspections must be part of a larger, comprehensive plan of hazard aversion.
Process Safety Management (PSM) Program
Occupational Safety and Health Administration (OSHA) provides general safety management guidelines, which each plant adopts and updates to meet the specifics of their plant.
In reference to storage tanks, the Process Safety Management of Highly Hazardous Chemicals standard (OSHA 1910.119) issues requirements for managing hazards of highly hazardous chemical processes.
Using this standard as a minimum baseline for compliance, each plant's PSM program must be:
Created as a result of a detailed hazard analysis. Think: "what could go wrong?"
Followed diligently, using the schedule and techniques developed through the PSM program.
Explained to each team member and manager to ensure techniques and schedules are maintained regardless of who is leading or a part of the team.
Mechanical Integrity Program
While a PSM program covers all aspects of a plant, mechanical integrity is especially critical for vessels storing corrosive and potentially harmful chemicals. The section in OSHA 1910.119 about mechanical integrity focuses on "equipment used to process, store, or handle highly hazardous chemicals" in order to "minimize the risk of releases of such chemicals."
Elements of a mechanical integrity program include:
The identification and categorization of equipment and instrumentation.
Design and frequency of inspections and tests.
Development of maintenance procedures.
Training of maintenance personnel.
Establishment of criteria for acceptable test results.
Documentation of test and inspection results.
Documentation of manufacturer recommendations, including mean time to failure for equipment and instrumentation.
As this list shows, attention to detail is critical. The who, what, when and where of the tank, from the day it is put into use, through any repairs and to the day it fails, must be documented.
Having the Right Reliability Team in Place
Included as part of a PSM program is the training of maintenance personnel. Trust the guidelines will be followed correctly by putting the right team in place.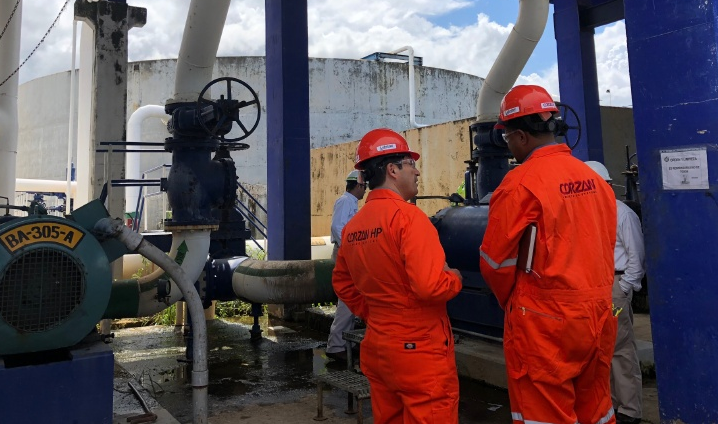 Beyond the obvious necessities of team members—being conscientious, detail-oriented, and experienced—the team should have experience with the materials in use. For example, if a quality team has a combined 60 years of experience with metals, their ability to correctly assess plastics likely will not hold up.
Vessel Inspection Techniques
We've established the importance of having a documented plan for vessel maintenance. So what are the recommended guidelines for these nonmetallic atmospheric tanks?
As experts in thermoplastics, including fabricated vessels, we'll focus on inspecting fiberglass-reinforced plastic (FRP) vessels or thermoplastic-lined FRP.
Exterior Inspection
An exterior inspection of each storage tank should be performed initially during commissioning and again after about a year of service looking for fabrication, installation, or operational issues. Continued annual or biannual monitoring depending on harshness of service is recommended. For FRP vessels, industry FRP training is a must. Users must understand the interworkings of vessel construction through standards such as ASME RTP-1, a standard by the American Society of Mechanical Engineers, and receive training from FRP and thermoplastic liner manufactures that utilize additional standards such as ASME NM.1, American Welding Society (AWS) G1.10 and AWS B2.4 as a guide.
Because dual laminates, including thermoplastic-lined FRP and straight-FRP, have an FRP exterior, inspectors need to look for separation of the fibers. Also, assess cracks and other types of physical damage, as these can result from poor fabrication, installation or from unintentional impact to the shell.
Provide greater attention around the knuckle, which is the bottom, rounded portion of the vessel that sits on against the base, legs or ground. Any movement can be a sign of lost physical integrity and threaten the possibility of collapse.
Something to watch for, especially with straight-FRP, is deterioration caused by permeation. An inadvertent reaction or incompatible chemical can permeate through the FRP and show on the exterior. When this occurs, call upon experts in the FRP industry to review the situation and the necessary course of action. Industry experts who have experience in FRP design, fabrication, and repair will be able to assist in this process.
Internal Inspection
The internal inspection is less straightforward and involves some potential roadblocks.
First, an internal inspection should happen a minimum of once every 5 to 10 years. Typically, FRP and Dual Laminate tanks are inspected during commissioning and inspected again after one year of service if the operations can allow. This is key to look for installation, fabrication, or operational issues that may affect the long-term life of the vessel. After the initial internal inspection, FRP and Dual Laminate tanks are inspected every 5 years for normal services and this period is reduced to 1-2 years for harsh services. We have to remember that most facilities turn to FRP or Dual Laminate vessels after realizing that standard carbon steel vessels will not yield a satisfactory service life.
To perform an inspection, the vessel's content must first be pumped out. Then, the tank needs to be flushed of any remaining residue. To do this, an acid tank may be applied with a caustic solution (or a base tank with an acid solution) to neutralize it. Depending on the pressure and impact resistance of the material, the inner lining may be pressure washed with water. Note: Caution not to damage Nonmetallic vessels when sandblasted or hydroblasted in the same way metallic vessels are power washed, due to their relative impact and pressure resistance of nonmetallics. This is common in FRP relining projects.
Take precautionary steps to ensure the vessel is not damaged while making it safe for entry.
When working with straight-FRP, a chemical-specific resin is likely used, meaning any other chemical could result in a failure to the tank. By specifying a CPVC-lined FRP, a breadth of chemicals is compatible with the inner liner, making cleaning a simpler operation.
Once the vessel is safe to enter, inspect the vessel at the weld seems according to AWS G1.10M, which is the Guide for the Evaluation of Hot Gas, Hot Gas Extrusion, and Heated Tool Butt Thermoplastic Welds. Evaluation criteria include:
Deformation.
Ductility.
Resistance to chemical attack.
Dynamic stress.
Smooth weld surfaces.
Flow behavior.
Throughout the vessel interior, check for blisters, bubbles, delamination and discoloration. Someone with relevant material experience should perform inspections of thermoplastics or FRP. For instance, CPVC discoloration (brownish-black color) can cause concern of failure, however, an expert can discern whether it is an actual problem or a harmless symptom of the chemicals interacting with the liner.
By bringing in an expert or having one on the team, you can recognize significant cost savings of not replacing a fully functional vessel. Alternatively, an expert will know when a tank needs to be repaired or replaced, preventing a hazardous or costly failure from occurring.
What Is the Chemical Resistance of CPVC?
CPVC-lined FRP is an option for tanks housing many acidic or caustic solutions. To give users confidence in the liner, Corzan® Industrial Systems provides the Chemical Resistance Table, which provides Corzan CPVC's compatibility with more than 400 chemicals.