Is It Possible to Weld Pipe and Sheet Together?
The question often arises, can I weld pipe and sheet together? The answer is yes, but the process requires skilled thermoplastic welders who are properly trained and have been tested just as metallic certified welders are tested.
Sheet to pipe interface is a common weld that fabricators use to construct flange faces, nozzle connections on vessels, container boxes around valves and other specially engineered configurations. Many fabricators believe that if an engineer can create a CAD design, it can be fabricated.
Corzan® CPVC technology is the only technology that can be utilized 100 percent in pipe, sheet, duct, welding rod, valves and engineered pieces. No other industrial grade CPVC technology is as widely used or as often specified as Corzan CPVC. Corzan CPVC has been utilized in fabricated components such as tank internals, hydrochloric acid basket strainers, diffusers, tower packing, scrubbers, semi-conductor wet benches and many others.
The intricate welding techniques to join sheet to pipe require a highly skilled fabrication shop that has a continuous quality improvement program to ensure thermoplastic welders are properly trained and experienced. When Corzan CPVC's chemical resistance is required for an application, never trust the project to a welder that is not properly trained and has no experience creating the sheet to pipe interface weld.
Different Softening Temperatures
Thermoplastic welding requires materials to be sufficiently heated to reach their melt state. One of the challenges specific to welding pipe to sheet is the fact that the sheet and pipe will heat differently when welded at different speeds. In addition, the softening temperature for sheet material is significantly less than the softening temperature for pipe.
Corzan CPVC pipe grade industrial grade sheet compound, for example, has a deflection temperature of 90°C under load. Corzan CPVC Hi-Impact Pipe Extrusion Compound for Industrial Piping, in comparison, has a deflection temperature of 113°C under load.
The goal, therefore, is to soften the pipe before the sheet and welding rod begin to overheat and burn. This may require preheating the pipe and/or directing more of the heat from the welding tool toward the pipe than the sheet during the welding process.
Successfully welding pipe to sheet requires a qualified welder who is certified to weld CPVC and has the special equipment necessary to create a reliable bond between pipe and sheet.
Welding Options
The welding method used to join CPVC pipe and sheet will likely depend on applicable standards and the welder's qualifications. The standards listed below are used for specifying Corzan CPVC products and are mostly applicable in the U.S. but can be specified on an international level – depending on the region or the plant owner's or insurer's preference.
It is important for owners and fabricators to understand the origin of their materials and apply the applicable standards. If European technology is used, then European techniques should likewise be utilized. The same applies for U.S. standards and materials. It is also critical for owners who commission work to always verify the welding credentials of all welders for the specific materials they will weld. A welder certified to weld PVC is not qualified to weld CPVC – just as a welder who is certified to weld carbon steel is not qualified to weld titanium. Welders must be weld-qualified for the specific material they are welding.
Industry Standards Applicable in U.S.
ASTM D1784, Specification for Rigid Poly (Vinyl Chloride) Compounds and Chlorinated PolyVinyl Chloride (CPVC) Compounds
FM4910, FM Global Research Clean Room Material Flammability Test Protocol
ASME RTP-1-Latest Edition, "Reinforced Thermoset Plastic Corrosion Resistant Equipment"
AWS G1.10M Guide for the Evaluation of Thermoplastic Welds
AWS B2.4 Specification for Welding Procedure and Performance Qualifications for Thermoplastics
ASME NM.1 – Thermoplastic Piping Systems
ASME NM.2 – Glass-Fiber-Reinforced Thermosetting-Resin Piping Systems
ASME NM.3 – Nonmetallic Materials
ISO standards are applicable both in Europe and on an international basis – again depending on the owner, local authorities and insurers. The owners who commission the work have control over which standards will be used. ISO standards and DVS standards for welding have existed the longest. It is common, however, to depend on U.S. standards, with ASTM and ASME piping and dimensions utilized.
Specific standards and techniques that fabricators will employ should be incorporated into the fabricator's quality assurance program and training program. Owners who commission the work should understand and acknowledge the standards that will be incorporated into the fabrication work.
Industry Standards Applicable in Europe
DVS 2207-3, Hot-Gas Welding of Thermoplastics, Sheets and Pipes
DVS 2207-4, Welding of Thermoplastics, Extrusion Welding of Pipes, Pipeline Parts and Sheets, Processes, Requirements
DVS 2207-13, Heated Tool Welding of Piping, Piping Parts & Panels Made of PVC-C
Generally, the following non-chemical welding options are recommended for joining pipe and sheet rather than solvent cement welding:
Hot air or hot gas welding
Extrusion welding
Hot plate butt welding (also known as mirror welding)
CNC Butt Fusion Welding Machine (computerized)
Hot plate butt or mirror welding is the preferred method to join pipe to sheet or pipe to pipe according to DVS standards. Once the pipe and sheet are initially connected, hot gas welding is employed to add more welding rods around the initial butt welded connection to increase the connection's stability. Hot plate butt welding provides greater consistency than hot air welding alone.
CNC Butt Fusion Welding Machines are considered the most reliable method to effectively join CPVC sheet and pipe. CNC continues to be an emerging technology preferred by many owners. Fabricators' specific capabilities' may differ based on their shop setup and training. Owners should always confirm how each weld will be made through weld maps.
Tips for Successful Welding
The following suggestions can help ensure a successful bond between the CPVC sheet and pipe:
Solvent wipe the surface to be welded with acetone before heating, which will help etch the surface
Preheat the pipe surface that will be welded in addition to the tack welding to be performed
Use a thicker welding rod (i.e. 4 mm) so the heating time is longer
Keep the welding area clean by removing cutting debris, oil or dirt
When the heating is complete, the welded pieces should be brought together as quickly as possible – with the optimum changeover time less than three seconds. The pressure is then increased to the desired fusion pressure, which should be maintained for a designated amount of time, depending on the sheet thickness.
The optimum welding pressure for Corzan CPVC sheet during butt weld is typically 95 to 100 psi (65-70 N/cm²), with the optimum heating pressure at 30 psi (20 N/cm²) and the optimum melting pressure at 95 to 100 psi (65-70 N/cm²).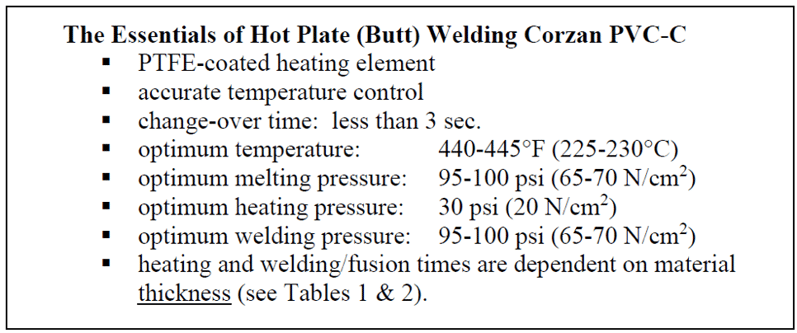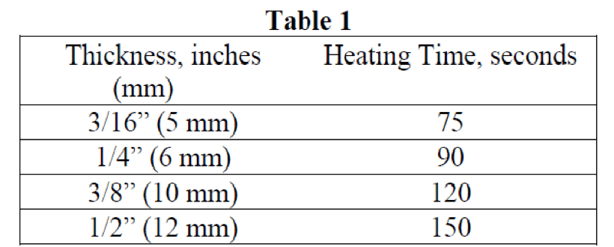 Fabrication shops may have differences pertaining to the welding environment, such as temperature, air quality and humidity. Each fabrication shop should develop its own internal shop conditions and verify welding capabilities as part of its quality assurance program.
Piping to Meet Application Needs
It is possible to weld CPVC sheet and pipe together to fabricate highly reliable equipment that meets specific application needs across industries. The process, however, can be complicated and requires a qualified welder who is certified to weld Corzan CPVC and has the special welding equipment necessary to correctly bond pipe and sheet.
Learn more about joining Corzan CPVC for durable, long-term performance by contacting a Corzan CPVC piping system expert or one of our partner manufacturers. Engineering support and free technical consultations are available.
Details for this blog were taken in part from the following: https://www.corzan.com/en-us/sheet-and-lining/hot-plate-butt-welding