RVT Process Equipment becomes a Corzan® CPVC Partner Manufacturer
At Lubrizol Advanced Materials, we are very selective about only partnering with industry leaders with outstanding reputations for quality. Lubrizol is proud to welcome RVT Process Equipment as a licensed Corzan® CPVC manufacturing partner.
With experience in process engineering since 1976, RVT specializes in design and fabrication of equipment for mass and heat transfer processes for chemical, petrochemical, refinery and environmental applications. Different tower packings are their specialty, many of which are molded parts made from Corzan CPVC.
When RVT began manufacturing their best-selling CPVC Hiflow® Ring in North America, they wanted to use the CPVC that customers often ask for by name. Corzan CPVC has name-recognition among the large portion of their customers in the chlor alkali and specialty chemical industries, as many of them already use Corzan CPVC piping in their plants and Corzan CPVC liners in their towers. Becoming a Corzan CPVC licensed partner was a no-brainer.
Besides delivering precisely what customers request, RVT chose to partner with Corzan CPVC because:
Corzan CPVC cuts cleanly and is easy to weld when making injection-molded parts.
It's accessible: The Corzan CPVC compound used in the Hiflow® Ring comes from Lubrizol's TempRite® facility in Kentucky, keeping both the compound source and the manufacturing location nearer to RVT's customers.
Materials are of consistent high quality, elevating RVT's reputation for providing quality engineering and equipment.
Corzan CPVC's support is first-rate: RVT said that the Lubrizol team has been responsive and has helped keep RVT's supply chain running smoothly even amidst the pandemic-related supply chain disruptions.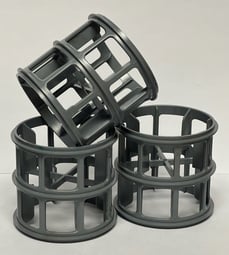 Learn more about the high standards of the Corzan CPVC partner manufacturer program and see our manufacturing partners.