The Many Industrial Applications of Corzan CPVC
Considering the wide variety of piping needs in the industrial arena, chlorinated polyvinyl chloride (CPVC) has proved to be an ideal choice for countless challenging applications for more than 50 years. But, Corzan's applications extend well beyond piping to include:
Fittings

Valves

Pumps

Tower packing

Other fluid handling products

Sheet and duct products, such as tanks and tank linings

Ventilation and vapor scrubbing equipment
The technology of Corzan CPVC results in undeniable product features, such as:
High-temperature capability

Excellent chemical resistance to a wide range of highly corrosive liquid and vapor environments

Resistance to galvanic corrosion

Low heat transfer

Good electrical insulation properties

Light weight material for ease of installation
Fabrication Components
Corzan Industrial Systems components can be fabricated with all of the most common techniques for thermoplastic fabrication, including:
Sheet
Duct piping
Fittings
Rod
Barstock
Welding rod
Angle
Other profiles
Corzan CPVC Sheet Applications
The superior corrosion resistance and high-temperature performance of Corzan CPVC is available in 48-in. x 96-in. sheets. The excellent fire performance of Corzan CPVC will also be useful in many sheet applications. Sheet products are available in thicknesses ranging from 1/8 in. to 3 in., and are either extruded or compression molded.
The ability to bend, shape, and weld sheets made from Corzan CPVC enables its use in a wide variety of process applications, including tanks, scrubbers, and ventilation systems.
Sheets made from Corzan CPVC can readily be overwrapped with Fiber Reinforced Polyester (FRP), if necessary, and will not require fabric-backing to achieve proper adhesion between the CPVC and FRP.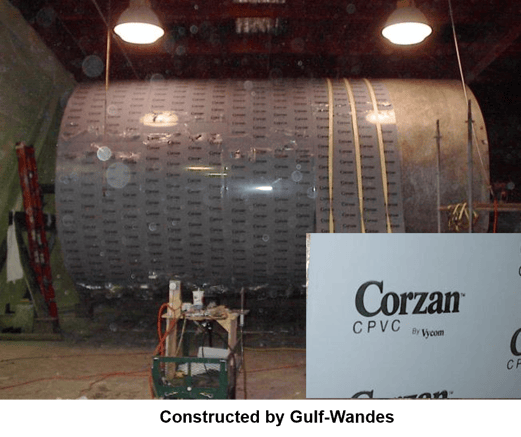 Learn More About CPVC
Given your application's pressure, temperature and medium, what cost-friendly option will provide the most durability? Delve deeper into the benefits of alternative piping materials in terms of cost and performance in this Chemical Processing Special Report.
For Global Technical Support: Contact us for a free process suitability and technical consultation.