THERMOPLASTIC PIPING SYSTEMS AND MITIGATING CORROSION
Duration: 60 Minutes
Power Plants create some of the greatest demands for piping systems. The chemicals used in water treatment are not only highly corrosive, but they are also often conveyed at elevated temperatures, subjecting metallic systems to corrosion, process leaks and premature failures that jeopardize plant efficiency, as well as safety and environmental compliance. Even the more expensive alloys, as well as lined carbon steel, are challenged to provide a cost-effective, reliable solution.
The presenters will review a variety of thermoplastic piping system materials, with an emphasis on the polymer science of chlorinated polyvinyl chloride (CPVC), and how power plant operators are incorporating plastics to mitigate corrosion due to chemical attack on metals.
During this webinar, you will learn how to properly evaluate if CPVC has the right chemical resistance barrier for your water treatment processes. This brief discussion will focus on how a vinyl technology, such as CPVC, fits into the solution matrix of power plant facilities. The presenters will expand on how power plants are safely handling corrosive chemicals such as hydrochloric acid, sulfuric acid, ferrous chloride, ferric chloride, caustic soda, sodium sulfate, phosphoric acid, caustic, DI/RO water, brine, and other common chemicals used in water treatment and management.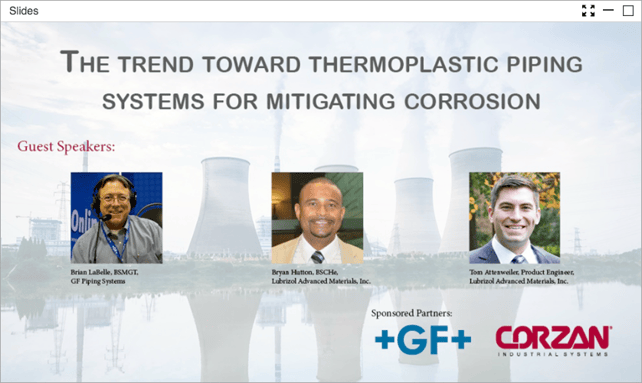 What you will learn:
An introduction to thermoplastics including chlorinated polyvinyl chloride (CPVC) polymer
What chemicals can a Corzan CPVC industrial system safely and effectively handle?
Pressure, temperature and fluid medium design considerations.
What other process components can be created using Corzan® CPVC beyond pipe, valves and fittings?
Where are Corzan Industrial Systems used?
Who should attend:
Industrial & Material Specialists
Regulatory & Compliance Managers
Project Managers
Project/Design Engineers
Procurement Managers
Maintenance and Life-Cycle Specialists