CPVC Myths Debunked
Designers and engineers often specified metal piping for industrial applications in the past based on the material's familiarity. Today, metal piping is still used in some environments because of misperceptions regarding chlorinated polyvinyl chloride (CPVC) piping.
Lubrizol – formerly BF Goodrich® – pioneered CPVC for use in piping systems in 1959. CPVC compounds – now sold under the Corzan® technology name – were first used in an industrial setting in 1961. Since that time, Corzan CPVC has proven its value and reliability in thousands of industrial applications worldwide, thereby debunking the myths that follow.
Myth: CPVC Cannot Stand Up to High Temperatures and Pressure
Corzan CPVC pipe and fittings have the strength to meet the pressure requirements in almost every process application – even at elevated temperatures. The piping system provides pressurized service up to 200°F and has a higher pressure rating over most of its useful temperature range than most thermoplastic materials specified for industrial piping.
The following chart shows Corzan CPVC's operating temperature versus pressure range as defined by ASTM F441 for ½" Schedule 80 pipe. The red area represents the material's perceived capabilities, and the light gray shows Corzan CPVC's actual operating range at the given temperature.
Operating Temperature Versus Pressure Range: ½" Schedule 80 Pipe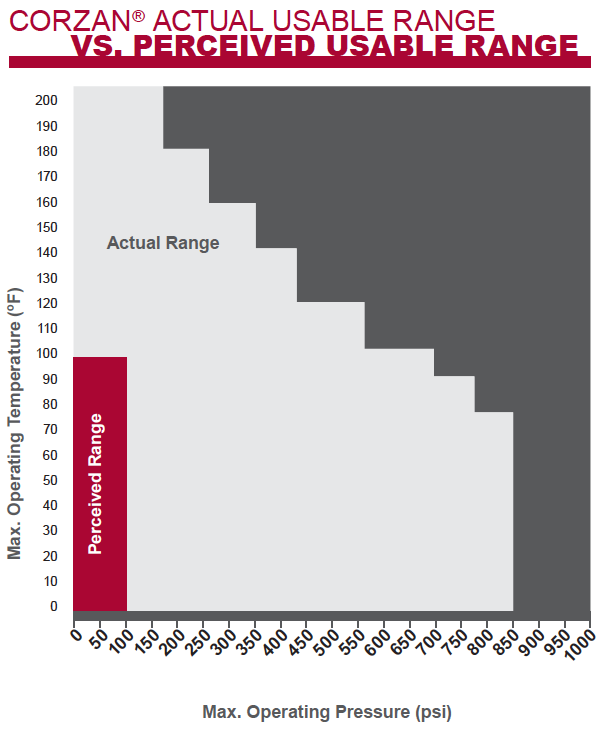 Corzan CPVC has been utilized across several market segments such as the chemical process industry, power generation, mineral processing, water/wastewater treatment, semiconductor, and commercial construction. There are several common applications such as commercial water (NSF PW approved), HVAC, hydronic, laboratory water DI/RO systems, ozonated water, ventilation systems, vacuum systems, industrial sewer, industrial wastewater, hydrochloric acid, sulfuric acid, phosphoric acid, sodium hydroxide, and chlorine dioxide. The Corzan CPVC Chemical Resistance Chart makes recommendations for over 400 chemicals for possible use in chemical processing applications.
Myth: CPVC Cannot Withstand Prolonged Exposure to Sunlight, Rain and Humidity
Do not be fooled by the PVC in CPVC. Many highly intelligent and educated people are confused by the PVC in CPVC. They are NOT the same. Through experience, many of the world's largest water and wastewater EPC firms have standardized on the use of Corzan CPVC technology for their water disinfection systems. They have learned that high ambient temperatures combined with solar heating in places like Southern California, Phoenix and Houston can raise the pipe surface temperature enough to cause premature failures in PVC.
As shown below, Corzan CPVC can handle the heat. Corzan CPVC is blended with a significant concentration of both carbon black and titanium dioxide, which are excellent UV blocking agents. These additives protect the pipe's polymer carbon backbone so the material retains its pressure bearing capability even after extended UV exposure.
The graphic compares the impact of direct sunlight on Corzan CPVC versus other thermoplastics.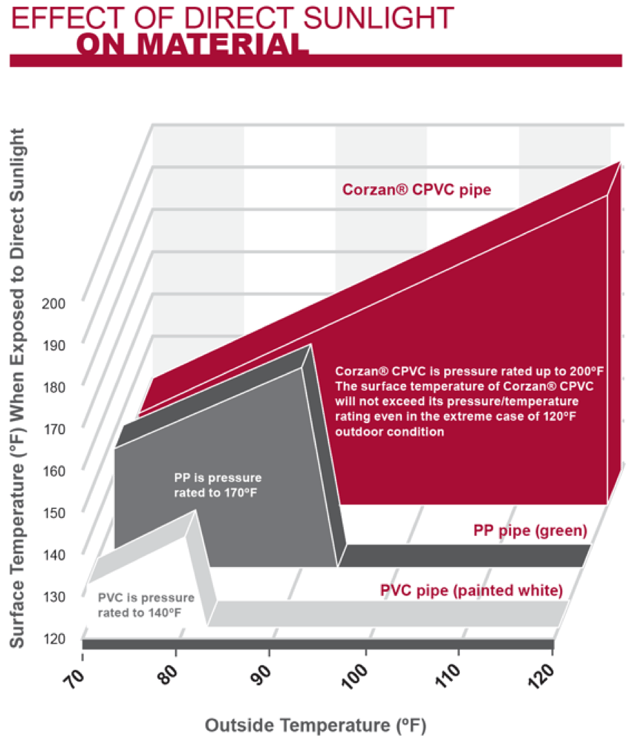 During the past 60 years, Corzan CPVC piping systems proved they can withstand long-term environmental exposure without displaying significant adverse effects. Corzan CPVC piping, valves and ducting are designed for reliability and long-term performance in outdoor applications to ensure greater productivity and lower life-cycle costs.
Myth: All CPVC is the Same
CPVC is manufactured using extrusion, injection molding and compression molding techniques. Most Corzan partner manufacturers have the ability to create any pipe, fitting or valve needed for specific applications, allowing an entire system to be constructed of Corzan material to limit complications and costly workarounds. Users who specify Corzan understand that Corzan is CPVC, but not all CPVC is Corzan. Engineers and owners specify Corzan by name because they understand Corzan is a quality specification. Corzan is available on five continents from several ISO certified partner manufacturers.
CPVC piping, ducting or sheet fabricated systems require three components in order to provide long term performance. The first is a high quality CPVC compound. Corzan CPVC is the most advanced and most specified industrial grade CPVC technology in the world.
The second component is a high quality manufacturer. Poor extrusion quality can affect the material's chemical resistance and can place the installation and workers at risk. Corzan CPVC specifiers understand this and hold fast to the quality specification that Corzan brings.
The third component is a partnership between the manufacturers, compound suppliers and the installation team. Proper installations are accomplished by trained bonders and welders who understand the science. Contact your local Corzan SME if you would like assistance on your current project.
Myth: CPVC Will Not Perform As Well as Metal
When the automotive industry moved from metallic bodies to composites, the marketplace was skeptical. The industry has now completed its transition from the heavy, gas-consuming metallic designs to a mixture of lightweight composites that allow for lighter vehicles combined with better safety performance and protection for the consumer. This change did not occur overnight. A transition period was needed during which the automakers implemented the technologies and then took some time to understand how to mass produce the vehicles while increasing safety.
The transition from primarily metallic piping systems to composites and thermoplastics has a similar transition curve. Users who completely switched to thermoplastics were motivated by the need for non-ferrous delivery systems that could handle the process chemistries.
We continue to see the chemistries of operations shift from simple solutions to new cocktails that have created a more pronounced corrosion issue for traditional metallic piping options. Corrosion is a major challenge for industrial facilities worldwide. As an engineered thermoplastic, Corzan CPVC – unlike metal piping – provides superior, long-term resistance to corrosive chemicals and has a significantly lower affinity to scaling.
Corzan Industrial Systems have a Hazen Williams C Factor of 150, which the piping system will retain throughout its life cycle. New cast iron, in comparison, has a rating of 120, which can drop to 60 or 80 as the material wears or becomes pitted. This means there will be less pressure loss due to friction at the beginning and throughout the system's life.
Corzan CPVC also offers superior mechanical strength and the highest impact resistance of any CPVC piping compound. Impact strength is a very important attribute to users. Corzan CPVC boasts the highest impact strength of any CPVC as demonstrated in this video.
Myth: CPVC is Too Expensive
CPVC has a higher material cost than some metals, but material is only part of a piping system's overall life-cycle cost. Installation, maintenance and service life must also be considered. When all piping system costs are factored in, Corzan piping can generate significant savings over metal alternatives and other thermoplastics.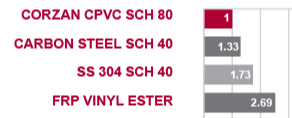 Many industrial applications are realizing tremendous value from piping systems constructed of CPVC. More specifically, industrial plants are lowering installation costs, experiencing less downtime and improving process efficiency after transitioning to Corzan CPVC piping, fittings and valves.
Truth: Corzan Offers Reliability for the Harshest Environments
Quality Corzan CPVC piping is a highly engineered thermoplastic providing internal and external corrosion resistance, excellent hydraulic capabilities and the ability to handle elevated temperatures and pressure for reliable, long-lasting performance. Available in diameters up to 24 inches, Corzan pipe and fittings are offered globally through Corzan partner manufacturers.
Contact a Corzan CPVC piping system expert for application engineering support or to schedule a free technical consultation.
Details for this blog were taken in part from the following:
https://www.corzan.com/blog/corzan-cpvc-stands-up-to-the-elements
https://www.corzan.com/blog/corzan-cpvc-performs-in-the-most-challenging-environments-across-industries