The Cost-Saving Advantages of Corzan® CPVC to the Construction Trades
The benefits of getting more for your money while keeping a piping project on track should be obvious to any plumbing and mechanical contractor. This is especially true as skilled labor shortages are plaguing the industry. Containing labor costs is more important than ever, so it should be as much a factor as any other in comparing piping materials. That's why having Corzan® Piping Systems in your construction arsenal is a win-win situation.
It starts with the joining methods. Whether Corzan CPVC is prefabricated or fabricated onsite, installers have considerable flexibility in working with this lightweight material and just a few handheld tools.
Comparison of Pipe Weights
| | | | |
| --- | --- | --- | --- |
| Pipe Diameter | Schedule 10 Steel | Schedule 40 Steel | Corzan CPVC |
| 3/4" | | | 0.322 |
| 1" | | 1.68 | 0.473 |
| 1-1/4" | | 2.27 | 0.654 |
| 1-1/2" | | 2.72 | 0.793 |
| 2" | | 3.65 | 1.097 |
| 2-1/2" | | 5.79 | 1.674 |
| 3" | 4.332 | 7.576 | 2.242 |
| 4" | 5.613 | 10.79 | 3.277 |
| 6" | 9.289 | 18.97 | 6.258 |
| 8" | 13.4 | 28.55 | 9.506 |
| 10" | 18.7 | 40.48 | 14.095 |
| 12" | 24.2 | 53.52 | 19.392 |
Note: Weight is per foot of pipe
Corzan CPVC is so versatile it can be installed by just one or two people using either chemical (solvent welding) or mechanical joining methods, even in small or elevated workspaces. The decision will depend on pipe size and the installation considerations of the particular job.
Although not welding in the usual sense of the word, the solvent welding method involves a safe two-step process and easy cutting, an approach requiring no special tools that offers the lowest overall material cost. When joined correctly with solvent cement, Corzan CPVC pipe segments fuse chemically, with the resultant joint becoming the strongest part of the piping system.
Mechanical joining involves no cure times at all, which facilitates prefabrication. It is also ideal for alterations or repairs especially in larger facilities, as drying time is eliminated and system shutdown time is dramatically reduced. Depending on the application, installers can either use a cut-groove tool to groove the existing pipe and apply a mechanical coupling to complete the joint, or install a pre-grooved pipe and then apply the mechanical coupling.
But there are other reasons plumbers will spend less time on a job using Corzan CPVC:
You'll never have to guess which ancillary installation products are compatible with the piping thanks to the FBC™ System Compatible Program.
Expansion loop requirements for CPVC are not much different than those of copper. Generally, the effects of expansion can be controlled with changes in direction; an offset or expansion loop may be required on a long straight run, usually with just one properly sized expansion loop per single straight run.
When system piping is not being driven by a plumbing, mechanical or energy code (e.g., hot and cold water supply lines within conditioned buildings), insulation may not be needed or could be reduced. CPVC will remain condensation-free under most environmental conditions that would cause copper tube to sweat and drip. Water temperature can be calculated versus the dewpoint to determine the best solution.
Click here to access a labor comparison by piping material for a recent HVAC job calculated using the Plumbing-Heating-Cooling Contractors Association (PHCC) labor estimating tool. All totaled, the CPVC job is estimated at a reduction of 56% labor hours compared to steel.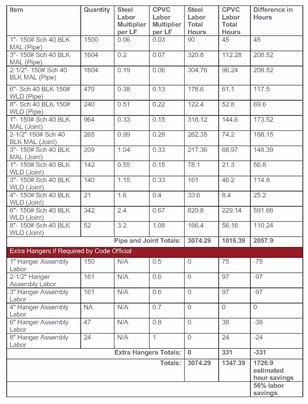 Finally, you could say that Corzan Piping Systems takes a concierge-like approach to ensuring the pipe made from Corzan CPVC will be a success from the start. From spec writing to installation, representatives from Corzan Piping Systems provide the advice, information and training needed to select and install the right solution – at the right cost – for your application.
Whether you're new to the plumbing trades, or an experienced pipe fitter with decades of experience welding metal pipes, you will get the attention you need to get comfortable with Corzan CPVC as well as understand what it takes to achieve an easy installation, both from online resources and in person.