The Impact of Fluctuating Steel Prices on Industrial Systems
When designing and building industrial systems, including pipes, fittings, valves and tanks, steel is one of the most widely utilized materials. Stainless steel and carbon steel are two common forms that have been used for processing applications for decades.
But as political and economic uncertainties compound, the price and supply of commodities like steel becomes more volatile. As of August 2018, the price of steel was 44.2% higher than during the same period last year. After five years of mostly consistent price drops for stainless steel, the recent jump is cause for concern for industrial plants.
Why Steel Prices Are Rising
When building a new industrial plant or a large addition, mostly within your control is the size and selected materials that contribute to the cost. Conversely, "many of the ingredients that influence the current price of steel are external forces."
Within the U.S., trade tariffs are considered one of the top three factors influencing the price of steel. The recent U.S. tariffs on imported steel and aluminum have industry experts concerned that domestic steel prices will continue to increase as well.
While the tariff's purpose is to jolt U.S. steel-making jobs, companies who depend on imported steel and aluminum may be the ones who pay. After nearly five years of steel price decreases, increased demand and tariffs are causing a steady increase, a return to former prices.
Price of Steel (2012-2018)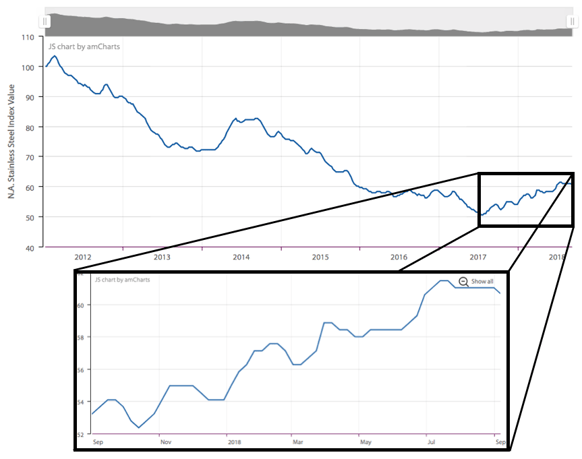 *Chart is courtesy of MetalMiner
How Prices Impact Industrial Plants
For any plant investing in massive amounts of material—such as piping—cost has to play an important role. Each dollar spent on materials is a dollar that won't end up on the plant's bottom line. Give special attention not only to steel's current price, but also to its forecasted price and level of uncertainty.
Current Material Price: The best way to gauge the current price of steel is to compare it to past figures. Steel reached an all-time high in September of 2018.
Forecasted Material Price: For large consumers of steel, prices are often locked in for three to five years. But as volatility becomes an increasing question mark, these guarantees may become less widely available.
Price Uncertainty: With continued uncertainty surrounding tariffs on steel imports imposed by the U.S., expert forecasts are undoubtedly provided with an asterisk.
Skilled Labor and Welder Shortage: Labor shortages of certified welders and pipe fitters are compounding the problems and adding to them at installation.
Because a new plant or large addition may be agreed to months or even years before being built, uncertainties can eventually be costly. When thousands of feet of piping and related products are estimated a year or more in advance, the cost difference can be hundreds of thousands of dollars or more.
A More Stable Choice
The more cost-effective material choice, in terms of both the current cost and long term value, is chlorinated polyvinyl chloride (CPVC). CPVC prices change more gradually than steel, giving specifiers and procurement teams greater confidence in the future cost of a CPVC system.
To see how CPVC compares to metal, in terms of performance, reliability and installation, download our ebook, Metal V. CPVC Piping Systems.