Comparing Alternative Piping Systems
If your industrial piping system is nearing the end of its life, or you're evaluating alternatives to a metal piping system, you may have wondered, "Can CPVC really outperform a metal piping system in my industrial application?"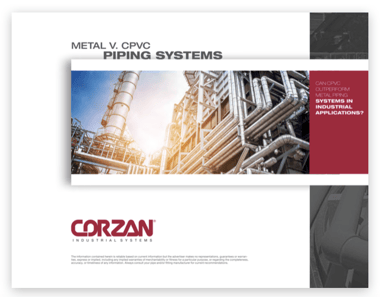 In our ebook, Metal v. CPVC Piping Systems, our team of product and engineering experts provides an in-depth look at the capabilities of chlorinated polyvinyl chloride (CPVC) piping systems, and how they perform within industrial environments when compared to metal alternatives.
Specifically, we'll address:
Temperature Resistance

Pressure Resistance

Corrosion Resistance

Scaling Resistance
Installed Cost
Maintenance Cost
Safety
We will also look at some of the specific conditions that could limit the use of CVPC and dispel several myths. In short, you'll find the knowledge and advice you can expect from the pioneer in CPVC technology.
Fill out the form to download the ebook, today!