Top 3 Specialty Uses of Corzan® CPVC
Corzan® CPVC is well known for its standard applications in fluid conveyance, moving anything from potable water to harsh industrial chemicals. But Corzan CPVC is much more than pipe and fittings. With superior resistance to corrosive chemicals, high temperatures and pressures found in extreme applications, Corzan CPVC is a reliable option for a range of other industrial applications as well. Here are the top three specialty, non-piping uses of Corzan CPVC.
Sheet & Lining
Corzan CPVC sheets are commonly used to line tanks holding corrosive chemicals, for dual-laminate pipe in chlor-alkali applications, or for fabrication into molded components.
Corzan CPVC sheet offers you the best cost of ownership over its service life. Depending on process application, Corzan CPVC lasts five or more times longer than a typical metal system, and its natural corrosion resistance reduces maintenance needs and lowers operational costs.
Learn more about Corzan CPVC sheet and lining:
Ducting
The fumes or moisture vented from a production or processing plant is often highly corrosive or acidic. This can quickly weaken metal piping systems. Would you be comfortable working in a plant under deteriorating pipes filled with acidic moisture?
With its natural corrosion resistance and longer service life, Corzan CPVC is a more durable and safer alternative to metal piping for duct applications.
Learn more about Corzan CPVC for ducting:
Molded Parts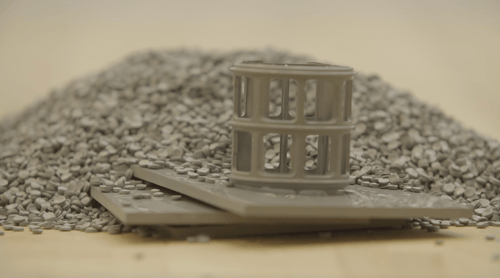 The speed of injection molding for thermoplastics is much faster than similar materials. Using Corzan CPVC for molded parts increases manufacturing efficiency – in addition to its corrosion resistance and durability.
Corzan CPVC has greater efficiency of production and manufacturability compared to competitive materials. Corzan CPVC can be made into almost anything you can dream up – from tower packings to filtration system fluid handling and much more.
Learn more about injection-molded parts made with Corzan CPVC:
Bonus: Membrane Technology
The chlor alkali industry has even used Corzan CPVC in the electrolysis process; membrane cell technology facilitates the process by which an electric current generates a desired chemical reaction.
Corzan CPVC is chemically inert, providing a resistance layer to help protect stream cleanliness in applications like piping systems, storage or conversion tanks, headers, manifolds and absorption towers.
What application could you use Corzan CPVC for? Check out the resources above or contact us for a free consultation. Our team of product and engineering specialists is always available to chat about your specific project needs.