Why CPVC's Versatility Made it the Obvious Choice for AkzoNobel
In 2006, Netherlands-based AkzoNobel Base Chemicals B.V. constructed its chlorine plant based on Asahi membrane electrolysis technology.
Based on current experiences with chlorinated polyvinyl chloride (CPVC) in its Rotterdam-Botlek plant and recommendations from AkzoNobel Technology & Engineering in Arnhem, plant engineers chose Corzan® CPVC for its pipelines (total 1000 meters or 3280 feet).
Specific applications included:
Shower system using standalone CPVC
Wet chlorine using FRP / CPVC
Anolyte using FRP / CVPC
A Corzan CPVC piping system offered a number of advantages over other piping options, as well as versatility across many distinct needs.
CPVC Offers Health Advantages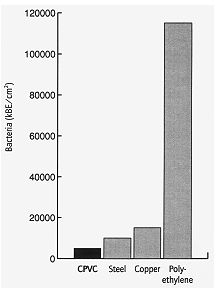 Outbreaks of the legionella disease in Western Europe and other health issues associated with bacteria led to heightened awareness of the effect of piping materials on bacterial growth.
Studies show that bacteria build-up with CPVC is far lower than with alternative piping materials, such as copper, steel and other thermoplastics.
The corresponding chart, which is the conclusion of three different studies, shows the bacteria buildup of CPVC, steel, copper and polyethylene after 120 days.
For Johan Wolt, Plant Manager, safety at work and health of his employees is a priority. He believes CPVC is an excellent choice for the safety showers of AkzoNobel.
Pictured below are AkzoNobel shower lines at 95°F (35°C)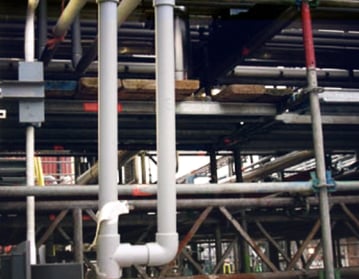 CPVC Offers Versatility for Plants
The use of CPVC piping systems ranges from safety showers to such demanding applications as wet chlorine gas and saturated brine applications. Conditions vary from plant to plant, but in general, CPVC is able to withstand a chemically intense load, pressure up to 10 bar, and temperatures up to 203°F (95°C).
The following chart shows the working pressures and temperatures of alternative piping materials. You will see that CPVC exhibits temperature resistance beyond that of polyvinyl chloride (PVC) or acrylonitrile butadiene styrene (ABS), superior performance to polypropylene (PP) and comparable performance to the more expensive polyvinylidene difluoride (PVDF).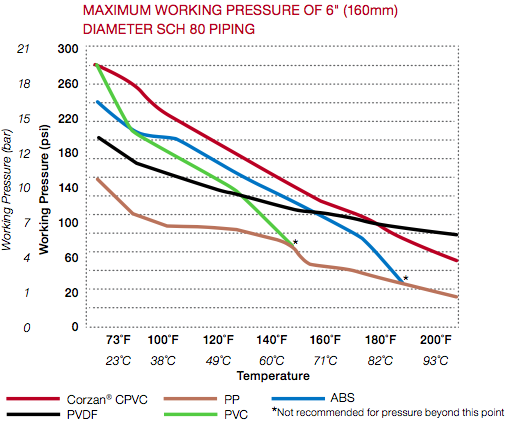 CPVC / FRP Dual Laminate Pipe Exhibits Advantages Over Titanium
For more than 30 years, CPVC has been used as a lining material and performs favorably with fiberglass-reinforced plastics (FRP), contributing to its longer service life.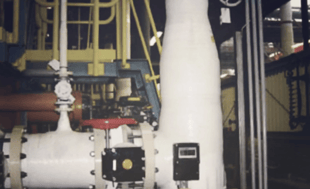 FRP / CPVC offers the following advantages over titanium:
Cost advantage
Easier welding
Shorter delivery time
Pictured here is the FRP / CPVC dual laminate system at 194F (90°C).
CPVC is a technically excellent material and the engineers of AkzoNobel have had a positive experience with it over a number of years.

Bernard Rijpkema, AkzoNobel Technology & Engineering
For Marc Vredegoor, Material Specialist, the decisive factor in choosing Corzan CPVC was the fact that Corzan brand products are engineered and constantly improved to meet the demands and requirements of end-users.
Pictured below are FRP / CVPC dual laminate wet chlorine headers at 194°F (90°C)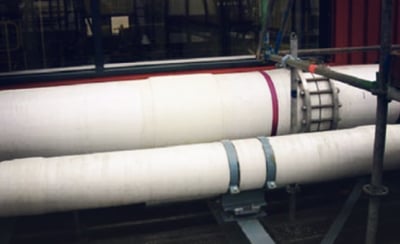 Choose a Manufacturer with Experience
Choosing the right fabrication company is always important to ensure system quality and trouble-free performance. Though perception of CPVC welding is considered to be more demanding than other commodity plastic materials, there are a growing number of fabricating companies experienced with CPVC. Commonly used techniques include hot gas and butt fusion welding with weld strength reaching 80-90% of the original CPVC.
The AkzoNobel project was commissioned to one of the leading European fabricating company KCH, in Germany, which has more than 20 years of experience with CPVC installations.
Want to learn more about CPVC?
Together with Chemical Processing Magazine, we developed this special report to delve deeper into CPVC's capabilities, benefits and performance in the harshest industrial applications.