How Do You Lower Your Total Cost of Ownership?
In the life of a chemical processing or industrial plant, the conflict between adopting a lifecycle view of the operation vs. lower up-front capital expenditures is always present. In this context, the perception of "cost" has various implications for decision-making. Leadership will always have to balance the many factors that affect its long-term operations methodology.
Some companies are more concerned with working capital at the expense of annual maintenance expenditures, while others stress low cost of ownership, resulting in higher upfront capital expense with lower annual maintenance expense. But it will always be true that the initial capital expenditure for the facility is a fraction of what will be spent on operating costs, scheduled maintenance costs, repairs and unexpected downtime over its useful life.
That's why it is worth pondering at the outset which piping material can deliver the most reliable performance and lower the total cost of ownership of industrial piping systems. An even better scenario is when a piping material can deliver both. While a familiarity with metallic systems holds a great deal of sway for the processing and other industries, the opportunity cost of lost production from any cause can have enormous impact on the overall health of an operation.
Corzan® CPVC: The Thermoplastic Piping System Alternative
Managers overseeing chemical processing, chlor-alkali processing, mineral processing, power generation, semiconductor and water/wastewater treatment operations can lower installation costs, reduce future maintenance costs, experience less downtime, and improve process efficiency by incorporating CPVC instead of metal for piping systems, fittings and valves. The value accrues in assessing the collective known – and unplanned – financial impacts of material selection in the investment.
First, a few introductory words about thermoplastic CPVC. We know that a material's ability to withstand high heat and pressure for prolonged periods is essential to the performance of any industrial system. If there is any insufficiency here, plant operations managers will be regularly performing repairs, shutting down the system for unscheduled maintenance and potentially replacing the piping system prematurely.
Put in its simplest terms, the backbone of CPVC is its long chainlike tangle of polymer molecules. The innovation of CPVC, as compared to other plastic materials, was that approximately 40 percent of the bonding sites on its carbon backbone were filled with large, strategically placed chlorine atoms. For over 60 years since it was first introduced by Lubrizol Advanced Materials, this technology, known as Corzan CPVC, has protected the molecular chain from attack and provided end use products such as piping, fittings and valves with superior chemical and temperature resistance. The increased heat resistance allows CPVC to be pressure-rated at higher temperatures.
As defined in ASTM F441, Schedule 80 Corzan pipe's maximum operating temperature and pressure range is shown. The red area depicts what we have found to be a common perception of CPVC's capabilities; in reality, the full operating range is far greater.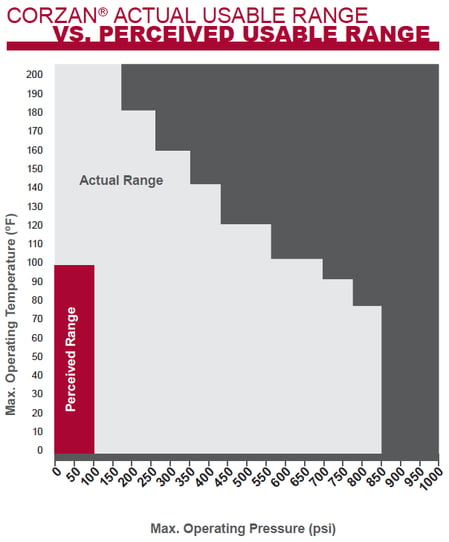 Specialized Guidance Now Available in ASME Standards
Mechanical engineers are well familiar with the ASME B31.3 Process Piping standard, which covers materials and components, design, fabrication, assembly, erection, examination, inspection and testing of piping for a wide variety of industry applications. ASME B31.3 is considered a code that is required by law in many states applying to piping for all fluids, but its content has long been more focused on metallic systems than nonmetallic.
In 2019, ASME issued three new ASME standards to address nonmetallic piping systems, in recognition of thermoplastics having become a standard material of construction over the decades. These standards are ASME NM.1, Standard on Thermoplastic Piping Systems, NM.2 Glass-Fiber-Reinforced Thermosetting-Resin Piping Systems, and NM.3 Nonmetallic Materials.
Corzan CPVC: The Solution for Corroding Piping Systems
Having established that the material is fully capable of the functional task at hand, let's examine one of the principal ways in which industrial piping systems made of Corzan CPVC compound – the first commercialized corrosion-resistant alternative to traditional metallic pipe in Schedule 80 industrial applications – has become a widely valued material choice from the Total Cost of Ownership perspective.
One of the most significant advantages a CPVC piping system has over metal alternatives is, without question, its corrosion resistance. The compound is inherently inert to acids, bases, salts, and aliphatic hydrocarbons. The ions within acidic (pH < 7) and alkaline (pH > 7) fluids as well as saline solutions are reactive with many metals and can lead to damaging corrosion. While some metals naturally develop a surface oxidative layer, and additives can be externally applied to create such a layer, to safeguard the pipe from attack, this is only truly effective when fluid pH levels are slightly outside of neutral, not against more aggressive acids and bases.
Corrosive action manifests itself in diminishing wall thickness and pressure bearing capability along the length of the pipe, but also works its way into crevices around welds, flanges and other connections. Besides setting up the system for inevitable leaks, there will be other issues to contend with, such as:
Pressure rating decreases stemming from the reduced wall thickness.
Reduced flow rate, and the associated higher demand from system pumps. The formation of scale due to insolubility of certain metal ions such as magnesium, calcium, iron, aluminum and silica has the same consequence.
Contaminated fluid as corroded pieces float away. This is a significant concern for applications with high purity standards.
Higher installation costs, as repairs will call for skilled welders. This level of craftsmanship comes at a significant cost, one that continues to grow as the most experienced welders near retirement.
In coastal regions, the need to regularly paint as atmospheric salt corrodes outer surfaces.
Resistance to chlorine induced stress corrosion cracking in austenitic stainless-steel pipework and vessels.
Mitigation of Corrosion Under Insulation (CUI)
A comprehensive overview of the many other benefits of Corzan Industrial Systems that have positive implications for Total Cost of Ownership is available in our e-book, "Metal v. CPVC Piping Systems: Can CPVC Outperform Metal Piping Systems in Industrial Applications?"
And it's important to know that every decision to work with Corzan Industrial Systems brings with it a commitment to offering dedicated support to ensure a smooth execution of the technology. Lubrizol Advanced Materials brings decades of industrial, plumbing and mechanical contracting experience in training and educating installers at the office or the jobsite. Likewise, project engineers can take advantage of our subject matter experts and ASPE-approved CEU course instructors – fulltime Lubrizol Advanced Materials employees who are industry experts and offer the most up-to-date training during every accredited session.