Chlorinated polyvinyl chloride (CPVC) piping is a specialized, high-performance thermoplastic designed for use in aggressive industrial environments, including power generation plants.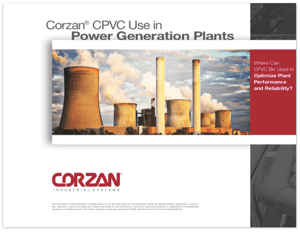 Power generation plants of all types­–from gas turbine combined cycle to nuclear to combined heat and power–require the movement of large amount of water, caustics and corrosives. These facilities turn to Corzan® CPVC for its low installation costs, proven track record, chemical resistance and ease of use.
In the CPVC Use in Power Generation Plants ebook, you'll discover:
Why CPVC is the best material for power plant systems.

Where CPVC can be used in power generation plants.

System specific applications and a breakdown of where piping material matters.
To download the guide, complete the form.