INSIGHT FOR SPECIFYING CORZAN® CPVC
Designers and engineers who specify piping systems want the correct product for the application to ensure reliable long-term, cost-effective performance. Chlorinated polyvinyl chloride (CPVC) meets the needs of a wide range of applications as an engineering thermoplastic that is important to the project flow process.
Lubrizol Advanced Materials, Inc. (formerly BFGoodrich®) first commercialized CPVC in the early 1960s, and the material has proven its value in industrial facilities worldwide, providing the technology to meet application needs.
The Strength to Perform
The chlorine content in CPVC makes it much stronger and more reliable than other types of plastic piping, including PVC. Approximately 40 percent of the bonding sites on the backbone of CPVC are filled with chlorine atoms, which are large and protect the chain from attack.
CPVC (left) is shown at the molecular level compared to PVC (right) in the illustration below, with the red spheres representing chlorine elements. The additional chlorine molecules protect the polymer's carbon backbone, which, in turn, protects the material's structural integrity against heat. As the chlorine content in CPVC is increased, the glass transition temperature (Tg) – the temperature region where the polymer transitions from a hard, glassy material to a soft, rubbery material—increases significantly.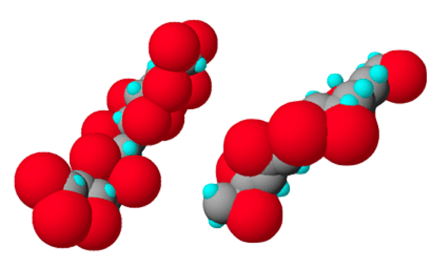 Corzan Pipe, Duct, Liner and Fittings Cell Class and Pressure Ratings
Corzan Schedule 40 and 80 IPS pipe, liner and fittings from ½-inch to 24 inches are extruded/molded from Lubrizol Advanced Materials CPVC compound. All pipe, duct and liner compound up to 24 inches meets cell class 23447.
The second number in the classification is the Izod strength designation, with Corzan CPVC surpassing existing CPVC. The third number represents the tensile strength, which must be greater than 7000 psi to receive the designation.
Finally, the fourth and fifth numbers are for the tensile modulus and the heat distortion temperature, respectively, with the tensile modulus required to be greater than 360,000 psi.
Corzan pipe compounds through an 8-inch size may meet cell class 24448 for high impact and high heat deflection temperature, Corzan CPVC with a 24448 cell class has an impact strength rating three times that of standard CPVC, making the pipe easier to cut and less likely to experience a future break or fracture. The system's scrap rate is also lower.
A superior HDT indicates Corzan CPVC piping will maintain a straight, professional appearance in areas where standard CPVC may sag or bend. The safety factor is likewise increased in the event of a process excursion.
Corzan Schedule 80 IPS fittings compound meets cell class 23447 and has a pressure rating in accordance with ASTM D-2837 and as listed by the Plastics Pipe Institute (PPI). Corzan Schedule 80 IPS compound is pressure rated to PPI TR-3 and has a hydrostatic design bases of 4000 psi at 72°F and 1000 psi at 180°F per PPI publication TR-4.
Fittings meet or exceed ASTM F437 requirements, ASTM F439 or ASTM F1970, with fabricated fittings recommended for large sizes and special configurations.
Corzan Sheet Materials
Corzan sheet materials are available in a 48-inch by 96-inch sheet, and their excellent fire performance makes them useful for many applications. Sheet products are available in 1/8-inch to 3 inches, with the products extruded or compression molded.
Sheet compounds meet cell class 24446 or 23447 and are designed to match the sheet or pipe materials that will be fabricated. Extruded sheet is highly recommended for all chlor alkali applications.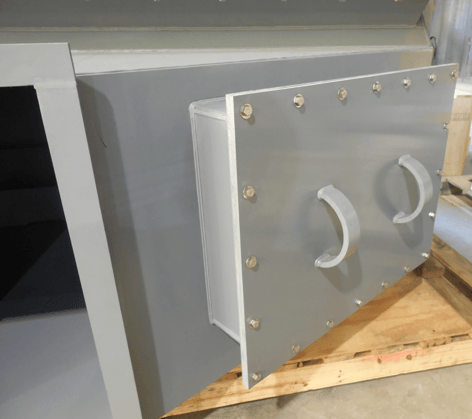 Worldwide Availability
Corzan CPVC features a global design to provide global solutions for the harshest environments in industrial plants worldwide, with the technology readily available almost everywhere through Corzan CPVC partner manufacturers. These manufacturers are carefully selected to convert Corzan CPVC into high performance piping systems, including piping and fittings, pumps, valves, ducting, sheet, welding rod, bar stock and engineered shapes for the chemical processing, power generation, mineral processing, marine, semiconductor, chlor alkali, commercial plumbing and wastewater treatment industries.
Corzan is the only CPVC technology backed by a global technical support team to assist with application assessment, installation training, engineering, site evaluation and partnerships. For more information about specifying Corzan CPVC, contact a Corzan engineering expert or a partner manufacturer for engineering guidelines or to schedule a free process suitability review and technical assessment.
Details for this post were taken in part from the following:
https://www.corzan.com/en-us/corzan-cpvc-specification-for-industrial-applications
https://www.corzan.com/blog/what-to-know-about-cpvc-classifications-and-cell-classes