PROACTIVE SOLUTIONS TO PREVENT ROADBLOCKS
Industrial Info Resources is a leading provider of industrial global market intelligence that reported the U.S. and Canadian Chemical Industry would spend $51 billion in 2017, and $51.7 billion in 2018. The group predicts a $53 billion investment in chemical industry capital projects during 2019.
According to their reports, Industrial Info Resources is tracking about a 33 percent hit rate, which means the expectation in capital spending in 2019 is approximately $17.5 billion. This is a very good rate based on historical data and the headwinds that are impacting the industry, including political uncertainty, tariffs, foreign ownership, commodity pricing and global consumption.
Investment is strong in North America with the low feedstock costs of natural gas and oil. This is positive news for EPC firms that manage companies' tremendous investments. Many of the new facilities are exporting liquified natural gas (LNG) and increasing the capacity of plastic feedstock supplies and specialty treatment chemicals.
Several roadblocks, however, prevent the EPC community from taking advantage of the benefits that plastics have to offer the new chemical facilities. During the past 60 years, these roadblocks have included a lack of basic knowledge of plastics, their design and installation, the non-corrosive benefits of plastics and how to properly specify plastics.
Tackling Educational Roadblocks
A lack of educational background is one of the greatest roadblocks Lubrizol has faced during our decades-long history in the CPVC marketplace. Very few universities train engineering students about the different types of plastics and their applications.
The EPC community is filled with well-trained and well-educated mechanical, chemical, civil, and electrical engineers with professional licenses but very little knowledge of plastics. Lubrizol targets those professionals with its www.corzan.com website.
The website offers product and application insight via spec sheets, brochures, e-books, test videos, webinars, case studies and more. Having the ability to access details regarding plastics' key design and physical characteristics and connect with SMEs is essential to help EPC firms better understand how to properly apply plastics.
Changing from metallic piping to plastic also requires a modified stress analysis to identify and minimize stress areas. This is a critical step to designing and installing a system that is capable of performing long term without issues. It is very common for EPCs to utilize software such as AVEVA or Integraph CAESAR to model stress.
Unfortunately, the limited knowledge of plastics extends to these manufacturers as well. One of the issues we have seen is the program's inability to implement two E-modulus that are necessary for calculating plastic piping systems. Over time this will be overcome, but the EPCs must realize the present shortcomings. Understanding the short-term E modulus for support forces and long-term E modulus for creep resistance is no simple task. This is why the industry utilizes EPCs to manage these tremendous projects. However, the EPCs must overcome the knowledge barrier.
EPCs sometimes encounter other roadblocks during the design and material selection phase of a project. It is easy to say, for example, that more pipe supports are needed for plastics. However, what does this really mean? Adding supports seldom requires a total redesign of the piping support system but rather a modification to the existing design to accommodate the lighter materials.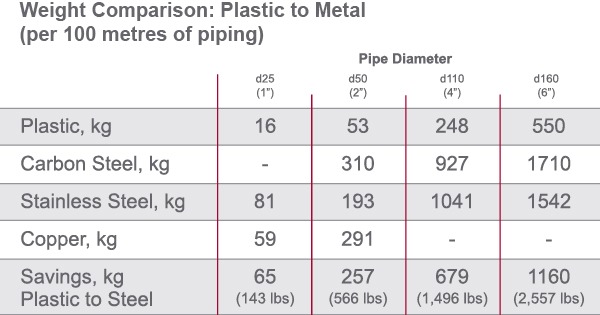 It is very common to utilize lighter supports often described as Unistrut.
The Non-Corrosive Nature of Plastics
The gulf region of the U.S. is the heart of the chemical processing industry, including the very active chlor-alkali segment. This industry creates many of the common feedstock chemicals utilized for water pretreatment (drinking water), aquatics, specialty chemical processing, oil and gas, waste water treatment, pharmaceuticals and many other applications.
Chemicals associated with the chlor-alkali industry include chlorine, caustic (sodium hydroxide), hydrochloric acid, sulfuric acid, and sodium hypochlorite (bleach), which are extremely corrosive. Life expectancy of piping systems largely depends upon the system's resistance to corrosion. EPC engineering firms have an opportunity to distinguish themselves by proactively providing the technical expertise relative to the types of plastics available, their design parameters and installation requirements.
Chlor-alkali facilities produce chlorine and caustic soda by electrolytically decomposing brines. Membrane technology has become dominant in the industry in an effort to reduce energy consumption and minimize environmental concerns.
The chlorine production process involves taking in brine that undergoes electrolysis to produce chlorine, caustic soda and hydrogen gas. While the process seems simple enough, dealing with chlorine, caustic (sodium hydroxide), hydrochloric acid, and the cocktail of intermediate chemistries that produce bad actors like hypochlorous acid is not an easy feat.
The industry requires a material that can handle the extremely corrosive nature of the chemicals and maintain the purity of the key streams. The sensitive nature of chlorine production is just one of many applications that require plastic piping such as Corzan CPVC. Corzan CPVC's ability to meet the stringent low calcium and magnesium requirements of membrane cell technology and provide a cost effective option is helping the industry meet its technical and business needs.
High performance Corzan CPVC reliably resists a broad spectrum of pH chemicals such as sodium hypochlorite and sulfuric acid as confirmed in the Corzan CPVC Chemical Resistance Chart. The chart shows the material's compatibility with more than 400 chemicals.
Corzan CPVC's consistent quality ensures solutions for both the anolyte and catholyte units on the electrolysis cells. Corzan CPVC is readily available and may be used for fast, easy and reliable fabrication. The material is also easily welded with solvent cement during installation for long-term, dependable service.
Constructing and updating chemical plants and chlor-alkali facilities with piping materials that prevent corrosion has the potential to eliminate a range of problems in the future, including safety issues, process failures and disruptive and expensive downtime and repairs.
Specifying Corzan Technology
Corzan CPVC technology was pioneered by Lubrizol in 1959 and has since become the most specified CPVC technology in the world. This has been accomplished through partnerships with excellent manufacturing partners.
In North America, key manufacturers include Georg Fischer (GF), IPEX, NIBCO and VYCOM. These best-in-class manufacturers choose to use Corzan technology to manufacture their CPVC pipe, fittings, valves and miscellaneous components. Several additional manufacturing partners help to create a full system. Each of these companies employs a terrific team of engineers and business leaders who work diligently to help EPCs and manufacturing companies better understand plastics.
Corzan CPVC specifications are built on consistency, superior chemical resistance and best-in-class impact strength, with a team of supporting companies who are there to help companies in various industries succeed.
Studies have been conducted on plastics and understanding the perception of Corzan CPVC in regard to applications. The Pressure vs. Temperature Chart below shows how misunderstood CPVC is in regard to its applicable range. This is just one of the misconceptions that we are working to overcome.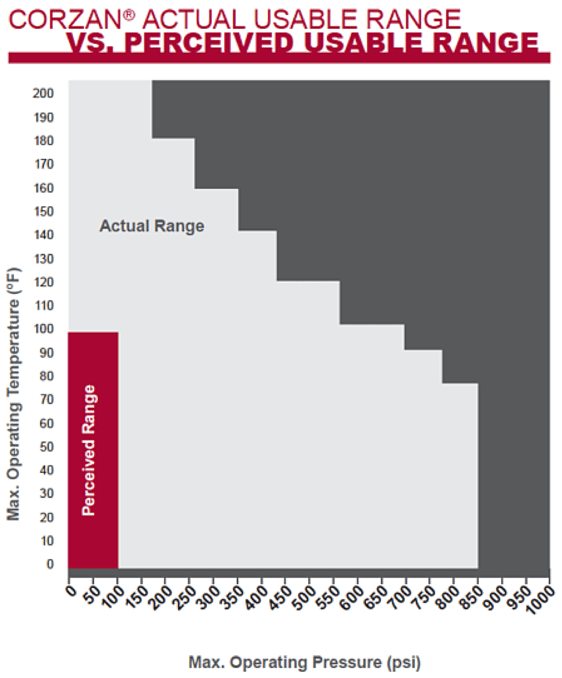 Corzan CPVC is engineered to be strong and has a high heat distortion temperature and pressure rating that can withstand the demands of most chemical applications. Some applications, however, include a fluid temperature that exceeds the working range for Corzan piping.
Engineers have the option of specifying dual laminates for these types of applications as dual laminates combine the superior chemical resistance of Corzan CPVC with the mechanical strength of fiberglass reinforced plastics (FRP).
Corzan CPVC is used as the liner and serves as the pipe's interface with a liquid or other medium. The CPVC liner is then reinforced on the outside with an FRP shell. The result is a lightweight piping system that is structurally strong.
Depending on the system pressure, Corzan CPVC is rated to 200°F when used alone. The warping caused by high heat temperatures common to applications such as chlor-alkali plants becomes less of a concern with dual laminate piping. Many applications that use Corzan CPVC in dual laminates have been utilized in applications that are 20 to 25 degrees higher than what Corzan CPVC would normally handle by itself.
Dual laminates are applicable for tanks, vessels, ducts and other structures where chemical resistance and structural strength are required. Corzan CPVC's welding and thermoforming capabilities allow the material to be molded into any shape for precise, custom configurations.
New technologies are constantly introduced to the plant construction market, which is why EPC engineers must have the technical tools they need to make informed choices for new plant builds and updates. Engineers may depend on companies such as Lubrizol, the market leader, to provide educational tools and the best materials for each application based on experience.

Corzan CPVC piping and fittings offer over 60 years of proven success in a range of challenging industrial environments and are capable of standing up to the unique challenges of new and existing facilities across industries. To learn more, contact a Corzan Piping System Consultant for a free suitability review and technical assessment.
Details for this blog were taken in part from the following:
https://www.corzan.com/en-us/cpvc-chlor-alkali-industry