A New Age for Oil and Gas Piping Systems
The oil and gas production industry places tremendous demands on its piping systems, with onshore and offshore applications impacted by harsh chemicals, corrosive saltwater environments, low and high temperatures and elevated pressure. The industry primarily relied on metallic piping systems in the past as this was the type of material that was available. In most cases, thermoplastics such as chlorinated polyvinyl chloride (CPVC) did not have sufficient history within the oil and gas industry for engineers to specify them.
This situation has changed during recent years, with standards set forth by The American Society of Mechanical Engineers (ASME), ASTM International and other groups helping to ensure the performance of thermoplastics in a wide range of applications. CPVC is one of the most common thermoplastics used in the oil and gas industry, with ASME NM.1 "Thermoplastic Piping Systems (Latest Edition)" providing the requirements for design, materials, manufacture, fabrication, installation, inspection, examination and testing of thermoplastic pressure piping systems.
B31 Code for pressure piping, also developed by ASME, covers Power Piping, Fuel Gas Piping, Process Piping, Pipeline Transportation Systems for Liquid Hydrocarbons and Other Liquids, Refrigeration Piping and Heat Transfer Components and Building Services Piping. ASME B31 was earlier known as ANSI B31.
Differences in Plastic Piping System Composition
While various professional groups are testing and setting standards for using thermoplastic piping materials within the oil and gas industry, it is important to remember that all plastic piping materials are not created equal. Several grades of polyethylene (PE), polypropylene (PP) and CPVC, for example, are readily available.
Successfully selecting and utilizing a plastic piping system for oil and gas industry applications requires an understanding of the different types of materials and what holds their polymer chains together.
Amorphous polymers
Amorphous polymers such as PVC and CPVC rely on the molecular entanglement of the polymer and have no melting point. This type of polymer is used below the glass transition temperature, with the molecules relatively immobile, impermeable and inflexible.
CPVC industrial piping offers distinct performance advantages based on the material's unique molecular structure. CPVC differs from PVC in that approximately 40 percent of the bonding sites on the carbon backbone are filled with chlorine atoms, with the remaining 60 percent of available sites filled with hydrogen. Chlorine atoms surrounding the CPVC carbon backbone are large atoms that protect the chain from attack.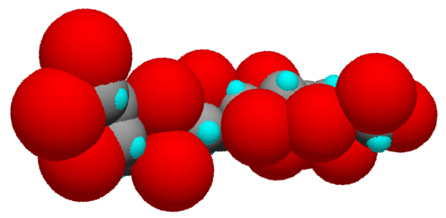 CPVC
Semi-crystalline polymers
Semi-crystalline polymers such as PP, polyvinylidene fluoride (PVDF) and high density polyethylene (HDPE) rely on crystallization of the polymer. These types of plastics can have a melting point and are used above their glass transition temperature. The molecules are relatively mobile and moderately permeable and flexible.

HDPE
Thermoset polymers
Thermoset polymers such as fiberglass reinforced pipe (FRP) rely on crosslinks and typically require some type of cure process, which allows the crosslinks to form.
The Need to Mitigate Corrosion
Corrosion damage in the oil and gas industry is an expensive and ongoing problem for piping systems and can result in costly downtime and repairs and serious environmental issues such as releases and spills. Corrosion occurs in oil and gas production, processing and pipeline systems, and any process that involves water.
In water plants, for example, chemical corrosion is caused by strong acids and bases used for pH neutralization. Microbial corrosion results from sludge streams and biological growth in water.
Ongoing extraction of carbon dioxide and hydrogen sulfide combined with water in oil and gas wells and pipelines causes internal corrosion within metal piping systems, resulting in material degradation that reduces the system's strength and ductility and can lead to loss of materials, a reduction in piping system thickness and even failure.
Whatever the application, the most effective way to eliminate corrosion to piping systems used in the oil and gas industry is to replace metal systems with a material that does not corrode, such as Corzan CPVC® piping and fittings. Corzan CPVC is inert to most acids, bases and salts and provides superior, long-term resistance to corrosive chemicals, seawater and demineralized water – even at high temperatures.
The Corzan CPVC Chemical Resistance Chart provides a comprehensive list of more than 400 chemicals and compounds that have been tested with Corzan CPVC for their compatibility.
Corzan CPVC has a smooth inner surface and a Hazen Williams C Factor of 150, with the higher the rating, the lower the friction loss. The piping system will retain this rating throughout its life cycle compared to steel piping, which has a rating of 130 to 140 but can decrease when the material becomes pitted or worn.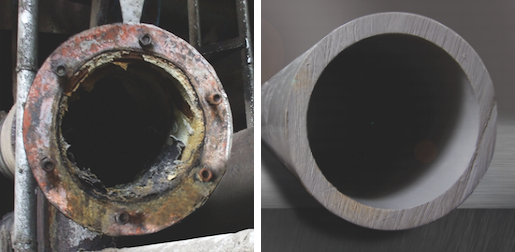 In addition, Corzan CPVC is engineered to satisfy the high heat and long-term pressure bearing demands characteristic of the oil and gas industry, delivering reliability throughout the piping system's life.
The Ability to Withstand Direct Sunlight and Temperature Extremes
Piping systems within the oil and gas industry are often partially or completely installed outdoors, exposing them to temperature extremes and direct sunlight. While some thermoplastics are UV resistant, the effect of direct sunlight on other systems such as PVC or PP piping material could cause the pressure rating to be exceeded. Corzan CPVC withstands the effects of direct sunlight in ambient conditions exceeding 120°F, as illustrated in the following graphic.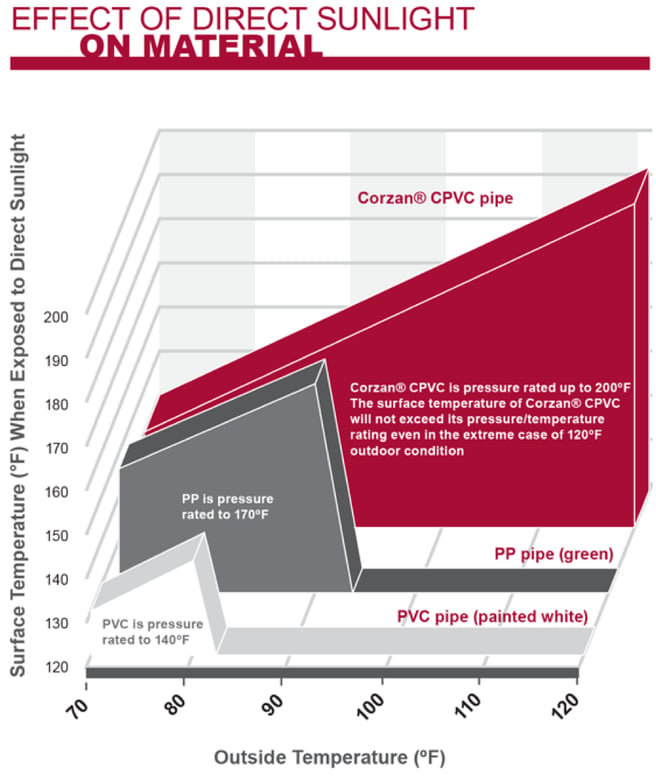 Corzan CPVC incorporates carbon black and titanium dioxide, which are excellent ultraviolet blocking agents. The additives protect the pipe's polymer backbone and enable it to retain its pressure bearing capability even after extended UV exposure.
Piping systems installed outdoors must also be able to withstand extreme radiant heat as radiant heat combined with ambient temperature can push a piping material beyond its heat deflection temperature (HDT). At 230°F (110°C), Corzan CPVC Cell Class 24448 materials have the highest HDT in accordance with ASTM D1784 of any certified CPVC material.
Corzan CPVC has no known absolute minimum temperature for installation. All low temperature installations below 40°F require particular attention to detail to create a reliable piping system. CPVC has the ability to operate well below 40°F. It is essential that designers understand the engineering requirements and installers are properly trained to ensure successful installations.
Versatility and Installation Ease
Corzan CPVC is a highly versatile material that is suited to a range of oil and gas industry applications, including hot and cold potable water (white water), water and waste treatment systems (black and gray water), sea water desalination systems, sea water ballast lines, ballast treatment and waste treatment systems using sodium hypochlorite, fire sprinkler systems in light hazard installations and stack and vent applications.
In addition, Corzan CPVC offers various advantages over metal piping relative to installation and maintenance. CPVC is lighter weight and easier to maneuver than heavy metal piping, speeding installation and maintenance and reducing worker strain and injury. The lighter material also eliminates the need for heavy equipment to transport and hoist the piping into place.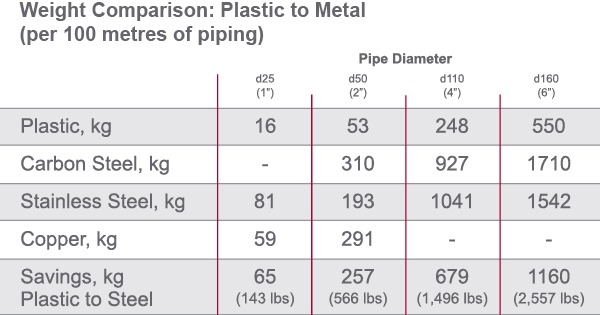 It is important to note that ASME B31.3 Basic Requirements, Bonding Procedure Specification (BPS) provides guidelines relative to bonder qualifications and the condition of the bonding materials, equipment, fixtures and tools used during thermoplastic installation. Project production joints should only be made by qualified bonders.
Piping Systems for Safety and Peace of Mind
Corzan CPVC offers a range of performance advantages to improve piping system reliability within the oil and gas industry, including corrosion resistance and the ability to withstand temperature extremes and elevated pressure. Corzan CPVC is the most specified CPVC technology in the world, providing a safe, durable and cost-effective alternative to metal for a range of applications.
Corzan piping systems have been successfully installed in industrial applications worldwide for nearly 60 years – and have served the oil and gas industry for over 20 years. Contact a Corzan engineering expert or one of our partner manufacturers for engineering guidelines to specify a safe and dependable piping system or to schedule a free process suitability review and technical assessment.
Details for this blog were taken, in part, from the following:
https://www.corzan.com/blog/cpvc-outperforms-metal-when-it-comes-to-maintenance
https://www.corzan.com/blog/corzan-cpvc-can-take-the-heat
https://www.corzan.com/en-us/piping-systems/specification/weatherability
https://www.corzan.com/blog/what-you-need-to-know-about-cpvc-and-uv-weatherability