Weatherability is defined as a material's ability to maintain its basic physical properties after prolonged exposure to sunlight, wind, rain and humidity.
Nearly 60 years of CPVC experience, including many long-standing outdoor installations, demonstrates that Corzan® Industrial Systems can withstand long-term exposure to the environment without experiencing significant adverse effects.
Effects of Direct Sunlight on Corzan® CPVC Material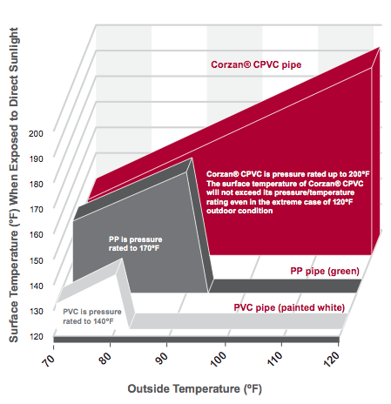 How Corzan CPVC Withstands Long-term Climate Exposure
Corzan CPVC is blended with a significant concentration of both carbon black and titanium dioxide (TiO2). Both additives are widely recognized as excellent ultraviolet blocking agents and help to protect the polymer backbone from the effects of ultraviolet radiation.
In fact, Corzan piping tests and customer installations verify that the pressure-bearing capability of Corzan piping systems is maintained after extended exposure.
Depending on the specific installation, prolonged exposure can cause a gradual reduction in the material's properties. If the specific installation requires additional protection from UV exposure, Corzan piping systems can be painted with common acrylic latex paint.
Heat Tracing
It is acceptable to heat trace Corzan pipe and fittings provided the temperature of the heat tracing material does not exceed 180°F. Steam heat tracing is not recommended, and the chemical compatibility of the heat tracing material with CPVC should be confirmed.
Painting
If paint must be used, water-based acrylic latex paint is preferred and recommended to use on Corzan pipe and fittings. Two-part epoxy paint should not be used. Other types of paint have not been known to be detrimental to Corzan pipe and fittings provided they are applied in a light coating that dries quickly.
Paint should not be allowed to puddle on or around Corzan pipe or fittings.
Priming of the piping is not necessary prior to painting.