Request Access to the Manual
Delivering Reliability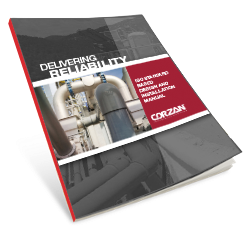 Corzan® CPVC piping systems provide the process industry what it needs most – reliable, long-term service life; less maintenance and reduced downtime. Proven performance advantages such as superior resistance to corrosive chemicals, high temperatures and harsh conditions make Corzan Industrial Systems ideal for the toughest environments.
Learn more in the ISO Standard Based Design and Installation Manual, Corzan Industrial Systems:
Material and physical properties that ensure Corzan CPVC is safe and able to withstand fire, weather, abrasion, chemicals and biological threats,
Installation factors such as pressure rating, carrying capacity, friction loss, thermal expansion, joining methods and more,
How to install Corzan ducting systems.
This manual is available to select users. Please fill out the form and, upon approval, you will receive an email from Lubrizol within 24 to 48 hours.
Also download the ISO Based CPVC Metric Piping System Sample Specification