The long-term performance of Corzan® piping systems under pressure is tested in accordance with ASTM D1598—Test Method for Time-to-Failure of Plastic Pipe Under Constant Internal Pressure. Typical data obtained from pipe made of Corzan CPVC is shown below.
Long-Term Performance of Corzan CPVC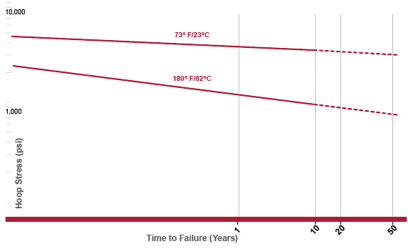 Data is obtained from tests in excess of 16,000 hours. The data is evaluated in accordance with ASTM D2837—the Standard Method for Obtaining Hydrostatic Design Basis for Thermoplastic Pipe Materials.
Long-term hydrostatic strength (LTHS) is the extrapolated value of the hoop stress versus time-to-failure data at 100,000 hours.
Hydrostatic Design Basis (HDB) is determined by categorizing the LTHS value as defined in ASTM D2837.
Hydrostatic Design Stress (HDS) is taken as 50% of the HDB for water applications as defined by the Plastic Pipe Institute Hydrostatic Design Board.
Pressure ratings for specific pipe sizes are calculated from the HDS with the following formula: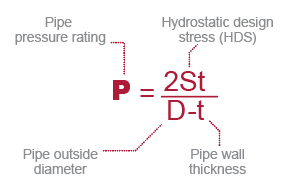 Learn more about the test methods developed by ASTM, ISO and the Plastic Pipe Institute that help define the pressure bearing capabilities of thermoplastics in our resource article, "How CPVC Pipe Pressure Ratings Are Calculated."