A prudent practice to ensure worker safety is to insulate pipes that have exterior surface temperatures greater than 140°F (60°C).
Corzan® CPVC has a very low thermal conductivity value, approximately 1/300th that of steel. This translates to lower costs.
The high thermal conductivity of metal pipes means that the pipe's exterior surface temperature is approximately equal to the temperature of the fluid being conveyed. Therefore, pipes carrying fluids at temperatures of 140°F (60°C) or more should be insulated if there is the possibility of worker contact. This insulation generates more cost in the initial installation of a system and makes periodic inspections of the pipe more difficult.
The lower thermal conductivity of Corzan CPVC piping means the surface temperature is significantly lower than the internal fluid temperature, often making insulation unnecessary. This also means that energy in the process stream is conserved, as the rate of heat transfer through CPVC piping is typically 50-60% that of steel piping.
Estimated Pipe Surface Temperature vs. Internal Fluid Temperature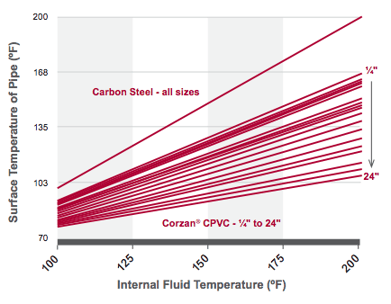 The figure above shows the approximate pipe surface temperature as a function of internal fluid temperature for a piping system and with 73°F (22.8°C) air circulating at 0.75 feet per second. Corzan Schedule 80 pipe sizes of 2, 4, 6, 8, 10, and 12-in. are represented.
This figure is intended to demonstrate the significant difference between steel and Corzan CPVC pipe, but should not be used for system design. The actual surface temperature of pipe in a working system is dependent on many factors, including ambient temperature, air circulation velocity and direction, etc.