6 Industries Benefiting from Corzan CPVC Sheet and Liners
Chlorinated polyvinyl chloride (CPVC) is a versatile compound manufactured into many geometries, including sheet, piping and fittings. When produced as sheet, CPVC can is often fabricated for various industrial products, including tanks, scrubbers, ventilation processes and more.
The sheet can also be used as a liner and overwrapped with fiber-reinforced plastic (FRP). FRP-lined CPVC utilizes CPVC's corrosion resistance and relies on the FRP to increase its heat performance and mechanical strength.
Take a look at a few examples of how CPVC sheet is fabricated for use across different industrial plants and applications.
For information on other industrial applications where CPVC sheet is used, contact Corzan® Industrial Systems to speak to a representative.
CPVC Sheet for the Chemical Processing Industry
Chemical processing plant processes often require corrosive chemicals to be stored or transported at high temperatures. CPVC is resistant to many of those chemicals, such as:
Sodium hypochlorite
Hydrochloric acid
Sulfuric acid
Phosphoric acid
Sodium chloride
Caustic soda
View the Corzan CPVC Chemical Resistance Table to view resistance and compatibility with more than 400 chemicals.
Utilizing CPVC's chemical and temperature resistance properties, CPVC sheet is fabricated for the following:
Ductwork
Clarifiers
Scrubber Housings
Tanks
Any other area that requires resistance to corrosive chemicals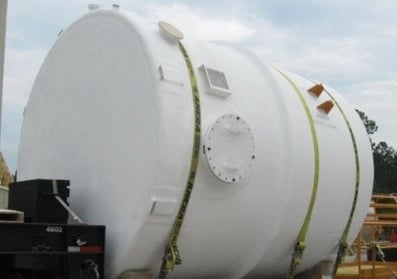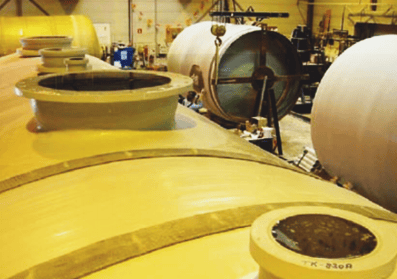 CPVC Sheet for the Semiconductor Industry
CPVC is especially useful in semiconductor cleanroom applications, where there is an abundance of corrosive streams and vapors involved in etching. The sheet is commonly formed into ducting to ventilate corrosive gases. It is also fabricated for hoods and flooring that may come in contact with corrosive chemicals.
Also important in semiconductor cleanrooms is the fact that Corzan CPVC is tested in accordance with FM 4910, which verifies materials for use in flammable environments based on low susceptibility to fire and smoke generation. Learn more about what FM 4910 testing entails and why it matters to the semiconductor industry in this blog post.
CPVC Sheet for the Mineral Processing Industry
Mineral processing plants use a variety of chemicals to neutralize water for metal piping. CPVC is highly resistant to acids, making it a useful liner for protecting tanks that store corrosive solutions. It can also be used to create resistant strainers, fabricated valves and strainer baskets.
CPVC also will not erode from the constant stream of abrasives seen in mineral processing.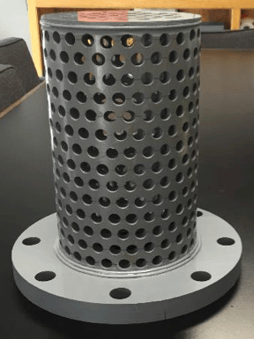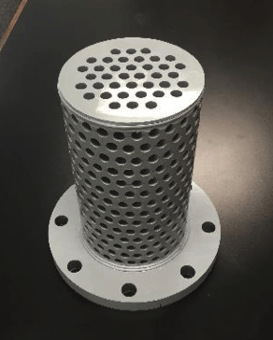 These strainers, made from CPVC, will hold up against acidic streams.
CPVC Sheet for the Chlor-Alkali Industry
Chlor-alkali plants create some of the most corrosive environments imaginable. Rather than spending intensive capital on custom alloys, engineers have recognized value and performance in CPVC.
In these plants, CPVC sheet may be formed for tanks and pressurized storage vessels, absorption towers, ductwork and strainers, thanks to its resistance to many corrosive chemicals.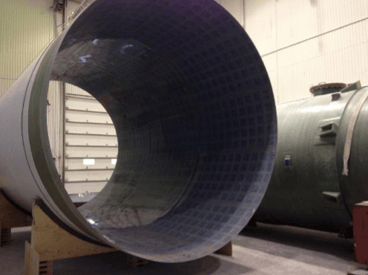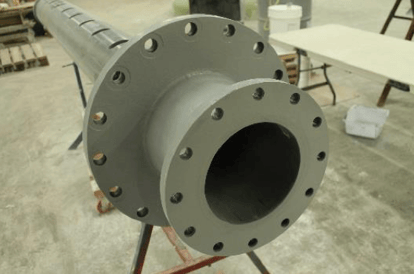 Inside a chlorine drying tower.
CPVC Sheet for the Power Generation Industry
The power generation process creates many pollutants that are highly regulated by the EPA, so engineers use scrubbers to remove them from any exhaust. These wet scrubbers use a continuous spray of neutralizing fluids, such as sulfuric acid or chlorine, to extract harmful particulates.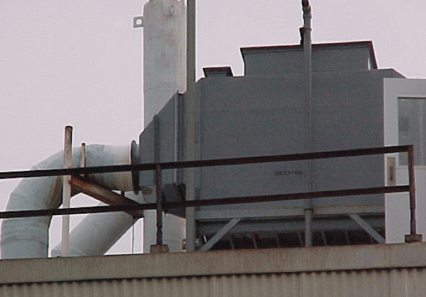 HCl scrubber made with CPVC.
CPVC Sheet for the Wastewater Treatment Industry
Wastewater fluid streams that are high in particulates from raw water are difficult to manage. Engineers can remediate this by creating clarifier plates out of CPVC sheeting. The plates are set at an angle and create a torturous path for the corrosive stream to travel—which allows the particulates to settle out, creating a fluid stream that is much easier to remediate.
Engineers also combine CPVC sheeting with fiber-reinforced plastic (FRP) for wastewater tank applications. It stands up against a common corrosive chemical, ferric chloride, and can handle the many acidic and alkaline chemicals involved in pH adjustments.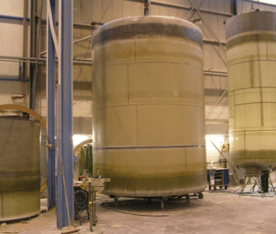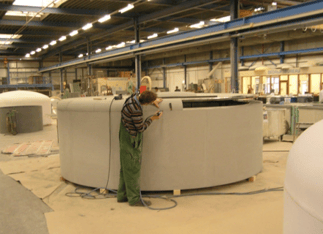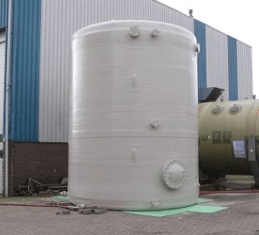 CPVC storage tanks and vessels.
See How Corzan CPVC Stands Up to the Chemicals In Your Process
Corrosion resistance is an inherent advantage of CPVC. To help you determine compatibility with your process, we tested our CPVC with more than 400 chemicals and compounds.