Corrosion | Piping Systems | chemical resistance
The question of how to avoid the damaging corrosive effects of harsh process chemicals on metallic piping should be the least of the worries of industrial operations and reliability personnel. When these shortcomings are plaguing your clients' projects, consider implementing material review protocols that do not limit your options. Through no fault of their own, traditionally trained engineers are not immersed in the world of thermoplastics. Yet the implementation of alternate materials of construction review into your Loss of Containment reduction program can create a safer working environment for employees, and provide a more economical solution to a longstanding issue with corrosion.
Chlor Alkali | Power Generation | Water Treatment
Membrane technology continues to advance at a lightning pace. A type of separation process, membrane technology, is being utilized in processes as varied as absorption, distillation, fouling, microfiltration, nanofiltration, reverse osmosis, ultrafiltration, and desalination. And as the technology advances, so does the dependence on piping systems to maintain fluid stream purity.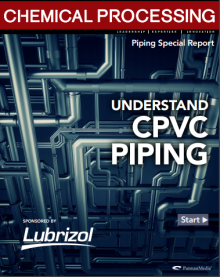 Understanding CPVC Piping Report
Delve deeper into CPVC's capabilities, benefits and performance in the harshest industrial applications.
Chemical Processing | Corzan® CPVC
Every day, industrial plant professionals must balance many roles and responsibilities that have a direct bearing on OPEX and CAPEX. If they operate facilities with metallic piping systems, part of the job of necessity involves becoming an expert on corrosion – its causes, mitigation and prevention – and devoting significant resources to it from both categories.
Basic principles of physics and thermodynamics dictate that the surface temperature of an industrial piping system when installed during ambient temperature conditions will change when it transitions to the operating state for which the system is designed. This is especially true if the piping system is installed during one season and goes into service in another. Outside installations are always subject to the thermal cycling of a typical day as well as seasonal climate cycling. In addition, our experience and understanding of external installations shows us that the solar energy of the sun can impact the surface temperature of piping in a pipe rack, adding heat that can lead to a total surface temperature significantly higher than the ambient temperature of the region.
Corzan® CPVC | Power Generation
The hazardous caustic and corrosive chemicals and levels of heat and pressure involved in treating and moving large volumes of water in power plant operations make it incumbent upon system designers to choose from among the few materials for pipe, valves and fittings that can reliably stand up to these rigors. In plants from gas turbine combined cycle to nuclear to combined heat and power, one of the most reliable such materials is thermoplastic Corzan® CPVC.