Chemical Processing | Chlor Alkali
In almost all of the world's industries, two core chemicals are likely at their foundation – sodium hydroxide or potassium hydroxide. Solutions of sodium hydroxide (also known as caustic soda) are commonly used in chemical processing, pulp and paper, water treatment, soaps and detergents, bleach manufacturing, textiles, and petroleum products industry. Solutions of potassium hydroxide (also known as caustic potash) are used in applications such as the production of potassium carbonate, potassium phosphate, liquid fertilizer, and potash soaps and detergents.
Chlor Alkali | Power Generation | Water Treatment
Membrane technology continues to advance at a lightning pace. A type of separation process, membrane technology, is being utilized in processes as varied as absorption, distillation, fouling, microfiltration, nanofiltration, reverse osmosis, ultrafiltration, and desalination. And as the technology advances, so does the dependence on piping systems to maintain fluid stream purity.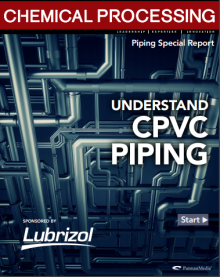 Understanding CPVC Piping Report
Delve deeper into CPVC's capabilities, benefits and performance in the harshest industrial applications.
Lubrizol's Bryan Hutton to Speak at the Chlorine Institute Technology Symposium on March 15 Chemical manufacturing facilities have a tremendous burden of providing safe, economical and environmentally friendly operations. And while the plant engineering community has had extensive training with metallic systems, it's had limited exposure to the capabilities and performance data of industrial thermoplastics, specifically CPVC.
Chemical Processing | Chlor Alkali | Fabrication | Water and Wastewater Treatment
When specifying vessel and piping materials for handling and storing corrosive acids and bases, many lean on their educational training, personal experience and familiarity with products. If a carbon steel, stainless steel or fiberglass-reinforced plastic (FRP) vessel was specified for a similar situation in the past, the plant or operations manager is likely to choose it again, regardless of the expected service life. Relying on personal experience can be valuable, unless there is definitively a better option available. Considering alternatives and the reliability they have delivered in existing applications can help plants recognize greater performance, a longer service life and lower lifecycle costs. To accurately evaluate materials, key comparison factors must first be considered.
Chemical Processing | Chlor Alkali | Fabrication | Mineral Processing | Power Generation | Semiconductor | Water and Wastewater Treatment
Chlorinated polyvinyl chloride (CPVC) is a versatile compound manufactured into many geometries, including sheet, piping and fittings. When produced as sheet, CPVC can is often fabricated for various industrial products, including tanks, scrubbers, ventilation processes and more. The sheet can also be used as a liner and overwrapped with fiber-reinforced plastic (FRP). FRP-lined CPVC utilizes CPVC's corrosion resistance and relies on the FRP to increase its heat performance and mechanical strength. Take a look at a few examples of how CPVC sheet is fabricated for use across different industrial plants and applications. For information on other industrial applications where CPVC sheet is used, contact Corzan® Industrial Systems to speak to a representative.
Chemical Processing | Chlor Alkali | Mineral Processing | Power Generation | Semiconductor | Water and Wastewater Treatment
As the pioneer in chlorinated polyvinyl chloride (CPVC) technology, Corzan® Industrial Systems has proven its value and reliability for use in many types of industrial plants. To learn more about CPVC and its compatibility and uses across six demanding industrial applications, view our latest infographic. If you prefer not to open the PDF infographic, read on for a text-only version. Corzan® chlorinated polyvinyl chloride (CPVC) is an important engineering thermoplastic due to its: High heat distortion temperature. Certified for use up to 200°F (93.3°C). Relatively low material cost. Has successfully replaced and outlasted metals and other costly materials. Inherent chemical resistance. Corrosion-free piping to maintain pressure ratings, flow rates and fluid purity, and to prevent costly repairs. Simple and superior installation. Solvent welding fuses the piping and fitting at the molecular level, maintaining system performance. Fire-related safety advantages. Heat transfer coefficient is approximately 1/300th that of steel, and the material does not sustain burning and requires no flame to install. Certified pressure rating. Pressure rated in accordance with ASTM D2837, having a Hydrostatic Design Basis (HDB) of 4000 psi at 72°F (23°C) and 1000 psi at 180°F (82.2°C). Learn more about CPVC by visiting our resource library, featuring ebooks, white papers, practical tools and more.
Case Study | Chlor Alkali | Fabrication
Industrial applications create some of the harshest conditions to which a material can be subjected. Consequently, the materials intended for use in these environments must be especially resilient. For instance, extremely corrosive chemicals essential in applications, such as chemical processing and wastewater treatment, must be stored, processed and transported safely and effectively. This requires containment materials that possess very high corrosion-resistant properties. The vessels designed to contain these chemicals have been traditionally composed of steel, fiberglass or exotic alloys, but chemical tank manufacturers have learned that the lifespan of these materials is limited by their inherent chemical resistance qualities. As a result, fabricators have begun the practice of adding more robust chemical-resistance layers into dual-laminate tanks to create longer-lasting containers. This has directly helped to limit the amount of downtime manufacturers must endure related to repairs and tank replacement.
Case Study | Chlor Alkali | Fabrication | Piping Systems
In 2006, Netherlands-based AkzoNobel Base Chemicals B.V. constructed its chlorine plant based on Asahi membrane electrolysis technology. Based on current experiences with chlorinated polyvinyl chloride (CPVC) in its Rotterdam-Botlek plant and recommendations from AkzoNobel Technology & Engineering in Arnhem, plant engineers chose Corzan® CPVC for its pipelines (total 1000 meters or 3280 feet). Specific applications included: Shower system using standalone CPVC Wet chlorine using FRP / CPVC Anolyte using FRP / CVPC A Corzan CPVC piping system offered a number of advantages over other piping options, as well as versatility across many distinct needs.
Industrial-grade chlor-alkali production has been underway for more than 120 years, and in many ways, the principles by which these plants operate have not changed significantly. What has changed is the range of material choices available for chlor-alkali systems. Today, chlor-alkali plants operating across the globe require pipes, tanks, headers, manifolds, storage towers and more to be fabricated with resilient materials that can stand up to some of the harshest conditions existing in any industry.
Insights from an industry leader By Bryan Hutton, Corzan® Industrial Piping Systems, part of The Lubrizol Corporation Chlor-alkali plants create some of the most corrosive environments imaginable. The transport of harsh chemicals at extreme temperatures in combination with the high voltage electrolysis process can quickly compromise the integrity of most piping systems. So when one of the largest producers of chlor-alkali products in the world needed a proven-effective solution for transporting and storing its hydrochloric acid, it turned to Thorpe Plant Services in Houston which turned to Corzan® Industrial Systems from The Lubrizol Corporation.