Corzan® CPVC | Cost Savings | Piping Systems | Specification
Quality specifications have a direct impact on long-term performance. Industrial facility project managers know they must take quality into account when determining the most suitable material for demanding piping systems. If you have the ability to specify high-quality materials without incurring additional costs, it is a win-win for any facility. If using quality specifications is not part of the process, they are putting their facilities at risk for unplanned downtime and other liabilities. But is the cost of quality too high?
Fabrication | Piping Systems | Specification
When designing and building industrial systems, including pipes, fittings, valves and tanks, steel is one of the most widely utilized materials. Stainless steel and carbon steel are two common forms that have been used for processing applications for decades. But as political and economic uncertainties compound, the price and supply of commodities like steel becomes more volatile. As of August 2018, the price of steel was 44.2% higher than during the same period last year. After five years of mostly consistent price drops for stainless steel, the recent jump is cause for concern for industrial plants.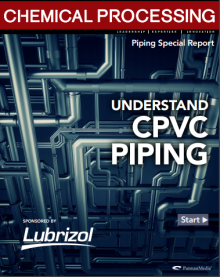 Understanding CPVC Piping Report
Delve deeper into CPVC's capabilities, benefits and performance in the harshest industrial applications.
Piping Systems | Specification
ASTM F441 is the Standard Specification for CPVC Plastic Pipe, Schedules 40 and 80. Per the standard's requirements and test methods, CPVC is assessed for "materials, workmanship, dimensions, sustained pressure, burst pressure, flattening and extrusion quality." Another set of CPVC standards is defined by ASTM D1784. This specification assesses CPVC according to "base resin, impact resistance under notch, tensile strength, modulus of elasticity in tension, deflection temperature under load and flammability." By specifying CPVC that meets ASTM F441 and ASTM D1784, users should have confidence that their industrial piping systems will perform as expected. Yet, not all approved CPVC is created equal. Within each standard are distinctions that set certain CPVC compound producers and manufacturers apart.