Manufacturing integrated circuits (or chips) is a highly complex process that presents unique challenges for industrial piping systems. Toxic, highly corrosive and flammable gases and liquids can compromise a system's integrity, causing process leaks and premature failure. In addition, few piping materials can meet the high purity standards required for cleanrooms.
Piping Systems | Semiconductor
This post was originally published in November of 2017, and has been updated with more information and resources, including two burn test videos. When we talk about plastic and fire resistance, most people conjure up images of melting plastic in a campfire or bending plastic spoons with a lighter. While many plastics don't stand up well to heat and fire (namely polypropylene and polyethylene), it's not true of all thermoplastics. Specifically, chlorinated polyvinyl chloride (CPVC) is engineered to limit flammability and smoke production. In fact, many applications that specify CPVC piping because of its heat, pressure and corrosion resistance capabilities do so because it also satisfies strict regulations around flame and smoke resistance. But what qualities should you look for in a thermoplastic piping system to ensure it satisfies your application's fire resistance requirements?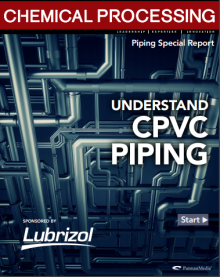 Understanding CPVC Piping Report
Delve deeper into CPVC's capabilities, benefits and performance in the harshest industrial applications.
Piping Systems | Power Generation | Semiconductor
Demineralized or deionized water is used for many lab reactions, laboratory equipment washing, industrial processing applications and more. This water has been purified of ions, minerals, bacteria and other organics that may have been present. Any of those contaminates can alter chemical reactions, cause scaling and corrosion for piping systems, and create a number of unique problems for specific applications. Once demineralized and deionized, water can still harm piping systems if the wrong material is specified because pure water becomes more reactive. Learn about the use cases, qualities and preferred piping systems of purified water to keep your flow free of contaminates and your piping system running longer.
Ducting | Fabrication | Piping Systems | Semiconductor
Manufacturer cleanrooms keep small particles from adversely affecting production quality. Semiconductor plants, for example, often use cleanrooms when layering and etching silicone wafers for computer chips. Because many hazardous, highly reactive gases and liquids are used to keep semiconductor processes clean, accidental fires can occur. Even the smallest fire and subsequent smoke can: Contaminate a cleanroom, putting a semiconductor plant out of operation for extended periods of time. Create a fire hazard and require immediate evacuation. A proactive solution—typically required for cleanrooms—is to use fire retardant materials across the cleanroom that are both difficult to ignite and give off little to no smoke. When specifying cleanroom piping, ducting, flooring and more, semiconductor manufacturers should look for materials tested in accordance with FM 4910 standards.
Piping Systems | Semiconductor | Water and Wastewater Treatment
When employing salts, brine or other saltwater solutions in industrial processes, the plant's decision of which piping material greatly impacts lifecycle costs. Some may see corrosion as a necessary evil when dealing with salts, but proper material selection limits unnecessary repairs, downtime and cost. Over the course of years or decades, this can result in millions of dollars saved in direct expenses and opportunity costs caused by downtime.
Chemical Processing | Chlor Alkali | Fabrication | Mineral Processing | Power Generation | Semiconductor | Water and Wastewater Treatment
Chlorinated polyvinyl chloride (CPVC) is a versatile compound manufactured into many geometries, including sheet, piping and fittings. When produced as sheet, CPVC can is often fabricated for various industrial products, including tanks, scrubbers, ventilation processes and more. The sheet can also be used as a liner and overwrapped with fiber-reinforced plastic (FRP). FRP-lined CPVC utilizes CPVC's corrosion resistance and relies on the FRP to increase its heat performance and mechanical strength. Take a look at a few examples of how CPVC sheet is fabricated for use across different industrial plants and applications. For information on other industrial applications where CPVC sheet is used, contact Corzan® Industrial Systems to speak to a representative.
Chemical Processing | Chlor Alkali | Mineral Processing | Power Generation | Semiconductor | Water and Wastewater Treatment
As the pioneer in chlorinated polyvinyl chloride (CPVC) technology, Corzan® Industrial Systems has proven its value and reliability for use in many types of industrial plants. To learn more about CPVC and its compatibility and uses across six demanding industrial applications, view our latest infographic. If you prefer not to open the PDF infographic, read on for a text-only version. Corzan® chlorinated polyvinyl chloride (CPVC) is an important engineering thermoplastic due to its: High heat distortion temperature. Certified for use up to 200°F (93.3°C). Relatively low material cost. Has successfully replaced and outlasted metals and other costly materials. Inherent chemical resistance. Corrosion-free piping to maintain pressure ratings, flow rates and fluid purity, and to prevent costly repairs. Simple and superior installation. Solvent welding fuses the piping and fitting at the molecular level, maintaining system performance. Fire-related safety advantages. Heat transfer coefficient is approximately 1/300th that of steel, and the material does not sustain burning and requires no flame to install. Certified pressure rating. Pressure rated in accordance with ASTM D2837, having a Hydrostatic Design Basis (HDB) of 4000 psi at 72°F (23°C) and 1000 psi at 180°F (82.2°C). Learn more about CPVC by visiting our resource library, featuring ebooks, white papers, practical tools and more.
Piping Systems | Power Generation | Semiconductor | Water and Wastewater Treatment
When the purity of water and other solutions is critical, each component that comes into contact with the fluid—such as the piping material—must maintain high-purity standards throughout its life. The smallest system impurities can: Inhibit the effectiveness of the system Reduce the life of expensive systems Increase processing downtime Cause health issues for the end product Impurities in a solution are a result of leaching, or the dissolution of metals, solids and chemicals into a fluid. Consider lead piping, for example. Before the Environmental Protection Agency (EPA) implemented the Lead and Copper Rule (LCR) in 1991, lead piping was used for plumbing. After the lead pipe began to corrode—whether from water temperature, acidity or a lifetime of wear—the lead would leach harmful contaminants into the water supply. Read on to see why industries should care about leaching and the materials that maintain water purity.
Case Study | Piping Systems | Semiconductor
Past Performance of Corzan CPVC System Proves Claims of Durability and Cost-Effective Service Life In 2005, and again in 2006, a Colorado-based litho plant decided to modify its two aluminum substrate manufacturing lines to increase capacity. Because of its already well established reputation, there was only one piping material considered by the engineering design team – Corzan's chlorinated polyvinyl chloride (CPVC). This is because the high-performance material had already proven it provides an extended service life, improved process utilization and lower life-cycle costs. It had been doing so since 1992 when it was first used on a new fluid handling line at the manufacturing center for medical x-ray film, photographic papers and aluminum lithographic printing plates. Nearly 15 years later, that schedule 80, CPVC line was still fully operational, providing the necessary corrosion resistance and mechanical strength to effectively handle the harsh chemicals being pumped under pressures up to 80 psi at temperatures up to 180˚F without leaks.