CPVC Solvent Cement | Chemical Processing
Industrial facilities require reliable equipment that ensures long-term performance for maximum productivity and minimal downtime. When choosing a piping system for an industrial application such as a hydrochloric acid or sodium hypochlorite facility, specifiers must consider the joining method for a piping material and how it will impact labor costs, productivity and service life.
Chemical Processing | Piping Systems
The following is an excerpt from "CPVC Use in the Chemical Processing Industry." Download the full ebook to learn more about where CPVC can be used in the chemical processing industry, which chemicals CPVC stands up against and how CPVC compares to alternatives in various applications. The chemicals market, according to Chemical Processing, is currently worth around $1 trillion and is projected to grow to more than $5 trillion by 2022. With 40,000 existing facilities—and thousands more planned—the chemical processing industry (CPI) is becoming increasingly competitive. Broadly defined as the chemical conversion of raw materials to finished products, the Chemical Processing Industry includes the following (and much more): Traditional chemicals, both organic and inorganic Petroleum Petrochemical Refining Pharmaceutical facilities Marine support and offshore In this growing sector, plant managers and engineers seek systems that are more cost effective, reliable and specially engineered to meet their process' demands. What is the role of piping material selection in recognizing greater plant performance and reliability?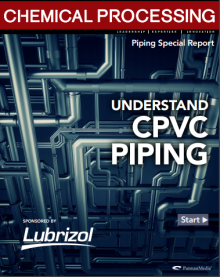 Understanding CPVC Piping Report
Delve deeper into CPVC's capabilities, benefits and performance in the harshest industrial applications.
Chemical Processing | Chlor Alkali | Fabrication | Water and Wastewater Treatment
When specifying vessel and piping materials for handling and storing corrosive acids and bases, many lean on their educational training, personal experience and familiarity with products. If a carbon steel, stainless steel or fiberglass-reinforced plastic (FRP) vessel was specified for a similar situation in the past, the plant or operations manager is likely to choose it again, regardless of the expected service life. Relying on personal experience can be valuable, unless there is definitively a better option available. Considering alternatives and the reliability they have delivered in existing applications can help plants recognize greater performance, a longer service life and lower lifecycle costs. To accurately evaluate materials, key comparison factors must first be considered.
Chemical Processing | Chlor Alkali | Fabrication | Mineral Processing | Power Generation | Semiconductor | Water and Wastewater Treatment
Chlorinated polyvinyl chloride (CPVC) is a versatile compound manufactured into many geometries, including sheet, piping and fittings. When produced as sheet, CPVC can is often fabricated for various industrial products, including tanks, scrubbers, ventilation processes and more. The sheet can also be used as a liner and overwrapped with fiber-reinforced plastic (FRP). FRP-lined CPVC utilizes CPVC's corrosion resistance and relies on the FRP to increase its heat performance and mechanical strength. Take a look at a few examples of how CPVC sheet is fabricated for use across different industrial plants and applications. For information on other industrial applications where CPVC sheet is used, contact Corzan® Industrial Systems to speak to a representative.
Chemical Processing | Chlor Alkali | Mineral Processing | Power Generation | Semiconductor | Water and Wastewater Treatment
As the pioneer in chlorinated polyvinyl chloride (CPVC) technology, Corzan® Industrial Systems has proven its value and reliability for use in many types of industrial plants. To learn more about CPVC and its compatibility and uses across six demanding industrial applications, view our latest infographic. If you prefer not to open the PDF infographic, read on for a text-only version. Corzan® chlorinated polyvinyl chloride (CPVC) is an important engineering thermoplastic due to its: High heat distortion temperature. Certified for use up to 200°F (93.3°C). Relatively low material cost. Has successfully replaced and outlasted metals and other costly materials. Inherent chemical resistance. Corrosion-free piping to maintain pressure ratings, flow rates and fluid purity, and to prevent costly repairs. Simple and superior installation. Solvent welding fuses the piping and fitting at the molecular level, maintaining system performance. Fire-related safety advantages. Heat transfer coefficient is approximately 1/300th that of steel, and the material does not sustain burning and requires no flame to install. Certified pressure rating. Pressure rated in accordance with ASTM D2837, having a Hydrostatic Design Basis (HDB) of 4000 psi at 72°F (23°C) and 1000 psi at 180°F (82.2°C). Learn more about CPVC by visiting our resource library, featuring ebooks, white papers, practical tools and more.
Chemical Processing | Fabrication | Piping Systems
Stand alone Corzan® CPVC piping is inherently tough. Its high heat distortion temperature, impact resistance, and pressure rating can stand up to the demands of many industrial applications. That said, there are chemical processes that require corrosion resistance, but have a fluid temperature exceeding Corzan piping's working range. For these situations, dual laminates are becoming more commonly specified. Dual laminates combine the superior chemical resistance of Corzan CPVC with the mechanical strength of fiber reinforced plastics (FRP). This translates to longer service life, lower maintenance costs, and improved reliability.
Case Study | Chemical Processing | Fabrication
The chemical processing industry (CPI) continues to be a tough environment for creating safe composite structures that mitigate corrosion degradation. Today, more design engineers and material specifiers are calling for fiber reinforced plastics (FRP) in both new and replacement equipment used in chemical processing operations. B&D Plastics is a fabricator of dual laminate structures. Their unique fabricating process allows for the handling of fluids at very high temperatures and is impervious to corrosives. To develop products capable of standing up to its customers' demanding applications, B&D Plastics specifies Corzan® chlorinated polyvinyl chloride (CPVC) manufactured by IPEX USA.
Case Study | Chemical Processing | Piping Systems
When the Environmental Protection Agency (EPA) published the Cluster Rule in 1998, pulp and paper manufacturers industry-wide began to make operational adjustments to become compliant by April 2001. Aimed at reducing emissions, the Cluster Rule called for the introduction of uniform pollution prevention and control technologies. For Smurfit-Stone Container Corporation, that meant a major reconfiguration of its bleached market pulp operation in Panama City, Florida, including extensive changes to its bleach plant. The corporation relied on BE&K Engineering Co. to identify cost-effective construction materials that would provide reliable performance in the harsh environment.
Case Study | Chemical Processing
Sulfuric acid is one of the most dangerous chemicals in the world. Because of its corrosiveness, high concentrations can cause expensive damage to industrial machinery, and even weak concentrations can cause eye, nose, throat and skin burns in people, along with chronic respiratory damage in case of long-term exposure. However, when processed and handled properly, sulfuric acid is one of the most useful industrial chemicals in the world—an important ingredient in fertilizer, batteries, detergents and other products that are used around the world every day. Sulfuric acid is a by-product of zinc. When zinc ore, which also contains sulfur, is heated to 1750°F (950°C), it releases sulfur dioxide gas, which is then collected, cleaned and processed into sulfuric acid.
Chemical Processing | Fabrication
Handling, storage and processing of corrosive or abrasive liquds and gases is a day-to-day challenge for the chemical processing industry. Engineers are confronted with a wide choice of materials of construction, including: Stand alone thermoplastic Glass fibre reinforced plastic (FRP) Dual laminate constructions with thermoplastics (PVC, CPVC, PE, PP) and/or fluropolymer liners (ECTFE, PVDF, FEP, PFA) Dual laminate technology offers greater safety making it one of the preferred solutions for demanding chemical applications. This is thanks to the combination of superior chemical resistance of thermoplastics with the mechanical strength of FRP.