Corrosion is a widespread and expensive problem that impacts every industry around the globe. In 2016, NACE International released the "International Measures of Prevention, Application and Economics of Corrosion Technology (IMPACT)" study, which estimated the global cost of corrosion at approximately $2.5 trillion (USD).
Manufacturers fabricating unique products typically require unique processes. Creating distinctive products demands customized equipment that resists corrosive chemicals and harsh mixtures to optimize processes and drive down production costs. Corzan® CPVC has been meeting manufacturers' material needs for over 60 years, helping to fabricate high quality products that meet their customers' specific requirements.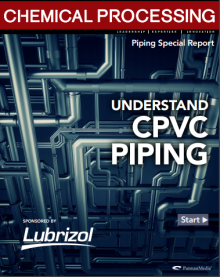 Understanding CPVC Piping Report
Delve deeper into CPVC's capabilities, benefits and performance in the harshest industrial applications.
It was another quiet Sunday morning in the Houston metro area before residents were awakened by a bolstering fire and smoke when a storage vessel caught fire and quickly clouded the sky. One of the greatest safety concerns among many chemical plants and other industrial facilities had become a reality. When a fire breaks out, normal operations can turn into chaos and life-threatening situations can develop within seconds as evidenced by the Houston fire and others. For this reason, fire performance must always be evaluated when selecting piping materials, including thermoplastics. Designers and engineers should select engineered systems with proven performance and properties such as a low flash ignition temperature, burning resistance, flame spread resistance and limiting oxygen index (LOI) to create a safer, more reliable and productive environment.
Threading and Flanging CPVC Piping Systems Issues that develop in piping systems often involve connections, which is why it is important to select and properly install all transitions/connections. Depending on the application and the pipe size, CPVC pipe transitions may be threaded or flanged, although flanging is generally the preferred method especially when disassembly is required.
Power generation plants of all types – from gas turbine combined cycle to combined heat and power – move large quantities of water, caustics and corrosives. Corzan® CPVC (chlorinated polyvinyl chloride) piping has provided operational advantages and cost savings to the power generation industry for decades, enhancing performance in a range of applications in new and existing facilities for long-term reliability.
According to the U.S. Geological Survey, power generation plants are the largest source of U.S. water withdrawals and account for about 40 percent of the total water withdrawn from various sources in the United States.